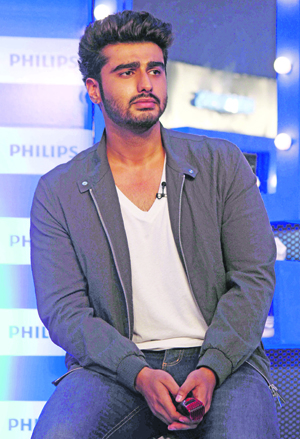 Arjun Kapoor's obnoxious; angry young man character in his first film 'Ishaqzaade' became quite popular with filmmakers and audiences.
While each of his characters, be it 'Gunday' or upcoming film 'Tevar', appear to be on the same lines, Arjun feels its merely people's assumption.
Says Arjun: "Until you watch the film; you won't come to know how 'Tevar' is different from 'Ishaqzaade'. There is a difference in their journeys.
"Both the characters and stories are altogether different. It's just people's assumption that I am playing an angry young man once again, which is incorrect. After looking at one or two shots from the film, people concluded that I am playing angry man in 'Tevar'."
He adds, "In 'Ishaqzaade', I played a character, who is mentally not very happy, lost in his world. It had little grey shades. While in 'Gunday', I played a short-tempered, front-footed, arrogant goon. Whereas, Pinto Shukla of 'Tevar' is a normal guy, dwelling in a small town, who has not found direction in life. He lives in his own world and gives a damn about others. He is an ordinary boy who gets stuck in extraordinary situation."