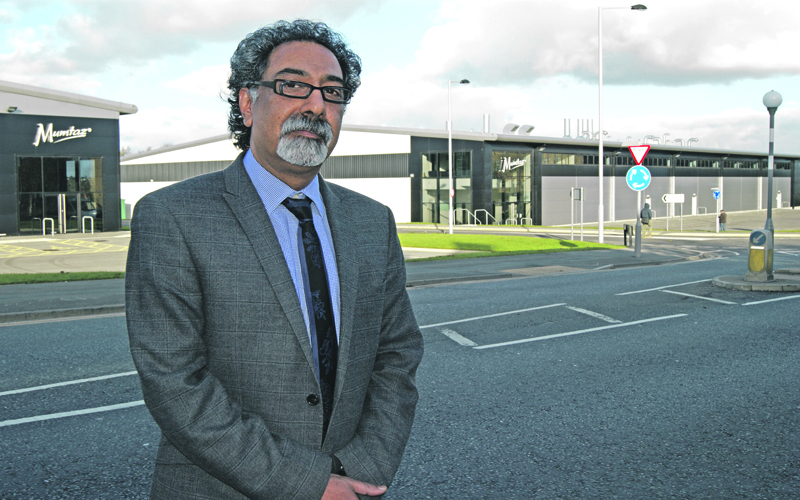 The 'driving force' behind of one of Bradford's most profound food businesses is set to appeal a charge of fraud later this month after being found guilty, despite never benefiting from any financial gain.
Dr Gul-Nawaz Khan Akbar, of Mumtaz, says he is determined to overturn the ruling following a £100,000 fraud case which even the recorder on the day described as an 'unfortunate' and 'unusual' decision by the jury at Bradford Crown Court.
Dr Akbar was given a nine-month suspended sentence for one year and ordered to pay £34,000 in costs after a conviction for fraud by misrepresentation.
The trial centred on a £100,000 grant application from the Department of Business Innovation and Skills (BIS) which was supposed to go towards the new £5million Mumtaz factory on Legrams Lane in Bradford.
However, following complications with planning back in 2011, alongside a number of unavoidable delays, the firm were unable to spend the £1.1million they needed to, in order to receive the funding, before the 11th December deadline.
As no invoices existed for the building's development, due to it still being in negotiation stage with the contractor, Dr Akbar says he submitted 'dummy invoices' as allegedly advised by BIS as a way of ensuring his bid could be placed before the deadline – a procedure Dr Akbar says he was told would be 'okay' to proceed with.
Unbeknown to Dr Akbar, the change in government policy led to BIS being ordered to withdraw grants by the Treasury wherever possible.
In order to achieve this, the Mumtaz application was turned away, despite their 'dummy invoices' initially being approved and then were to be exchanged for actual invoices when made available just months later to Mumtaz's representing solicitors.
Speaking about the case and his upcoming appeal, Dr Akbar said he was disappointed to see his business 'targeted' by a 'fraud' case which threatened to hamper Mumtaz's reputation.
"I feel that Mumtaz has been targeted in a case that even the judge described as 'unfortunate'," Dr Akbar said.
"We have already invested in excess of £5million of our own funds into the project and will have to spend a further £1million before the development is completed.
"This £100,000, which we never even received, was made available to us, and all I did was follow the instructions given to me.
"We were trying to help the city benefit, by creating hundreds of new jobs, and this investment would have gone towards funding the development.
"I feel like somebody has tried to make an example of us, like there is a hidden agenda to target a big name business."
The jury at the trial consulted for less than an hour before a guilty verdict was put forward, a time frame Dr Akbar and his defence team argues was 'clearly not enough' for them to have considered all the evidence.
"My family and I were truly shocked by the verdict after all the evidence was heard throughout the five day trial." said Dr Akbar. "I am determined to fight on.
"I am grateful to the trial judge who described this as a very unusual case and for stating that I am a businessman who …'through his own diligence and hard work, together with that of his family, had contributed a huge amount to the Bradford community and had created a business that Bradford was rightly proud of'.
"We have 28 days to appeal the verdict and will follow it through however far we have to go."
Meanwhile, Recorder Hawks said: "I regard this as a highly unusual case because the fact of the matter is that you didn't get the money."
"You did build the factory and we've all seen the structure that now exists and will no doubt carry your successful business forward."
Recorder Hawks added that it was 'a great shame' to see a businessman with such a background and with as much experience as Dr Akbar convicted of an offence of fraud.