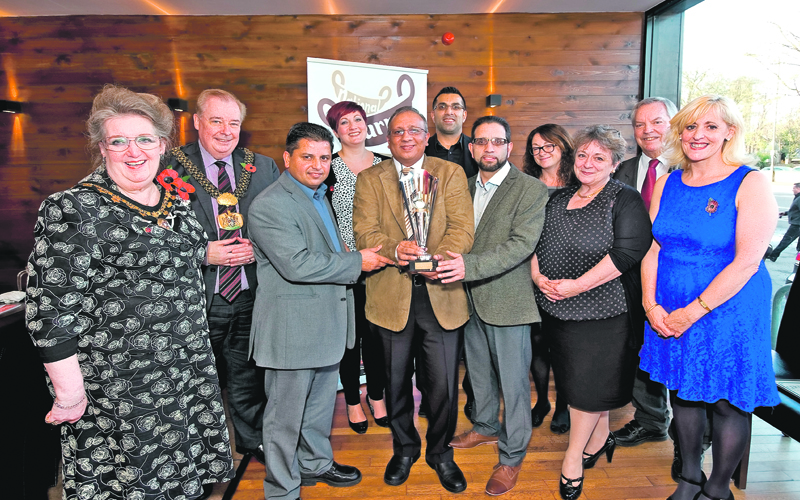 Bradford's reign as the Curry Capital of Britain was cemented last weekend as the prestigious trophy returned 'home' for a fourth consecutive year.
At an awards ceremony at Zaara's Indian Restaurant on Sunday, the Bradford bid team, made up of members from Visit Bradford and local restaurateurs, received their official accolade from the organisers of the Curry Capital of Britain competition.
Founder and organiser, Peter Grove, along with his wife Colleen, are becoming familiar faces in the city as they returned once again to hand over the trophy at an afternoon reception.
Special guests also included the Lord Mayor of Bradford, Cllr Mike Gibbons, and Cllr Susan Hinchcliffe.
Tricia Tillotson, Tourism Manager for Bradford Council, said it was great to finally receive the trophy after being confirmed as the official Curry Capital last month.
"We're delighted to welcome Peter and his wife back to the Bradford district to officially present us with the Curry Capital of Britain award for the fourth time in a row," she said.
"We know that this year's competition was tough but we were delighted to learn that we had actually improved our score by nine per cent on last year's marks."
Attendees at the event enjoyed a buffet of Asian finger food provided by Zaara's, as well as complementary drinks, while enjoying the atmosphere inside of the restaurant.
Ms Tillotson continued: "The awards event was a very special way to mark the occasion – no other city or region has ever won the accolade of Curry Capital of the Year consecutively this many times – and to celebrate the hard work of our winning team.
"It was a lovely way to spend a Sunday afternoon; celebrating success with good company, and of course, good Asian food."
Visit Bradford's bid for the 2014 title included a number of initiatives and activities, such as a series of poppadom challenges, an Asian afternoon tea and a healthy-style Asian cookbook created in connection with the NHS.
The recipe book is available from Bradford Visitor Information Centre and is free to takeaway or a donation can be made to the Curry Tree charity.