Bradford's kickboxing stars of the future took part in the third annual AFK tournament last weekend with more than 50 children turning up to showcase their talents.
Students aged from five through to 15, from the Azhar Farooq Kickboxing classes, competed in front of friends and family at Bradford's Lapage Primary School.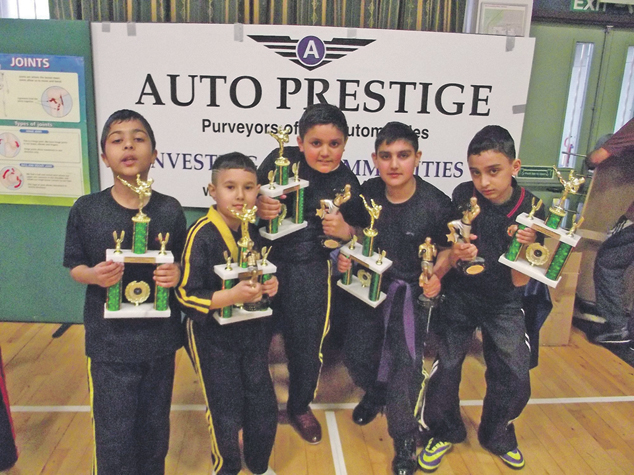 Competing in five different categories, based on height, the children worked through the knockout tournaments to determine each groups eventual winner, with every martial artist coming away with some sort of trophy.
Sponsored by Auto Prestige, the tournament was the biggest to date and founder, Azhar Farooq, said he was delighted to see such talent emerging in his local city.
"I was really pleased to be able to have the opportunity to let these children demonstrate their skills in front of their parents and all of them did themselves proud," he explained.
"To step up on to what is a big stage for some of these children, and none of them froze or struggled, it was really good to see."
Seven-year-old kickboxing prodigy, Esa Hussain, picked up second place in his height division after unfortunately losing out in the sudden death final.
Despite a somewhat controversial ending, his father, Amjed, said he was always proud of seeing his son compete.
"I'm always very proud of Esa and his achievements and he worked really hard before this latest event," he said.
"He was unlucky not to win the tournament and maybe deserved more but there are still many more victories for him in the near future."
Esa added: "It went really good. It was a bit nerve-wrecking in front of the crowd but I did my best and did a lot of practice before.
"I'm still happy at coming second but could have been first."
Event organiser, Azhar, added that he always believes kickboxing is much more than just winning or losing, and is a way of helping children gain confidence and stay away from bad habits.
"The main thing for me is the children enjoy themselves," he said.
"If this kind of activity is helping to keep kids off the street and instead helping them engage with health and fitness, it is only a good thing.
"I want to thank all the parents for coming down and helping out and Mr Zaman from Lapage Primary School for allowing us to hold this tournament at his school."