"There are so many different careers that you can take with the NHS," says Orthoptic Casualty Lead Rahilah Bukhari works with the University Hospitals Coventry and Warwickshire NHS Trust
Every winter, countless people across the country fall sick and miss out on festive fun; from presents under the tree to spending time with loved ones. Luckily for them, a dedicated NHS workforce is always at hand to provide care and support, especially for those unable to spend the holidays at home.
Now in its fourth consecutive year, the 'We are the NHS' campaign is back to champion the extraordinary work of nurses, allied health professionals and healthcare support workers – and inspire a new generation to embark on a career in the health service.
The 'We are the NHS' campaign features real NHS workers, who are proud to showcase what it is about their role they love the most, and the opportunities available from a career in the NHS.
One such role is that of Orthoptic Casualty Lead Rahilah Bukhari from University Hospitals Coventry and Warwickshire NHS Trust, who works hard to provide exceptional eye care, which includes attending eye casualty, completing all necessary investigations, and liaising with the Senior Eye Casualty Doctor to determine the treatment and clinical outcome for the patient.
"Christmas is an exhilarating time of the year for both children and adults, but it is also a time when eye injuries can occur.
"Every year, eye teams everywhere treat eye injuries caused by Christmas trees and decorations, fireworks, toys and bottle corks amongst other things.
"Luckily, for those who find themselves in the eye casualty department, a dedicated NHS eye workforce is at hand to provide sight-saving care and support."
Recruitment for the NHS has never been more vital. Covid-19 increased interest in the incredibly rewarding careers available within the NHS with 5.1 million people accessing the NHS careers website during the pandemic; a 41% increase compared to the same period in 2019.
The 'We are the NHS' campaign shines a light on some of the most in-demand roles in the NHS; all varied, exciting and challenging in equal measure. Nurses, allied health professionals and healthcare support workers touch the lives of thousands, providing expertise, care and compassion when it matters most.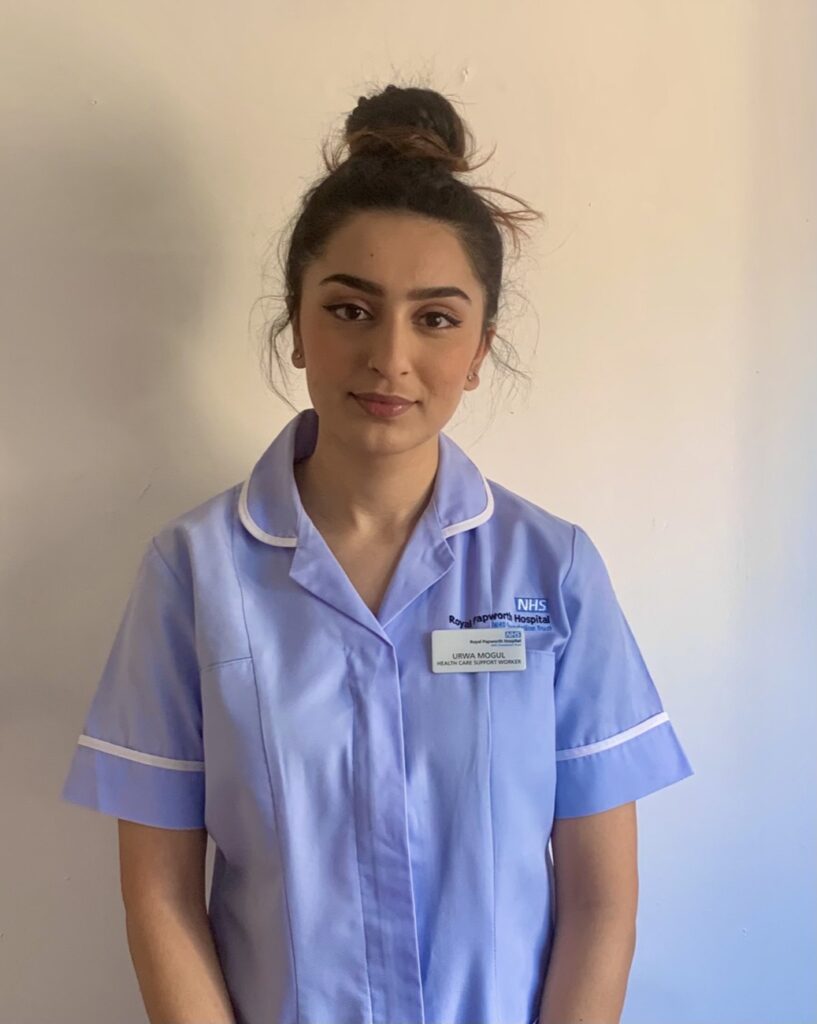 Healthcare Support Worker Urwa Mogul, from Royal Papworth Hospital NHS Trust, says that working over the holidays can get busy but working as part of a supporting team helps her to manage things.
"It can be hard looking after patients in the ward, especially when you know all they want to do is be at home with their loved ones," says Urwa.
"But you really are making such a huge difference being there for them during these times."
Despite how busy things get in the ward, Urwa and her team still manage to inject some festive fun into their schedules.
"I don't celebrate Christmas myself, but I do get excited when it comes to Secret Santa! It's always such a great laugh between our team," she says lightheartedly.
Registered Nurse Varsha Carim, from Guy's and St Thomas NHS Trust appreciates the diversity of the NHS, particularly around the festive period.
"I enjoy communicating with people from different cultures and learning about what this special time means to them," says Varsha.
"It's fascinating to see the different ways people celebrate and make the extra effort to ensure all patients feel comfortable. There is so much diversity in the NHS and being multilingual helps me provide patients with the holistic care they deserve."
From eye casualty to healthcare support, there are many fulfilling roles available within the NHS that allow you to make a real difference.
"There are so many different careers that you can take with the NHS," adds Rahilah.
"There are face to face roles but also crucial background roles.
"If you're looking for work-life balance, you can find that with the NHS. Most importantly, there is ample opportunity to progress both personally and professionally – the NHS offers it all."
To learn more about the campaign, search #WeAreTheNHS or visit NHS Careers to discover the range of roles available.