Bradford's famous 'Ramadan Runner' took on the physically daunting challenge of a 10K run for the eighth consecutive year, all whilst fasting 18-hours, and despite suffering a calf injury!
With no access to food or water, careers advisor, Nazim Ali ran locally as part of the Virtual Hamburg (Germany) 10K Run. His route took him from Bradford's Lister Park to Cottingley and back, to raise funds for the SKT Welfare Trust, who'll be building homes for internally displaced Syrians.
​So far from his previous seven Ramadan runs, Nazim has raised £126,000. He had hoped this year's efforts on Sunday 9th May would see him hit the £150,000 mark during the Islamic holy month. But, he's smashed that target.
This year Nazim's Ramadan run saw an outpour of donations take him to just over £47,000, with a number of pledges still promised to come in. This takes his eight-year Ramadan fundraising to over £170,000, but he anticipates he'll finish on around £188,500 as a number of pledges are still promised to come in.
"This Ramadan, I originally was aiming to raise at least £25,000, which is enough funds to build 20 new homes in northern Syria.
"Each home costs around £1,250, and are for families currently living in makeshift tents, Syrian widows, the elderly, and those with disabilities.
"However, due to this year's phenomenal support, I raised my target to £62,500 – enough for 50 new homes, which I am increasingly confident (God willing) of reaching with a number of pledges still outstanding. One amazing donor has just now pledged £10,000 for eight new houses!
"These homes are being built in safe villages in northern Syria and also include a masjid, a school, women's safe space, and will be close to SKT's hospital which has been running since 2014.
"This new accommodation will provide protection from the harsh winters and summer heat, as well as improving lives with a clean place to live and help to fight off death from diseases. Donors will receive full feedback with a personalised plaque, video and beneficiary background details."
Talking about his run, he said: "I ran from Lister Park taking in Frizinghall, Shipley, Saltaire and Cottingley, and limped my way back finishing in Lister Park.
"I had a left thigh strain picked up from the previous week's last training run and 6km in felt sharp pain in my right calf, which meant I limped in discomfort and had to dig deep for the remainder 4km.
"But, I was spurred on by thinking of all the marvellous support from donors and the joyous faces of the refugees when they'd receive the keys to their new homes. It kept me going!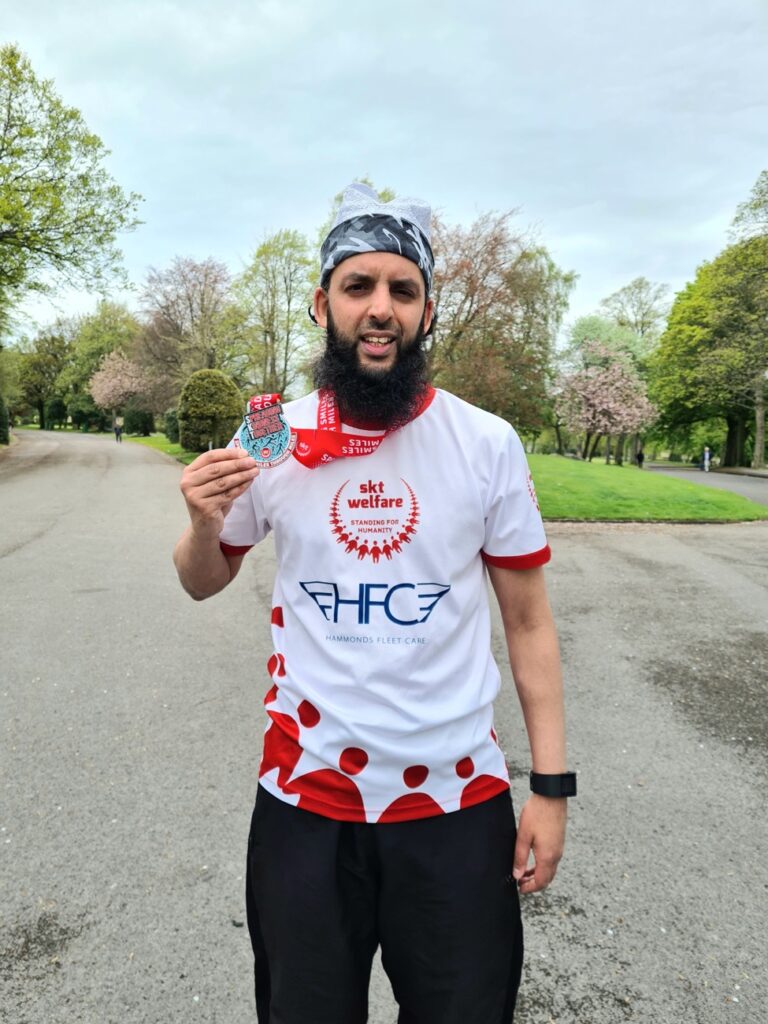 "I completed the 10K Run in a time of 1:11:09 – given the injuries I had to contend with I was just content to finish! I started the run at 10:30am as I wanted to keep the same 'normal race day' conditions and when I finished the run I still had 10 hours and the remainder of the day to contend with before I could open my fast in the evening."
For over 23 years Nazim's been at the forefront of community and humanitarian initiatives at local, national and international levels and has raised a mind-blowing figure of over £320,000 for a plethora of causes both in the UK and abroad.
Much of his local and international voluntary work has been largely covered by Asian Express over the years, and he's received numerous local and national awards and recognition during his fundraising commitment.
"I have distributed, in person, aid to the Turkey/Syria border on seven occasions; and to Rohingya refugees in Bangladesh, Iraqi refugees in war torn Mosul (Iraq), poverty stricken Malawi and to refugees in France and Belgium – all in the last five years.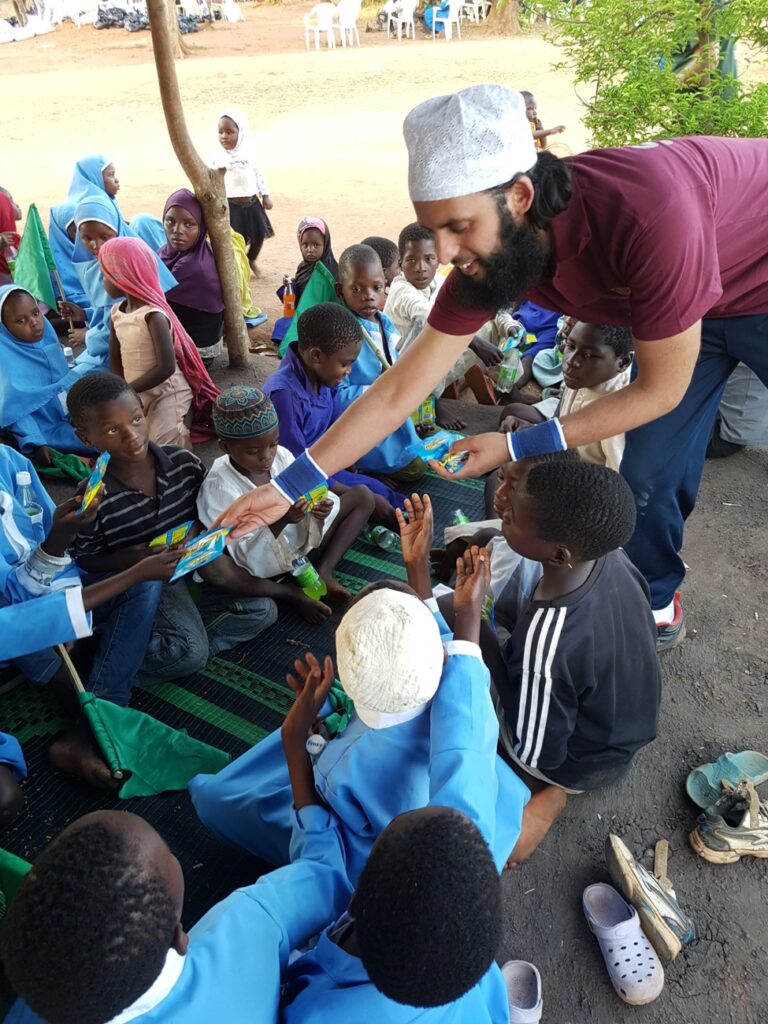 "And for nine years I have run the five-times a year 'Creating Smiles Gifts Initiative' here in Yorkshire, distributing well over a thousand gifts to Bradford Royal Infirmary and Airedale Hospital wards."
And as if the full time careers advisor hasn't got enough on his plate, for the last seven years he's committed to weekly homeless feeds in Bradford via the Curry Circle Food Provision.
"I am eternally thankful to the donors for their kind donations and on-going support which is humbling. It is because of you – the donors, that I am able to do what I do, and this all would not be possible without you."
Last year during the 2020 Ramadan Run, Nazim raised over £40,000 which contributed towards transforming 116 houses which he successfully project-managed in poverty-stricken Malawi (Africa).
People can still donate (Zakat applicable) towards Nazim's Ramadan Run 2021. If you'd like to make a donation, please visit: http://www.sktwelfare.org/giving-together/nazima/007/