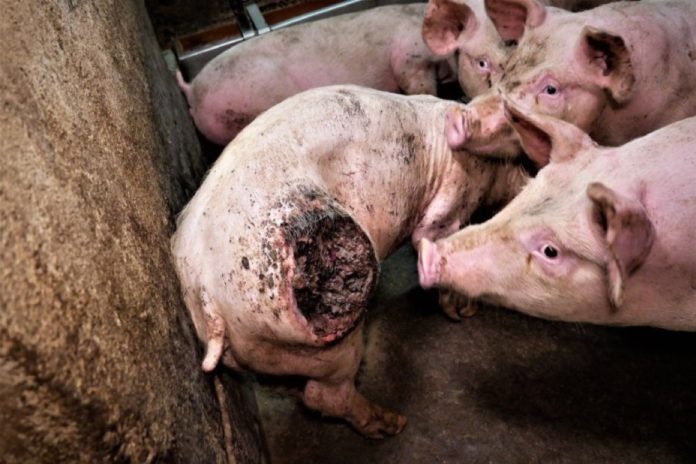 Shocking videos and pictures show how starving pigs are eating each other alive at a farm in Northern Ireland.
The harrowing pictures posted to social media show dead pigs with bloodied faces strewn over the floor of a "high welfare farm" in Ballymena.
---
One of the pigs who was unable to defend itself, actually had holes in both of her rear body as she was cannibalised.
The graphic still images and video revealed the shocking extent behind closed doors.
The footage from the McGuckian Brothers Farm, has sparked investigations by the government and Red Tractor, a food assurance scheme, which has since suspended the farm's membership.
Red Tractor said they had conducted an unannounced inspection of the farm last year, but did not witness any of the conditions seen in the footage and pictures.
It follows the undercover investigation led by full-time vegan activist Ms. Tuesday Goti.
Ms Goti sparked a protest outside the "large scale" pig farm and said she was joined by activists from around the world, from as far as Canada, New Zealand, Spain and Germany.
Speaking on behalf of the farm, the Ulster Farmer Union (UFU) slammed the activists' social media "grandstanding" It also said it could not "accept the tactics of breaking into a farm, causing fear to individuals and seeking to hold them to ransom for a publicity opportunity".