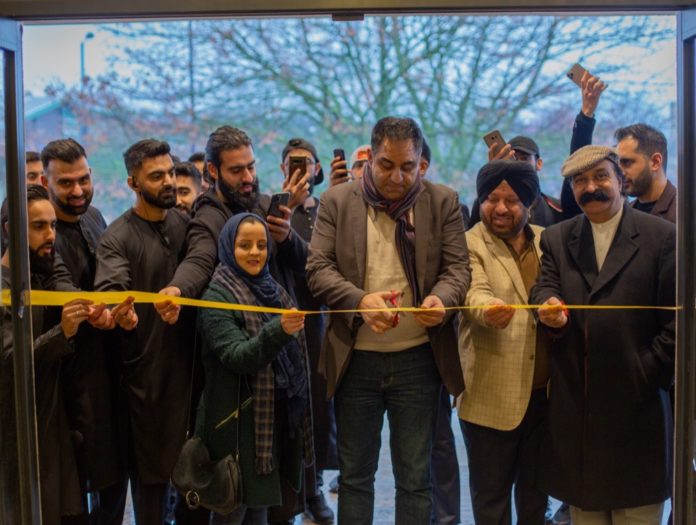 The grand opening of a completely overhauled former iconic Whetley Hill building in the heart of Bradford has just brought a new lease of life to the area.
It took just eight months for the 1.92 acre site, in the epicentre of the Asian community, to be face-lifted to a purpose-built venue for weddings, conferences, parties and presentation events and boasts 140 parking spaces.
The building, set on Whetley Hill, White Abbey Road, has been resurrected and restored to create an atmospheric and enchanting experience.
The Arabia-inspired exterior breathes a new lease of life to its surroundings, moving away from the disgraceful and derelict eyesore that stood there before.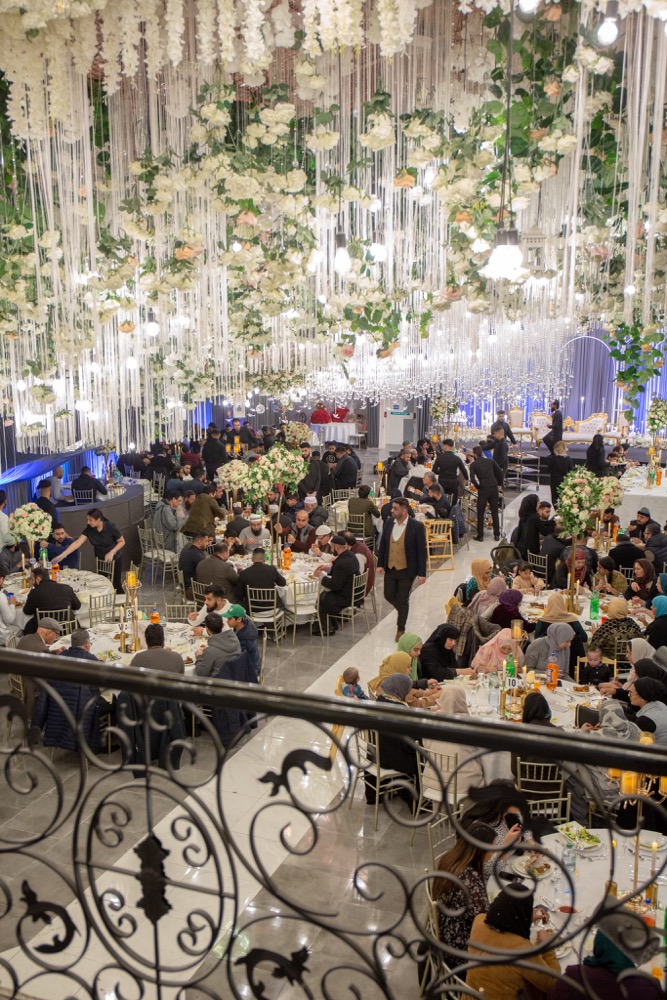 With its grand entrance and staircase, subtle exterior lighting and front facing round arches, the venue is impossible to miss as you drive along White Abbey Road.
Opening its doors on 23rd November 2019, White Abbey Ballroom welcomed MP Imran Hussain and councillor Samina Akhtar as they initiated the ribbon-cutting ceremony.
Guests entered the spacious reception where were invited to the mocktail bar and enjoyed beverages provided by Mocktails by Manhattan & Co. An offering a delicious variety of drinks, custom made to order using fresh ingredients, was made available to each and every guest.
Having reviewed many venues over the years, this personal, made-to-order beverage was a first for us to experience at such a venue. This was quickly followed by an array of canapés.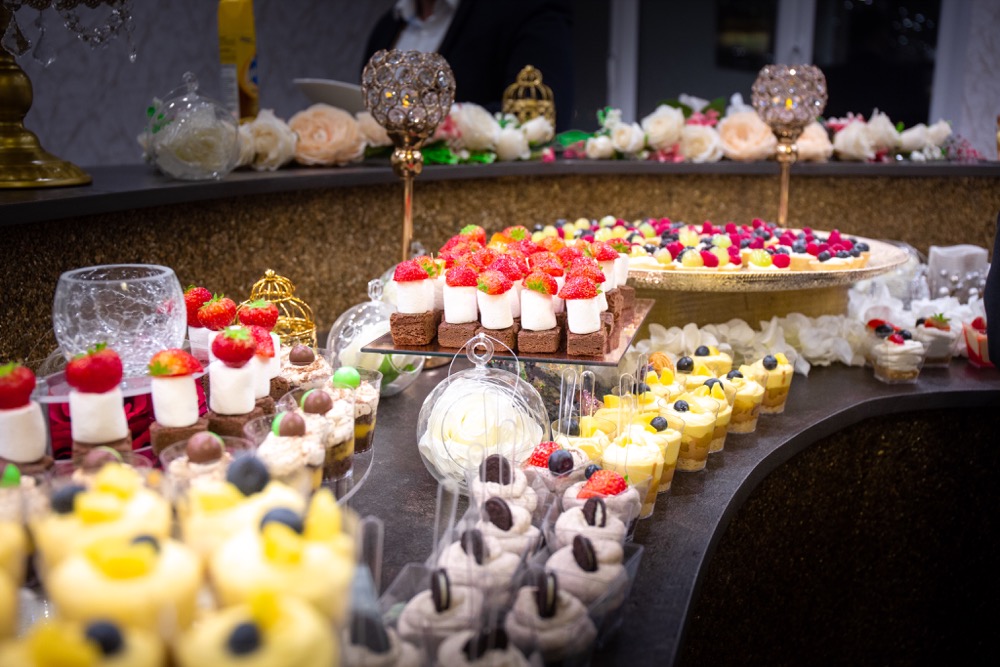 The White Abbey Ballroom has collaborated with Jacobs – a leading American style Diner with its flagship store in Wakefield Trinity Walk Shopping Centre.
Jacobs provided the venue and its guests with freshly made canapés in the form of mini burger sliders and wraps, bringing a much-needed twist to the traditional desi canapés. The venue also offered its traditional in-house canapés.
As we walked through the emperor-inspired reception and into the ballroom itself, it's easy to say that you will be at a loss for words.
A standstill moment, as though you have walked onto a memorising, fairytale movie set, we fell in love with the look and feel of the venue as soon as we entered.
The bird-nest inspired ceiling which is by far the main show-stopper, boasts in excess of 5000 flowers, 200 lanterns, 1500 feathers, 200 dream catchers, 1000 glass globes, 300 white doves, 150 crystals birds and all the sparkle which helps bring this venue to life.
This enchanted ceiling had an elegant charm with it' simple but graceful white and cream tone, which has clearly been thought out meticulously.
The ceiling is truly magnificent enough to stop anyone in their track and if that was not enough, the grey marquee drapes, which are complimented gracefully by the mood-lighting throughout the venue provide a cosy, warm atmosphere creating the perfect romantic setting to celebrate the journey of two people coming together.
It was refreshing to see in excess of 1000 people turn up to the opening to see the much anticipated venue. The friendly service with a smile provided by the staff was welcomed given the large crowds they were tasked with handling, remaining professional at all times.
The White Abbey Ballroom is the first of its kind to offer a premium tea option with all its packages. Tea was supplied by Cha Cha Chai, a Bradford based leading chai house who set up their own stall offering two types of teas. Both the popular Pink tea and Traditional Karak Chai were offered to all guests. This venue has disposed of the traditional method of self service low quality pink tea which is widely used in other venues.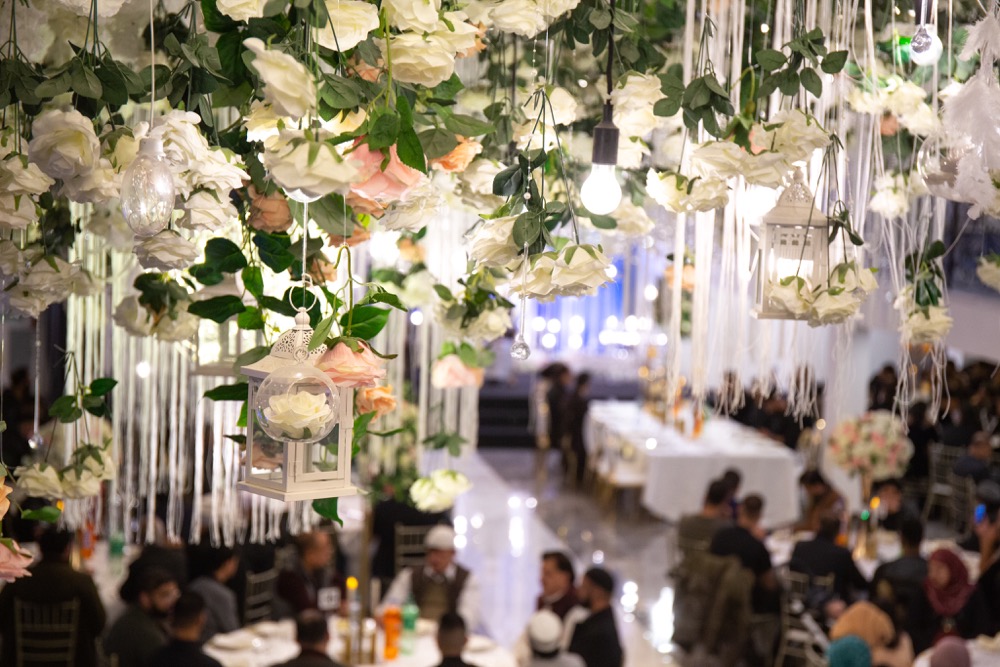 It is clear that the visionaries behind this venue are driven to provide their customers with a unique and luxurious experience and a personal service with a smile, breaking boundaries and giving a much needed shake to the wedding industry.
The White Abbey Ballroom has exclusively offered Asian Express readers a 10% DISCOUNT! Contact them directly on 01274 987860 with your enquiries.