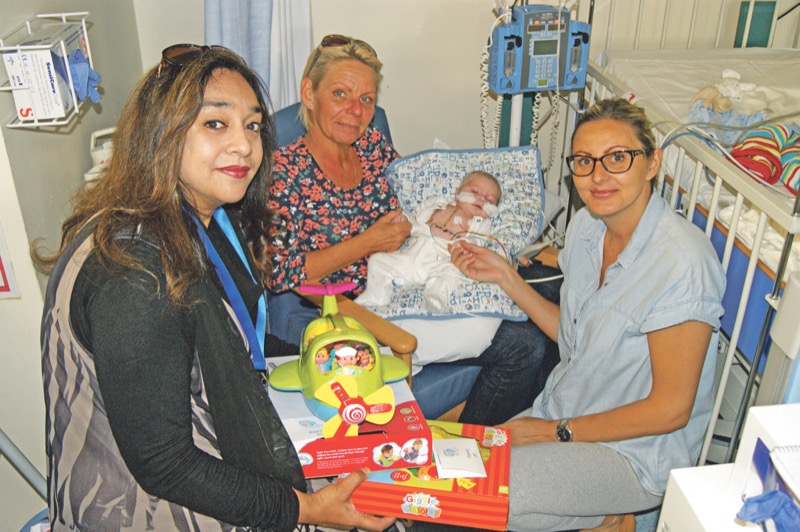 A RECORD number of British Muslims were named in The Queen's New Years Honours list along with some of Britain's top names such as Michael Palin and Twiggy, who have been recognised for their services to the country.
The tradition dates back to 1860 when Queen Victoria gave out her first Birthday Honours. Honours are handed out twice a year – once at New Year and again to mark the Queen's birthday.
This year, amongst the 1,148 people named, around 135 people are of BAME backgrounds. Amongst them is a Leeds woman who has immersed herself for over 20 years into assisting diverse communities prosper.
Rifhat Malik, 51, who was featured in the Asian Express last year for hosting a charity event whilst having a heart attack, following which she underwent heart surgery to have two stents inserted.
Rifhat's MBE is for services to Muslim Women and to Charity.
She became the first Muslim woman to become a fully trained fitness instructor in Leeds over two decades ago and has worked to promote trust and overcome cultural barriers, including training dozens of BME women as fitness instructors.
Inspired by her husband of 31 years Hanif Malik OBE, Rifhat co-founded the Give A Gift scheme four years ago, aiming to get Asian people involved with mainstream charity causes. Asian Express has been a media partner for this initiative since it's inception.
"The Muslim community often receives negative coverage, but in essence our faith has the same values as all religions." Rifhat Malik MBE
Through the Annual Ramadan Toys Appeal, which she established five years ago, more than 3,000 gifts have been donated to charities, benefiting over 500 children and their families.
The Moortown mother has also helped raise more than £100,000 for Martin House Children's Hospice and for children's heart surgery in Leeds. They also raised £20,000 for the Candlelighters children's cancer charity.
Rifhat and Hanif Malik are also uniquely the only Muslim couple in the country that have both been awarded Honours from the Queen.
When asked about what inspires her for the selfless work she does, she answered: "First and foremost, it's my faith.
"The Muslim community often receives negative coverage, but in essence our faith has the same values as all religions; to show kindness towards those in need and assist people regardless of their background.
"My husband, Hanif who is very well known in the sector initially inspired me through his own charity work. Through the years, I've realised just how rewarding and satisfying this type of work is but how important it was to deliver charity with humility, so that's what I have always tried to do.
"It can get very difficult as it's not easy to detach yourself from the emotional side of things when you are helping families with really difficult circumstances, such as arranging children's funerals for asylum seeker families for example. But, you keep on going as for some people it's the only support they'll receive.
"I'm obviously very humbled and proud to have received the honour but I am equally proud of everyone who has helped me over the years.
"I really hope it will inspire other people, particularly women from the South Asian community to pursue their ambitions and realise that we can all make a difference to others who are less fortunate than us."
Amongst the recipients of the much-coveted accolade is Bradford solicitor Ruby Bhatti, who was awarded the OBE for Services to Young People and Housing.
Ruby has over 27 years in the legal field and has held numerous non-executive directorships in various sectors such as housing, education and health.
Her roles include sitting as a non-executive member for a social enterprise company, Carlisle Business Centre (CBC) and its charity arm ACL Ltd. She is also a Director of Yorkshire Arise Ltd, a unique company that has four social enterprise companies working together in Bradford on key projects.
Ruby sits as a Board Member in the Social Housing sector for Incommunities Group Ltd and is lay member of the governance board member for the NHS Bradford City CCG and is the Chair of the Primary Care Commissioning Committee and Remuneration Committee for Bradford City NHS CCG.
She is a Local and National Leader of Governance for Education (NLG) for Yorkshire and the Humber, a Non Executive Director for the Dixon Multi Academies Trust Ltd , Rainbow Academy, and BDAT Diocesan Academies Trust.
Ruby is Chair for the Quality and Safety Patient's Panel based at Bradford Institute for Health and Research (BIHR), and has recently been appointed as a Patient Research Ambassador for the Bradford Royal Infirmary Teaching Hospital NHS Foundation Trust.
She sits as an Associate Hospital Manager for the Mental Health Department, Bradford District Care NHS Foundation Trust, a role which enables patients to have their case considered independently. She also sits on the Bradford District Care NHS Foundation Trust, Mental Health Legislative Committee.
Also awarded an MBE is Bradford's Wahida Shaffi for services to women, young people, interfaith and community relations.