"It's a dream come true for me to be able to bring this collaboration together… because my heart is in Pakistan, and here." Naughty Boy
Superstar producer, songwriter and artist Naughty Boy has teamed up with his long-time collaborator, multi-platinum selling artist Emeli Sandé, and Pakistani musical icon, Rahat Fateh Ali Khan.
The track song titled "Bungee Jumping" precedes Naughty Boy's new album, set for release in autumn 2019.

"Bungee Jumping" is another sonic departure for Naughty Boy, but one that feels 100% natural. A wistful and soft track, the production interpolates Pakistani soundscapes and influences, with warm, watery textures, creating a haunting song that hums with emotion perfect for this time of year.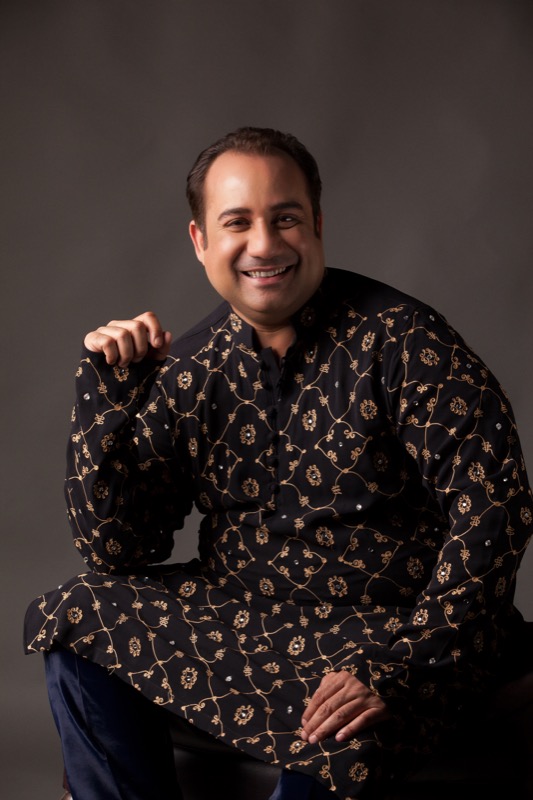 The concept for "Bungee Jumping" originated after a game that Naughty and Emeli played where they attempted to write a song about the most random thing that came into their heads. Despite such beginnings, however, the acoustic guitar-driven song packs an emotional punch. A call-and-response duet, Emeli's lyrics focus on taking risks in love, while Rahat's lyrics are a meditation on the eternal power and commitment of love, echoing the devotional music he is best known for.
As friends and collaborators, Naughty Boy and Emeli Sandé have worked on numerous tracks together, including "Lifted" and "Wonder" taken from Naughty Boy's debut album Hotel Cabana, and "Daddy", taken from Emeli's multi-million selling album Our Version of Events. The pair also worked together on Emeli's second album Long Live the Angels.
Naughty Boy has always been a fan of Rahat Fateh Ali Khan's music. As the first Pakistani musician to perform at the Nobel Prize concert in 2014, Rahat has won numerous awards, including Best International Act at the 2012 UK Asian Music Awards. Rahat has previously worked with his uncle, the late Nusrat Fateh Ali Khan alongside Pearl Jam on the soundtrack for the Tim Robbins directed film Dead Man Walking, and his vocals have appeared in numerous Bollywood films.
Emeli said, "It was wonderful to be back in the studio with naughty boy again, this song came to life so naturally. It's a great honour to duet with Rahat and we really hope the message of bravery in both love and in life will resonate with those who hear it."
Rahat Fateh Ali Khan adds, "It is a great experience to work with Naughty Boy on a collaboration. I was impressed with the vocals of Emeli Sandé. The track has a lot of depth and I'm looking forward to the release of the song"

"Bungee Jumping" is another exciting song to add to the 3 time Brit nominee's incredible discography, which now boasts over 2.7 billion global streams, 3 million singles in the UK alone, including the number one smash hit "La La La", featuring Sam Smith, and his beautiful multi-million streaming collaboration with Arrow Benjamin and musical icon Beyoncé, "Runnin' (Lose It All)".
Naughty Boy: "This is what dreams are made of, especially for a producer, for someone who's grown up with Pakistani music, with Qawwali music, with ghazals and with Western music as well. It's a dream come true for me to be able to bring this collaboration together…
Naughty Boy is set to release his second album, the follow-up to 2013's critically acclaimed debut Hotel Cabana (top #2 in the UK) set to drop in Autumn 2019. He has teased that he's been in the studio with Raye, Steele Banglez, Miguel, Bebe Rexha, Julia Michaels, Calum Scott & Mike Posner. However, he's remaining coy, refusing to say just yet which sessions were for his own album. 2019 will reveal all!

"Bungee Jumping" is out now via Virgin EMI Records.