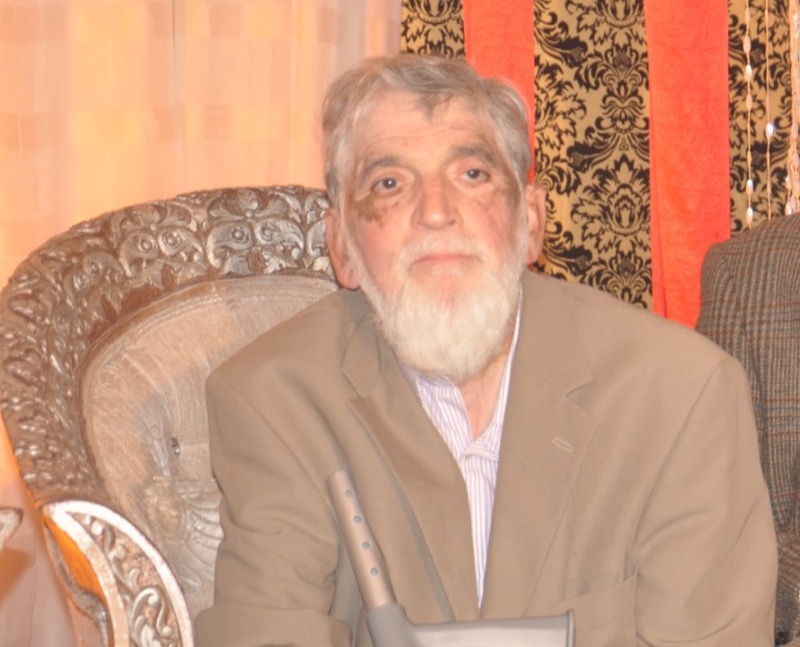 Byline: Imran Mirza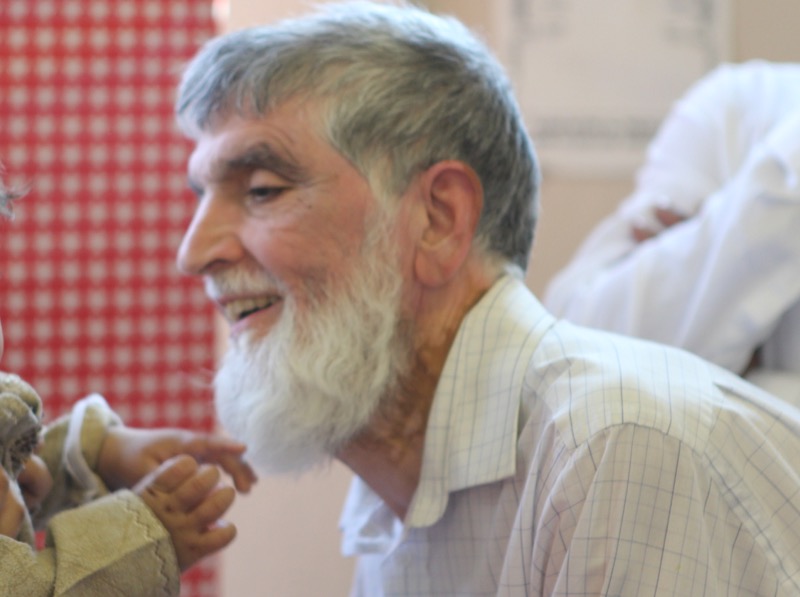 Ask most people what they would like to leave behind when they leave this world and you'll hear the word "legacy". A legacy for their family and a lasting legacy for the community and beyond.
My brothers and I wanted to share the story of a man who achieved this and remained resolutely humble and inspirationally active till his last breath. Our father – Abdul Rashid Mirza.
At 21 years of age, Abdul Rashid Mirza flew to London and settled in Nottingham in 1958 to work and provide financial support for his parents and siblings who he left behind in his home city of Jhelum in Pakistan. In 1963 he married Nasim Akhtar, from Lahore, Pakistan and together they set about building their new life together in London.
They settled in Cranford, Hounslow with Abdul Rashid getting a job with Pan American Airlines.
He worked tirelessly for a few years, working all the hours he could, saving enough to a buy a grocery store in Cranford. They named the shop Star Cash and Carry and worked there together, whilst raising four boys, ensuring they were taught both British values and the Islamic faith.
Abdul Rashid and Nasim both played an active part in the local community and due to their friendly, welcoming personalities both proved to be very popular. The community found them endearing and trustworthy to approach for advice on family and local matters.
By this time, Abdul Rashid was highly respected and well regarded throughout Hounslow and surrounding areas as a local community leader and a great example for all to follow. He had helped to set up Hounslow Mosque in its previous building in Bath Road, Hounslow, the local Pakistan Welfare Association and also helped many new migrants to begin their lives in the UK.
Abdul Rashid and Nasim would invite as many guests as possible to their home. They were both known for their kindness, their insistence on visiting the sick and elderly and their steadfastness in faith. They both had applied the same love to strangers and neighbours that they did to friends and family. He always told his children to "make your heart big and make lots of room in there to help people".
Retirement plans and the next chapter
With retirement imminent at age 65, Abdul Rashid wasn't going to sit still. He had a burning ambition deep inside him, that he had quelled for many years. The next and greatest evolution of his life was about to begin and neither he, nor anyone around him could have predicted that over the next 20 years, his name would be known by people throughout the world.
After a family dinner, he asked his family to all listen carefully. He needed our support and claimed he could not achieve his dream without his family's help, although he would have gone ahead regardless. He revealed that he had always had a desire to give back to his country of birth, Pakistan, and in particular, Jhelum – where he had grown up as a child and where even today people cannot afford a meal a day let alone any medical expenses.
Donated his house to provide free medical care
Abdul Rashid set up a UK-based charity to help the hundreds of thousands of people still in destitution and despair in Jhelum and the surrounding areas. The main problem he remembered as a child was a lack of basic healthcare and he saw many family members suffer because of it. If you don't have money, your chances for survival are low. The hospitals are totally under-funded and poor people just don't get access to treatment.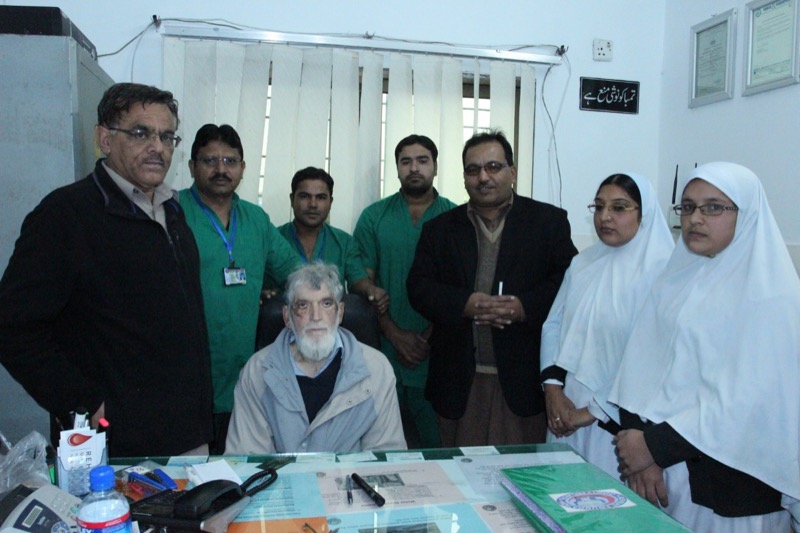 Abdul Rashid donated his house in Jhelum to the charity and planned to convert it in to a walk in GP surgery and pharmacy, fully funded by donations from the UK, completely free to the poor.
To date Rehmat Medical Aid has provided well over 200,000 free treatments for the poor
Year 2000. A new millennium and at a community hall in Feltham, Hounslow, Abdul Rashid gathered together hundreds of friends and family members for an inauspicious charity dinner to initiate the project.
This small event was a success and exactly the springboard he needed as £10,000 was raised to kick-start the charity.
With the funds, the house in Jhelum, Pakistan was converted, Doctors and staff were hired and medicines were purchased. Two voluntary committees were formed; one in the UK and one in Pakistan and Rehmat Foundation Charity Projects had launched.
Rehmat Foundation Charity Projects began operating the GP surgery and Pharmacy immediately, providing free basic medical healthcare and medicines. Perfectly located in a central part of the city, the locals from Jhelum and surrounding areas were quick to take advantage of this new free health service – the kind that we take for granted here in UK.
Rehmat Foundation Charity
Donation boxes were placed in shops in West London, Slough, Leeds, Birmingham and more. Abdul Rashid was on a new mission. All his energy and time was spent in his efforts to help the poor people and he led the way, driving round to collect and replace the boxes, and inspired his friends and family with all his energy.
People from all walks of life as well as friends and family also continued to donate directly meaning the scope of the charity could be widened.
Rehmat Foundation set up mobile Hepatitis screening camps, Polio vaccination campaigns, eye health camps, and health awareness campaigns for prevention and control of disease. Dentists from the UK including his son flew out to Pakistan to run a Dental Camp to treat the poor for free.
In 2005, a catastrophic earthquake decimated neighbouring Kashmir and surrounding North-West Pakistan. Thousands of people had lost their homes and they needed support immediately. An emotional appeal to the local community in and around Hounslow to donate blankets, tents, sleeping bags and clothes resulted in amazing emotional outpouring of relief help.
Volunteers helped to fill up a marquee full of donated clothing and bedding. Several shipments were sent out to the affected areas free of charge courtesy of PIA, the national carrier of Pakistan. In the affected areas, temporary shelters were also built for homes and schools.
The charity was proving to be a great help to the local community and the quality of care was making local headlines, coming to the attention of a wealthy local land owner, who would soon make an offer to Abdul Rashid that would raise the bar and elevate Rehmat Foundation forever.
The drive to open a Kidney Dialysis Hospital
Abdul Rashid wanted to evolve to the next stage and build a hospital to help people suffering with Kidney illnesses, which is a major issue in the region. Unfortunately, he received some distressing news and was about to be tested further. He had been diagnosed with early stage Parkinson's Disease.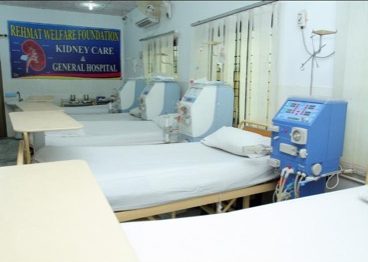 Initially it didn't have too much of an impact on his work, but there is no cure for Parkinson's and the illness would degenerate further over the years. This only drove him to work harder and he soldiered on regardless.
Abdul Rashid met Ch. Mohammad Hussain, a local land owner in Jhelum who offered the charity a lifeline – A plot of land that he wanted to donate to the charity to build the hospital.
This was an opportunity that had to be accepted and Abdul Rashid's dream of opening a Kidney Dialysis Hospital received the boost his hard work had deserved.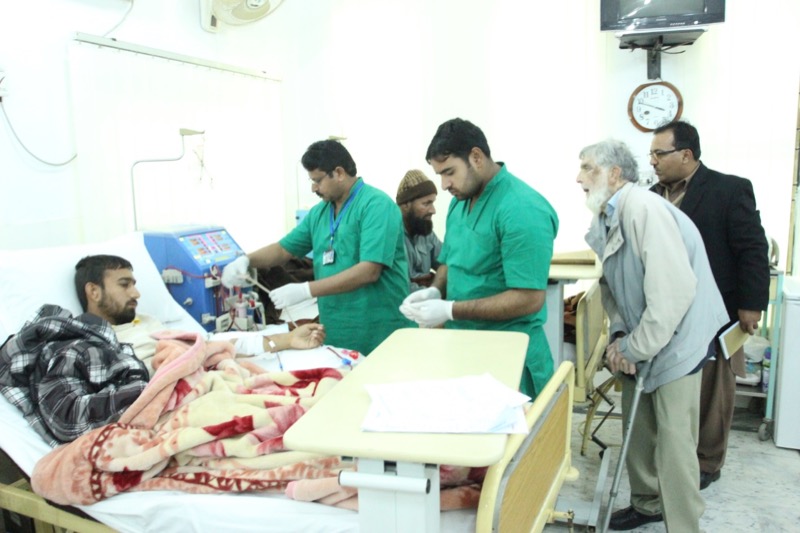 Speaking to people locally, you would hear them describe how they have had to sell all their possessions, in order to continue to receive kidney dialysis and some have to travel 200 km 2-3 times a week to receive it.
To date, 100,000 free dialysis treatments have been administered.
Many people simply died because they could not afford treatment. A huge appeal was started, including friends and family, radio and Live TV Appeals on UK Pakistani channels which was a resounding success.
Sadly, Nasim, his wife and his biggest supporter never got to see the Hospital open. In 2007, Abdul Rashid and his children lost her to breast cancer.
A devastating blow to all the family, but of course it hit him hardest. His lifetime companion and confidante had gone. She was the one who encouraged him the most to do his best to fulfil his dream. The one person who always believed in his abilities and told him to ignore the people that said "it is too difficult to run a charity in Pakistan" and urged him on.
His life would never be the same.
He funnelled the pain away, deep inside as he always seemed to do, and immersed himself in charity work. He would come back to help those affected by Breast Cancer in the area later as this was also now a personal objective. Right now, he had a hospital to build and people needed him.
The Kidney Dialysis Hospital opened in 2008 and now provides free dialysis to the poor within a 200-mile radius. To date, 100,000 free dialysis treatments have been administered. The hospital is running at maximum capacity with 12 operational dialysis machines and a long waiting list.
The staff have to make the heart-wrenching decision to turn people away who cannot afford treatment elsewhere. An expansion of the centre is planned and a new funding programme is being initiated by his four sons who are committed to continuing the legacy of their father.
Abdul Rashid's mission to set up clean water filtration plants
A major cause of kidney illnesses is unclean water. The majority of Pakistan suffers from a lack of clean water.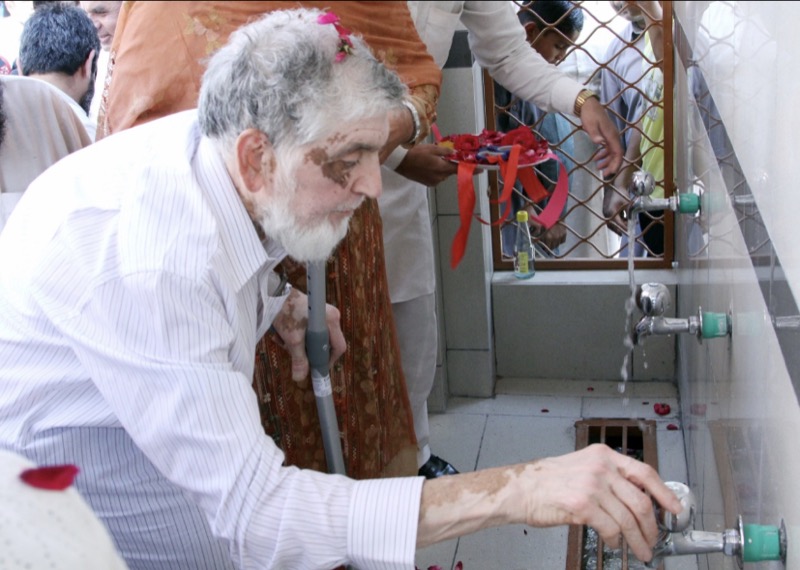 Abdul Rashid set up a program to install clean water filtration plants after receiving direct requests for support from several areas.
To date, there are now 30 state of the art Water Filtration Plants strategically placed around Jhelum for access to all. This acts as a preventative measure for generations to come, to ensure that future kidney issues in the area can be minimised.
The water plants are installed at the following places: Chowk Ahl e Hadees Jhelum, Machine Mohallah No 3, Govt Post Graduate College, Near SP House Kacharee Road, Billal Town near Bismillah Market, Billal Town near Tanki Wali Ground, Pakhwal Main Road, Alasria Mosque Alasria Road, Mistrian Mosque Dhoke Jumma , Madni Mosque Nia Mohallah, General Post Office, Khewra Haidree Chowk Tehsil, Pind Dadan Khan, Bording Mohallah, Machine Mohallah No 2 Near Gama Bottle, Machine Mohallah No 2 Near Barf Khana, Bagh Mohallah River Road, Dhoke Meher Adalat Rohtas Road, Ranjha Maira, Govt Girls High School No 2, Karim Pur SP Road, Govt Girls High School Kala Dave, Govt Girls High School No1, Govt. Islamia High School, Village Khurd, F.G. Girls High School, F.G. Boys High School, Govt. Tableegh-ul-Islam High School, Govt. High School Bagga, Baba Jada Road, Madni Masjid Lil Binnat, Govt. Primary School Jada.
Extraordinary results
A recent survey of Jhelum, Pakistan has reported that this drinking water is amongst the cleanest in Pakistan and the Jhelum district is now the 3rd best for health in Pakistan.
People are suffering less illnesses and diseases in the region due to the clean water they are drinking. The charity was voted the best NGO operating in Punjab last year.
Over the last ten years, our father's condition progressively deteriorated as Parkinson's Disease limited his abilities, but he was still getting out collecting boxes, asking people for donations and guiding the charity.
In the last few years, however the illness had taken its toll and seriously debilitated his movement, his speech and his ability to campaign and manage the charity. Even though his mind was sound and sharp as ever, his body just couldn't do what he wanted it to any more. Yet still he was seen handing out leaflets every Friday at the local mosque and the charity was his top priority, even above himself.
His latest achievements were a rebranding of the UK charity to 'Rehmat Medical Aid' and the overseeing of the first round of fundraising for a Breast Cancer Screening and Awareness Centre – to diagnose and refer to a Breast Cancer treatment hospital, as well as provide training for nurses and local female community leaders to guide women on how to check themselves. Pakistan has the highest incidence of Breast Cancer in Asia.
Abdul's family wanted to remind Asian women in the UK to break the stigma associated with Breast Cancer and check regularly. There is hope for treatment if diagnosed early.
Sadly, Abdul Rashid passed away peacefully at the age of 82, on 16th December 2018, surrounded by members of his loving family, who are comforted by his achievements and the peace he is now at.
People from around the world have paid their condolences to him and reminded us how blessed we were to have had a father like him. In Islam, it is recommended to bury as soon as possible and this was arranged for the very next day, as he was laid to rest, next to his beloved wife, Nasim.
Despite the short notice, his beautiful Janazah prayer (funeral) was attended by over 800 people who loved him. Friends and family alike hugged each other in tears, because their "father" had gone.
He achieved so much in his life and will continue to do so after he has gone. He has left us his love, guidance and this amazing non-profit charity to grow and pass on to our future generations. We hope that this true story will inspire the next generation. This is Abdul Rashid Mirza's legacy. May God be with him.
Seema Malhotra – Labour MP: Mr Abdul Rashid Mirza was a man with great respect, dignity and humanity. He gave so much to his wonderful family and to his community. He set an example for future generations for how to serve in the way he ran his life and served the community in many ways for so many years. He treated strangers and neighbours as friends and family, and was always there for others. A man of great character and values. I feel lucky to have known him, to have worked with him in the local labour party and to have shared time with him. He leaves a great legacy in Cranford which his family continues. He will be deeply missed by us all. May he rest in peace.
Shafiq Rehman – General Secretary – Hounslow Masjid and Islamic Centre: Abdul Rashid Mirza sahib was a unique personality whose determination was second to none. He worked especially hard for the welfare of the people and was a pillar of the local community. His contribution to society is immense and he will surely be missed by not only his family, but all the community. May Allah grant him the highest place in Paradise.
If you would like to support the charity's Breast Cancer, Kidney Dialysis or Water Filtration Plants projects Rehmat Medical Aid can be contacted on 0208 897 1284. You can donate online at www.rehmatmedicalaid.com or via paypal : paypal.me/rehmatmedicalaid. All committee and family members work voluntarily and 100% of your donation goes towards the charity. To date Rehmat Medical Aid has provided well over 200,000 free treatments for the poor, and provides thousands of gallons of clean water to residents in Jhelum every hour, every day.