By Georgia Hanias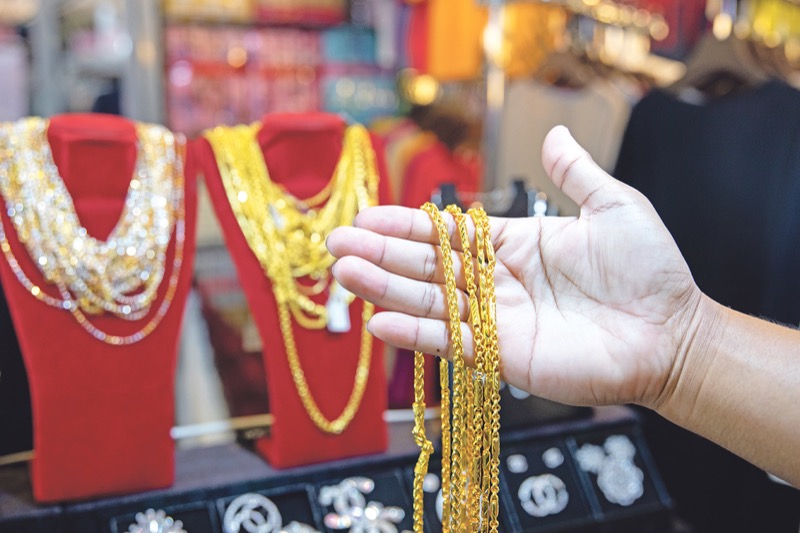 The current climate of economic uncertainty, Brexit fears and financial market fluctuations has triggered demand for gold in the run up to Diwali. With the festivities upon us and the forthcoming wedding season the demand for gold can have you thinking about the best way to invest.
The tradition of buying gold jewellery around Asian holidays is as old as the hills. Although the Indian community spends hours at the local jeweller selecting what they desire, they usually do not question quoted prices. This can lead to inequity and worse performing cash back for purchased gold. It's not recommended to blindly trust quotes by a jeweller as there are many factors that affect the final amount you will receive, including the shop profit margins, business rates, the value of gold at the time of purchase and other hidden commissions.
When the time comes to cash in, there's no standard invoicing pattern and prices will vary greatly, not only depending on the daily gold rates (gold bullion is traded in the wholesale market everyday where demand, supply and various other factors determine the price) but also on the very wide differences all jewellers apply between the price at which they sold you gold and the price at which they will buy it back from you: what investors call "the spread". Additionally, there is always an extra pain point, the fact you will need to sell the whole of the gold piece you own, whether it is a necklace, a bracelet or a small bar… I have yet to see someone cutting a piece of jewellery in half!
This raises the question of how can physical gold owners take full advantage of a surge in value? The price of gold has spiked in recent weeks rallying from £27 to £31 per gram during October. When the price of gold soars, physical gold owners have little bargaining power with the local jeweller. You have to accept what's offered and it's never going to be the real-time gold trading price.
Storing physical gold requires careful planning. Finding a place to keep it safe is a challenge. Keeping it in the house presents a security and insurance problem. Instead you have to purchase a lockbox to store your jewellery which can cost about £50-£60 annually. Furthermore, a lot of retail banks which used to offer storing in the past have now stopped offering these services, leaving you with the only option of finding alternative local suppliers. Most likely than not, these newer institutions and businesses that have cropped up to fill the gap in the market are seldom based in your local area and therefore a hassle to get to without a car and with your trusted family "bodyguard" at your side.
In spite of all of the above, one thing is clear: the current climate makes gold a good investment. Thankfully a new wave of gold trading apps has emerged where you can still make the most of it without having to purchase jewellery.
Bindi K., aged 31, is one of a growing number of Asian millennials that have started using these apps. She no longer buys into the long-term practicality of buying jewellery and has been trading in physical gold through apps via her mobile phone. "A friend of mine told me about this app called Goldex and how it ended her constant search for a gold provider that would always guarantee best prices, and simplify the whole storage nightmare. I can log into the app, see the price of gold in real-time and buy and sell it whenever I want with just a few clicks." Bindi's mum standing at her side nods in approval "Buying in gold is so much easier now than in my time. I keep telling Bindi how gold investments could help her to save money that she can use for something important in the future, like a house deposit, my grandchildren's education or even a car."
Goldex is just one of a few innovative apps to disrupt the gold trading world. "These types of technologies offer a good way for our digital savvy generation to invest and buy gold," added Bindi. "They are truly disrupting the gold market, like Uber has done for cabs, Airbnb for hotels and Spotify for music."
I reached out to the team at Goldex to learn why they claim to be the first "ethical" gold provider out there. Speaking to founder Sylvia Carrasco, she explained: "We are obsessive about putting our client's interests first, so we decided early on to build our company from the ground up to be fair.
We are not gold traders, we are simply agents connecting our users to five of the largest gold markets and with the smartest trading technology so that they always get the most amount of gold for their money. Our platform is transparent on prices, costs and performance. As opposed to other providers, we have nothing to hide."
Looking at their terms, I can read that the physical gold you buy through Goldex is sitting at secure vaults owned by some of the biggest global operators like Brinks and Loomis International, legally ring-fenced and insured by Lloyds of London. I guess I now understand why Bindi tells me "I have more peace of mind with this new way of owning gold than how my mum used to deal with storage, keeping it under her bed!"
With so many new convenient ways of buying and selling gold, there's an alternative to purchasing jewellery that is destined to stay in a box, costing you money to store and becoming a pain to sell when in need. Technology opens up the possibility to truly own a piece of gold that you can manage yourself as a 21st century liquid investment. It's the future of gold in the palm of your hands.
For more information on the Goldex app visit https://goldexapp.com