Children's charity gets support from Sir Mick Jagger and the England and India cricket teams
---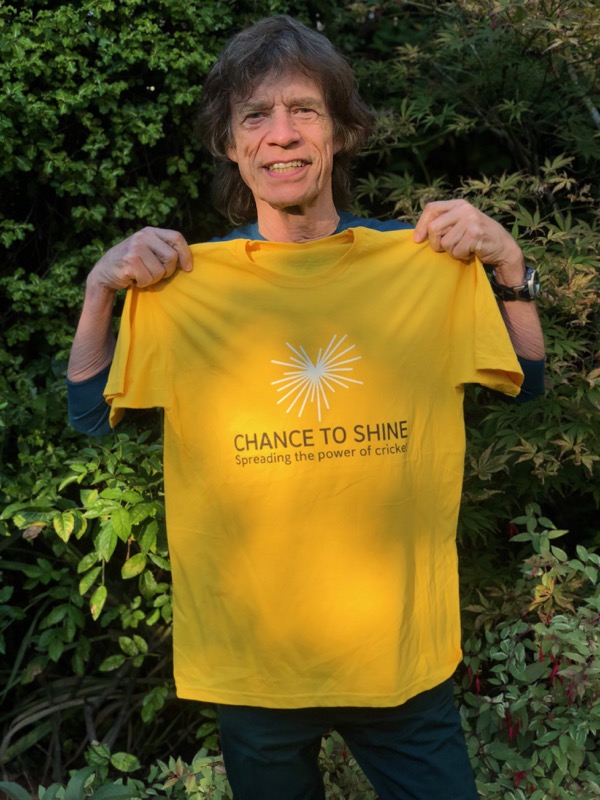 Rock and roll legend Mick Jagger has given his backing to national cricket charity Chance to Shine, helping the organisation to provide more young people with the opportunity to play and learn through cricket.
Jagger, whose father was a cricket fan and PE teacher, is a long-time supporter of the game and of Chance to Shine's work.
During the final Specsavers Test Match between England and India at the Kia Oval (7-11 September), Jagger has pledged to back the players on both teams to the tune of £20,000 each time one of them scores a hundred or takes five wickets and £10,000 if they score a fifty or take three wickets.
Since 2005, the charity has given more than four million children in over 15,000 state schools across the country the opportunity to play cricket. In addition, the Chance to Shine Street programme brings the game to thousands of young people in the most deprived urban areas of England. 'Street' uses the sport to increase aspiration, promote social cohesion and create opportunities in many diverse communities.
Mick said, "I follow England - the game in general, in fact - from wherever I am in the world and thought this would be a fun way to make some money for Chance to Shine. It's been an exciting series that has got people talking cricket so let's reflect that; with every inspiring performance comes a new fan and the younger those fans are, the better it is for cricket's future." He added, "No pressure on either Joe Root's guys or Virat Kohli's - though the bigger they go at the Oval the better!"
Laura Cordingley, Chance to Shine Chief Executive, said, "We are so delighted that Sir Mick will be supporting Chance to Shine during the final Test. I'm sure that the players from both sides will do us proud, while also helping to raise truly significant funding for Chance to Shine."
Chance to Shine is encouraging cricket-loving fans to follow Sir Mick's lead and give £20 for a century or five-wicket haul and £10 for a 50 or three wickets. All donations will be matched pound for pound by England & Wales Cricket Board until 30 September. Donations can be made at chancetoshine.org/donate