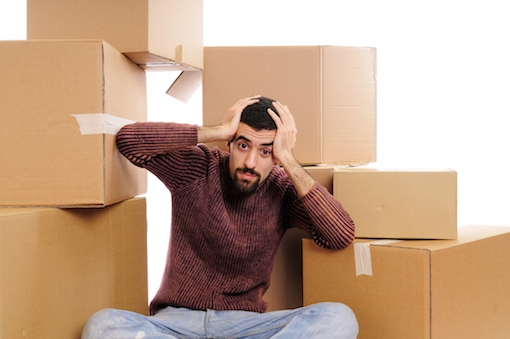 A new report into retail returns reveals many of Britain's favourite retro clothing, hobby and collectors' stores will fail in 2018, because customers expect to be able to return items for any reason, without even paying postage.
The UK's best-loved retro clothing, hobby and collectable stores are under threat. In a new report by the leading courier price site ParcelHero many owners of specialist e-commerce businesses reveal they fear they won't survive because of the massive growth in no-fault returns.
Online stores specialising in everything from vintage clothing, fishing, sports memorabilia and music, to sci-fi and comic collecting, classic car parts, and exotic pet supplies, admit that the growing expectation from shoppers that they can return any item, for any reason, may drive them out of business.
And for Britain's Asian community, a number of favourite online stores selling craft Eid cards, Diwali gifts, or alcohol free cosmetics and shaving products may also struggle to meet the cost of returned items.
Says ParcelHero's Head of Consumer Research, David Jinks MILT: 'In recent years we've been living in something of a Golden Age for niche collectables stores, thanks to the amazing variety of online businesses covering all our interests and hobbies. Now, because of the Consumer Contracts Regulation's 14 day 'cooling off period' – which came into law in 2014 – customers increasingly expect they can return an item on a whim, without even paying postage.'
Continues David: 'ParcelHero interviewed the owners of sites selling everything from 1980's fashions to Fender guitars and exotic animals. They have all been left reeling as our report reveals 8% of shoppers return several items a month.'
Says David: 'Our new report, Retailers Reach the Point of No Returns, found a huge gulf between the expectations of shoppers and the reality for niche retailers. It's perhaps time customers heard about the very real problem of return costs from the owners of their favourite online stores. It may make them rethink their expectations.'
Among the retailers featured in the report is Imogen Shurey, founder of the online vintage clothing and handmade store, Velvet Cave. Imogen says: 'As a small business it can be quite frustrating having to accept returns as the money may already be spent. People are so used to being able to return things to big stores easily and often free of charge so it's difficult to compete. For a company with a huge turnover the money lost doesn't make an impact but too many returns could spell the end for a small business.'
Gavin Crayton, who runs Customer Services at multichannel scale model specialists eModels, and Eoghan Logue, of Anderton's Music Mail Order Department, say their businesses simply can't cover the costs for a customer wanting to return an item that is not faulty. And Atom Retro's Sarah Fenwick fears that even with a returns policy so generous they advertise its terms, returns still cost the business in many ways: We have to invest in staff resources to process returns. We also get a number of returns that are not resaleable and have to be written off at cost to the company.'
The online video game memorabilia site Gamerbilia.co.uk agrees returns 'have the potential to be financially damaging because in some cases you can lose ALL your net profit on an order if the customer returns it.'
David concludes: 'Our fascinating interviews with specialist retailers of all sizes reveal the huge problem of customers increasingly exploiting to the hilt their rights under 2014's Consumer Contract Regulations. For example, 10.4% of customers admit to buying clothes in various sizes and simply returning the ones that didn't fit, while traders say that are frequently pressured into paying the cost of returns for unwanted items – or risk losing their all-important 5-star ratings.'
You can read the full report on the impact of returns in ParcelHero's survey report, 'Retailers Reach the Point of No Returns' at www.parcelhero.com/returns