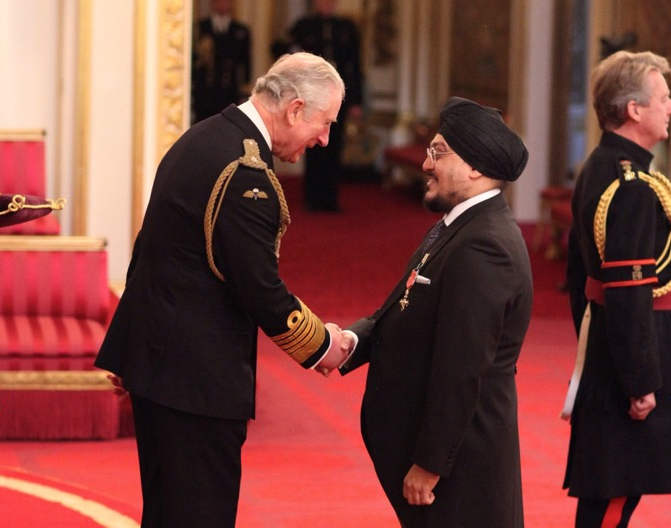 Dr Jason Wouhra, IoD West Midlands Chairman, has been invested with an OBE for services to Business and International Trade by His Royal Highness Prince Charles, the Prince of Wales.
Dr Wouhra, who was 39 when he received news of his award, is a Director and Company Secretary of East End Foods plc, and said he was "delighted, honoured and humbled to receive the award".
He added: "I am grateful to my family, team at East End Foods and the numerous West Midlands business leaders and directors I have worked with over the years. Their help and support has been invaluable, thank you to those who have supported and guided me on my journey. I aim to continue to grow and assist others around me."
Jason said the investiture ceremony at Buckingham Palace, on Thursday 1st February, had been " a magnificent occasion – and particularly so as my family were there to witness it. They have always been so supportive of my work, whether with East End Foods or in my voluntary roles."
As well as his work with the IoD Jason holds numerous voluntary and community positions. Currently he is a non-executive director at University Hospitals Birmingham NHS Foundation Trust and is the Chair of Aston University's Development Board, the West Midlands Police Business Crime Prevention Board and the Child Poverty Commission.
In addition, Dr Wouhra has played a leading role in improving international trade links between the UK and India, while closer to home, he is also the patron of a number of charities and was Chair of the Library of Birmingham Advisory Board, Vice Chair of the Black Country LEP and was awarded an Honorary Doctorate by Aston University in 2014.
Through his role with the IoD Jason has been a strong supporter of the region's business community, working to build an environment in which enterprise can flourish.
IoD West Midlands Regional Director Calum Nisbet said the honour is richly deserved. "Jason works tirelessly for the business community in the West Midlands and has been an outstanding champion for our region. He epitomises all that is good in a business leader and has been a tremendous support to the IoD and our members."