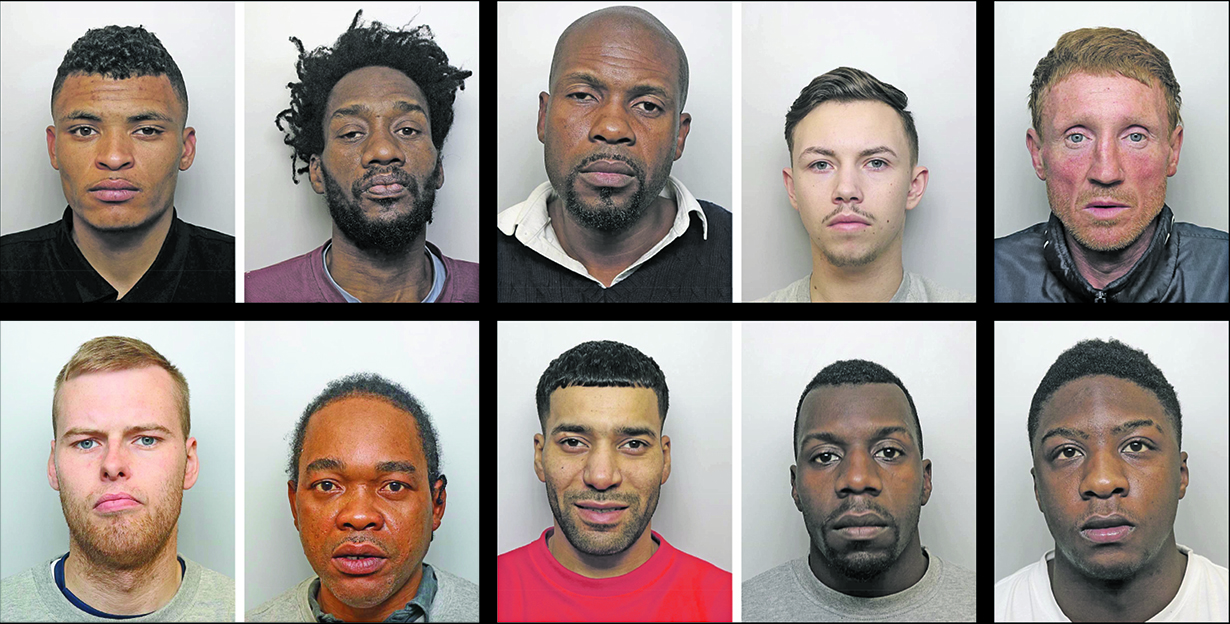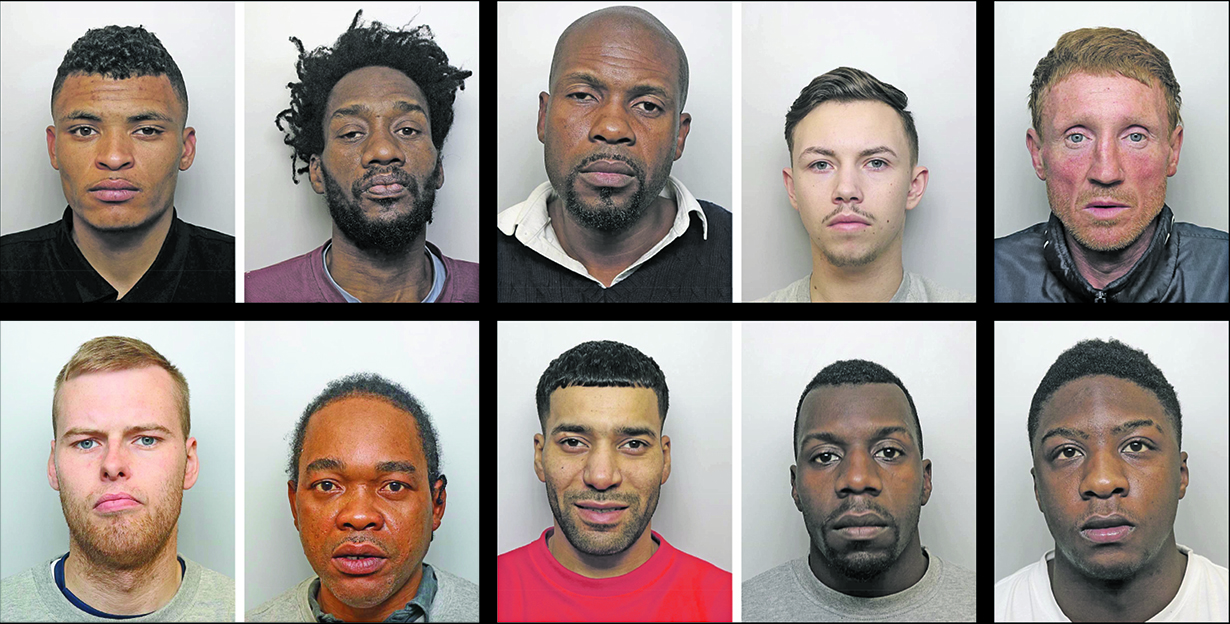 Prison sentences totalling more than 40 years have been handed down to ten men convicted as part of a landmark crackdown on the organised supply of heroin and cocaine in Leeds.
The men were arrested in a series of raids at addresses across the city in May this year as a result of an investigation by specialist officers from Leeds District Serious Organised Crime Unit and West Yorkshire Police Protective Service Crime.
It followed months of painstaking work to gather detailed and comprehensive evidence on those involved in a number of 'ring and bring' drug dealing phone lines behind the supply of heroin and crack cocaine on the streets of the city.
Two further arrests phases in July and this month have seen more than forty other people arrested with the majority charged with drugs supply offences.
In this case the group were shown to have been behind a drugs phone line that put £127,000 worth of heroin and crack cocaine onto the streets of Chapeltown and Harehills over a five-month period.
The line operated 24-hours a day, seven days a week and was known as 'the Paranoid Pete line' due to the lengths those running it would go to avoid detection.
Between October last year and March this year around 20,000 calls were made to the line resulting in around 5,000 drug deals.
It was estimated that around two kilograms of heroin and crack cocaine were sold as a result.
The operation was led by Shawn Campbell and Darren Duncan along with a third man who is still being sought by officers.
Campbell, aged 44, of Mexborough Street, Chapeltown, and Duncan, aged 42, of Halliday Mount, Armley, were each jailed for six years and four months for conspiring to supply heroin and crack cocaine.
Eight other men were jailed for drugs supply offences: Gabriel Byrne, aged 18, of Blenheim Avenue, Woodhouse, was sentenced to two years imprisonment; Anton Glasgow, aged 22, of Baldovan Terrace, Harehills, was jailed for five years and eight months; Tyrone Mitcham, aged 30, of Harland Square, Woodhouse, was sentenced to four years and four months custody; Tristan Brennan, aged 35, of Spencer Place, Chapeltown, was sentenced to five years and eight months; Shane Dunwell, aged 26, of Alderton Heights, Moortown, was jailed for three years and eight months; Yannick Ntantu, aged 20, of Lea Farm Road, Hawksworth, was sentence to two years and two months; Vincent Heaney, aged 47, of Trafford Terrace, Harehills, was jailed for two years and three months; Colin Liburd, age 46, of Bayswater Row, Harehills, was sentenced to three years imprisonment.
Six other men convicted in the case are due to be sentenced a future dates.
Chief Superintendent Paul Money, Leeds District Commander, said: "These men each played their part in an organised illegal drugs operation that put thousands of pounds worth of heroin and crack cocaine onto the streets of the city.
"Sadly we know only too well the human misery that these drugs cause, not just to the individuals who take them but to countless others in the wider community who suffer as a result of drug-related crime and anti-social behaviour.
"These men were brought to justice as part of a major crackdown on the supply of Class A drugs in the city, which was led by officers from Leeds District Serious Organised Crime Unit and specialist officers from our Protective Services Crime team.
"Those officers have been involved in more than a year's worth of painstaking investigative work to build up a comprehensive evidence picture around these and other individuals who are yet to be dealt with at court following further arrest phases.
"The indisputable strength of the evidence that their work has produced has seen the defendants in this case left with no realistic option but to offer guilty pleas. We hope the significant sentences they have received will serve to reassure the community and send a very clear message to others who think they can get away with profiting from the organised supply of drugs.
"This landmark operation also targets the intrinsic link between the drugs trade and the criminal use of firearms. We have seen a number of discharges in the city which have been linked to feuds or turf wars between known criminal factions linked to the drugs market.
"Information from the community has a vital role to play in the success of this work and we would urge anyone who knows anything that could assist us to get in touch, anonymously if needed via the independent charity Crimestoppers on 0800 555 111."