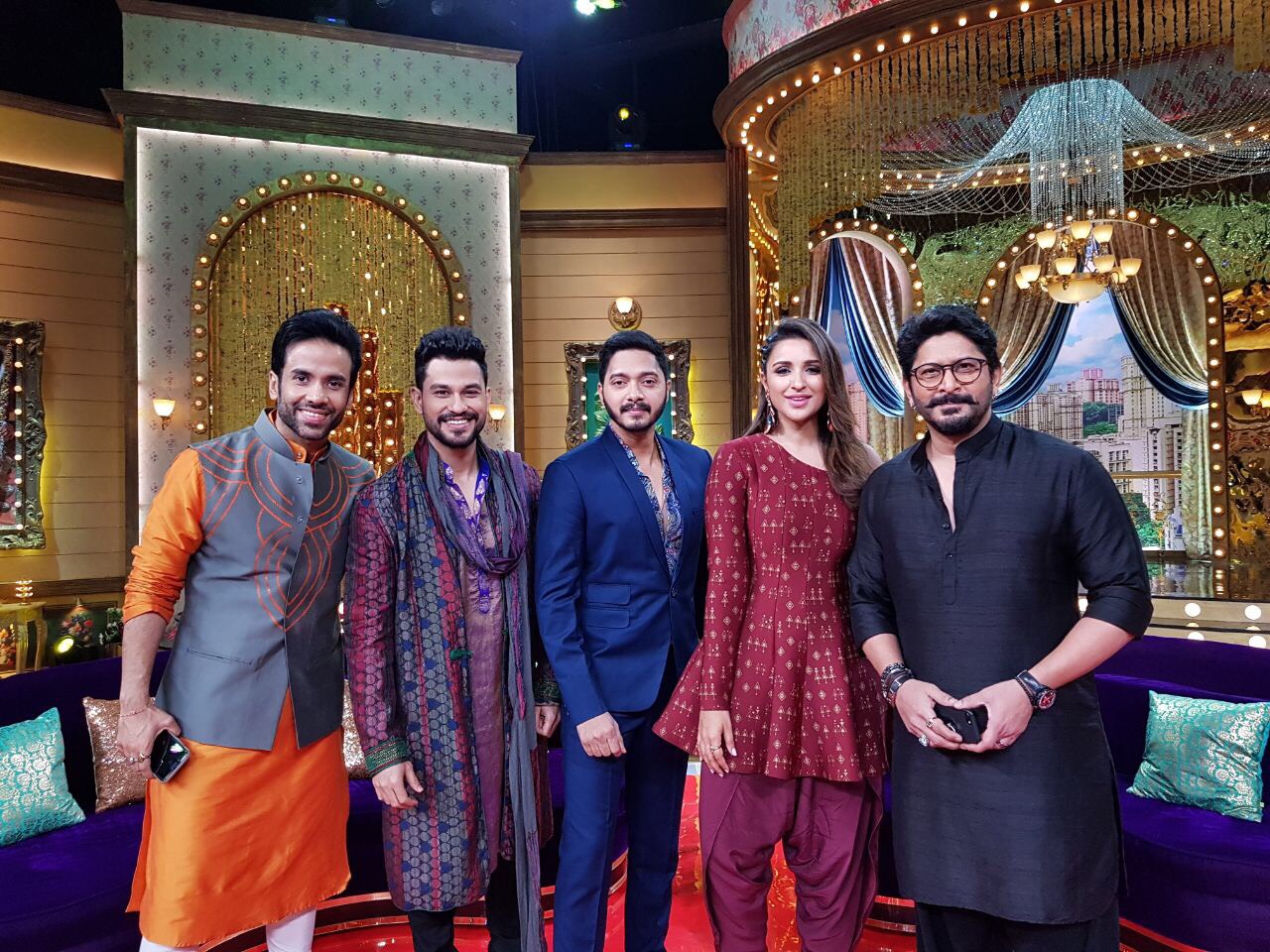 The "Golmaal" Gang give us a low down of what it's been like working on this rip-roaring comedy sequel
Smashing several box office records, 'Golmaal Again', has now achieved yet another distinction, grossing worldwide box office collections in the first couple of weeks of its release.
The ensemble cast includes Ajay Devgn, Parineeti Chopra, Arshad Warsi, Tusshar Kapoor, Shreyas Talpade, Kunal Kemmu and Tabu.
Inspired by the classic mix of laughter, mischief, and slapstick humor, Golmaal Again brings a new shade of bizarre antics, oddity and quirky happenings which has left audiences with the chills and giggles throughout!
Poised to become the highest grossing Bollywood film of the year 2017, the Producer and Director of the film Rohit Shetty commented: "We waited more than seven years for the right subject to take the Golmaal franchise forward.
"What we have achieved is very exciting and humbling, all thanks to the love showered upon us by fans across the globe."
Golmaal Again is yet another fun-filled ride about two rival gangs who are unable to stand each other since their childhood and how they repulse each other even after they grow up. It is yet another hilarious adventure with its fair share of thrills that are sure to surprise the audience and fill their hearts with laughter and joy. It is a film that will surely make everyone laugh, cry and realize the importance of how beautiful life is.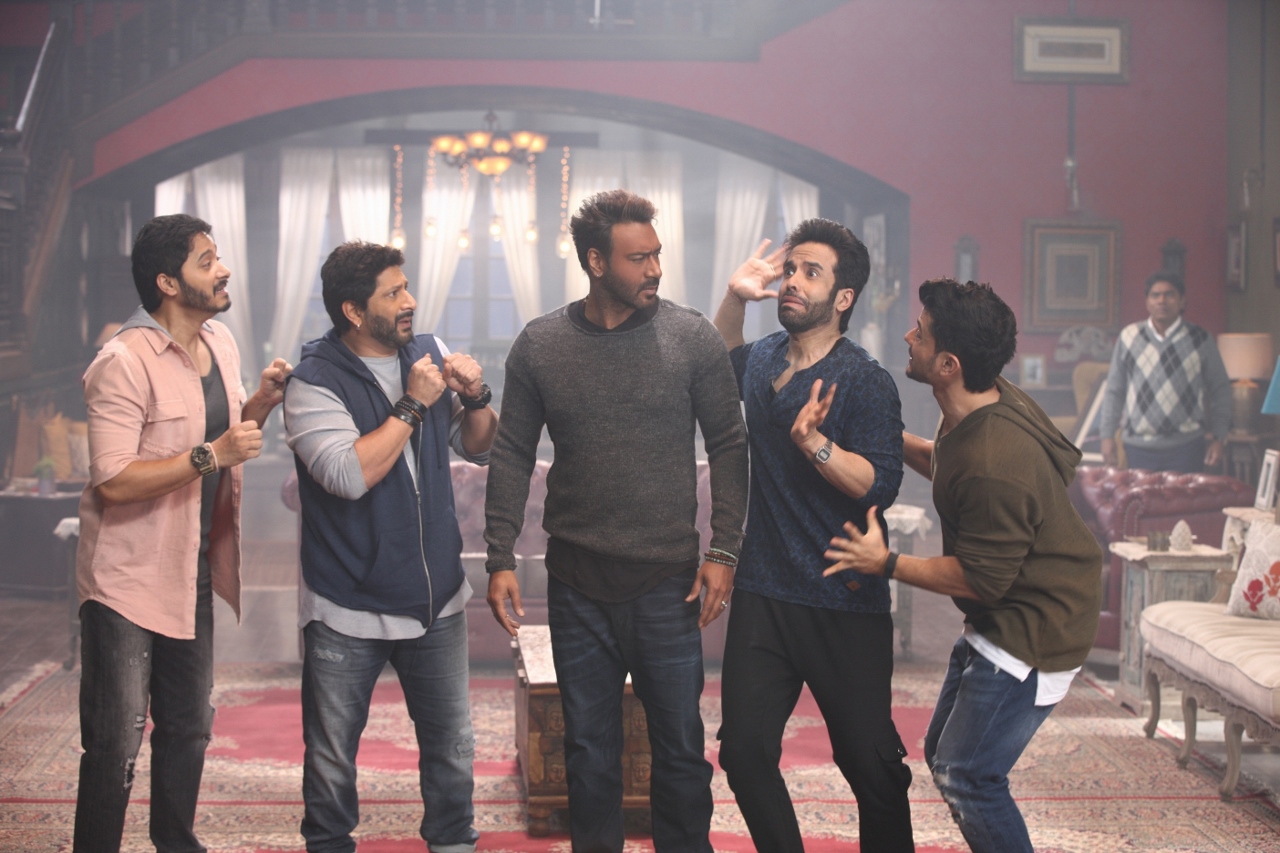 ---
Asian Express caught up with the "Golmaal Gang" to get a low-down of what it's like working together
QUESTION: Four films of Golmaal are now complete? How many more to go?
Ajay Devgn: All four films have been made possible not because of us, but our loving and welcoming audience. Only the audience can decide how many more sequels we can make. We will continue making more films if the audience continues to like them. We are ready to do the hard work.
QUESTION: The new Golmaal film has returned after seven years of the original. How special is it for you?
Tusshar Kapoor: Four films! (sighs) Working on Golmaal has been like working with a family. It feels like a paid vacation. I keep messaging Rohit every now and then asking when we'd be doing the next film. He always says when the right time comes. Finally the right time is here. I am speechless as is my character in the movies.
Arshad Warsi: When we first heard the script, the whole experience was different. We are all comedians but doing this different kind of comedy was amazing. The film was simple and sweet. I realised for the first time that a comedy film could have action which as a genre is not explored much. I think the first time we put all of this together we made a film that the audience will like and thought that if not then life will move on. Then came part two, then part three and now part four. And like Ajay says – this is our pension plan and this will continue on.
Ajay Devgn: Again, I will reiterate. This is a pension plan for all of us (hysterical laughs),
Tabu: I hope this becomes my pension plan too. This film is very special to me because I am a huge fan of the franchisee. I have not laughed watching any other film. Whenever I met Rohit at any party I used to tell him – I have to be a part of Golmaal. I used to tell Tushaar as well. Even if it is a cameo, I really wanted to be part of the whole gang. One day I called Rohit and he mentioned he has something in mind. This is probably my first film where I haven't used glycerine. I laughed so much and enjoyed it so much. All the actors have been friends with me for a very long time and it's actually been like a picnic.
Parineeti Chopra: For me this is a very surreal feeling because I am not a part of the audience but a part of the film now. When the first Golmaal came out, I was in school. I was in New York when I got a call from Rohit sir. I thought to myself that Rohit Shetty is the director, Rohit Shetty won't call me. Why would he choose me for any role? I met him and couldn't believe it. I asked him to sign a contract with me. Because I won't believe till I sign it. I really want to thank him for taking me up because it has given me so many friends.
Kunal Khemu: When I came for the third film and went to the set, there were so many people, I thought it was my first day of college and that I am going to get ragged. The whole atmosphere on the set is actually like being in college. Initially one feels that there is bit of ragging but then you become part of the team. I have to say that when the film is over it is a bitter sweet moment. We miss the fun so much, I am sure we will all ask Rohit when Golmaal 5 will start.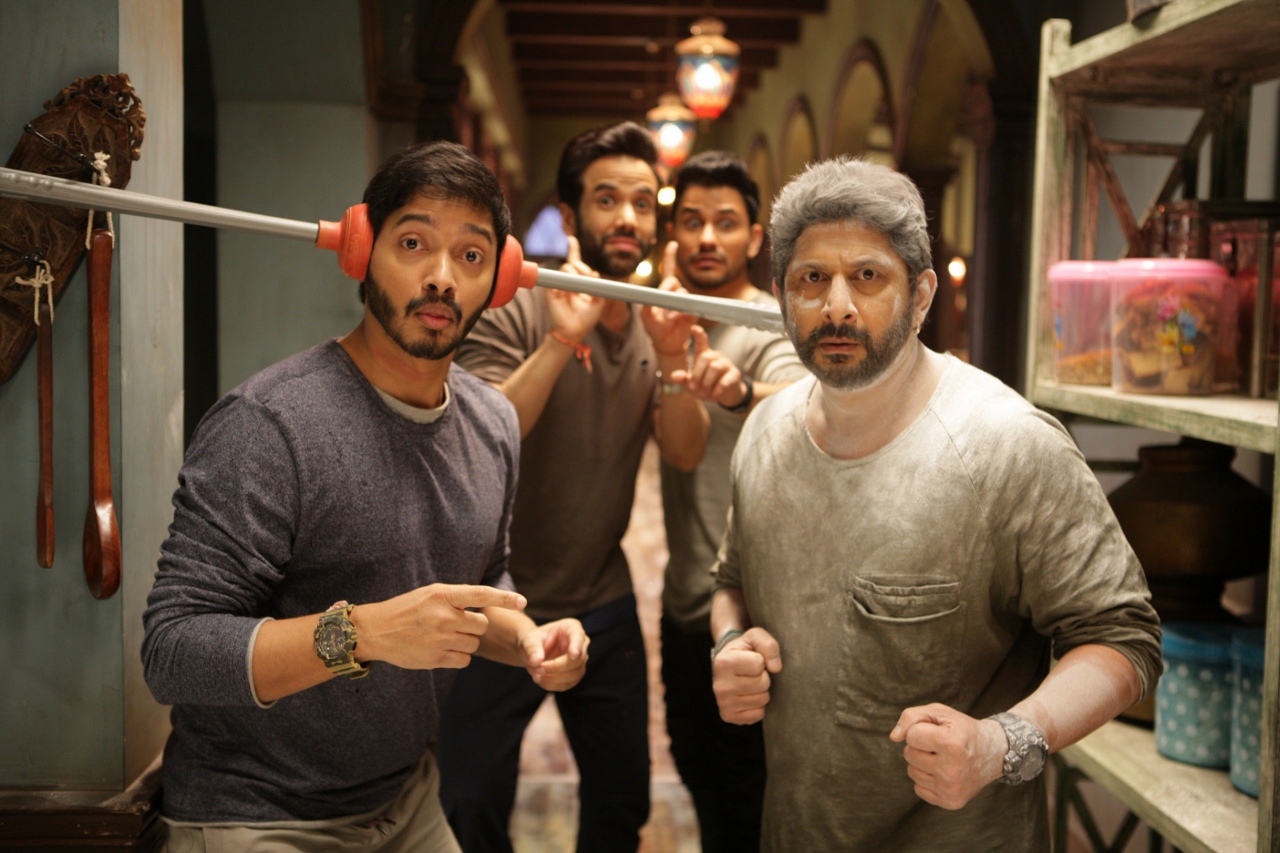 QUESTION: Why do you think there are just a few directors who make commercial comedy films?
Arshad Warsi: That is because it is very difficult to write comedy.
QUESTION: Why did it take seven years for the film?
Rohit Shetty: We were waiting for the right story. We didn't want to cheat the audience by just using the Golmaal brand. We took a lot of time to crack the story.
QUESTION: The tagline of your films says – No logic. But obviously it won't be without any logic. What do you think is more important – the story or the star cast?
Rohit Shetty: I think story is important because if your story is not good then the star cast won't work.
QUESTION: Have the guys played any pranks on you?
Parineeti Chopra: I can't remember any day where these guys haven't played pranks. All five male co-stars and Rohit Sir spend time, money and dedication to plan pranks. I think there is a separate pranks department whose job is to plan and execute the pranks.
QUESTION: Tabu – you are known for your serious and intense rolls which is completely opposite of what you are in real life. How did it feel playing a character which is closer to you?
Tabu: There was nobody who took themselves seriously. Everyone was busy having fun. Nobody took me seriously. I believe it was time for me to have this kind of experience. I was completely ready to have an experience like this professionally and personally. It was overall a relaxing experience.
QUESTION: When you play a character for the first time, second time and third time, is it easy to get in to the same character again and again after quite a bit of a gap?
Ajay Devgn: No it's not at all easy. This was after seven years I am playing this character. When I reached the sets on the first day – Rohit asked us to do a scene and we couldn't reach the same pitch. Rohit asked for the DVDs of all the previous Golmaal films and played the scene. After watching the scene we decided how we will go ahead. Otherwise after so many years it is very difficult.
---