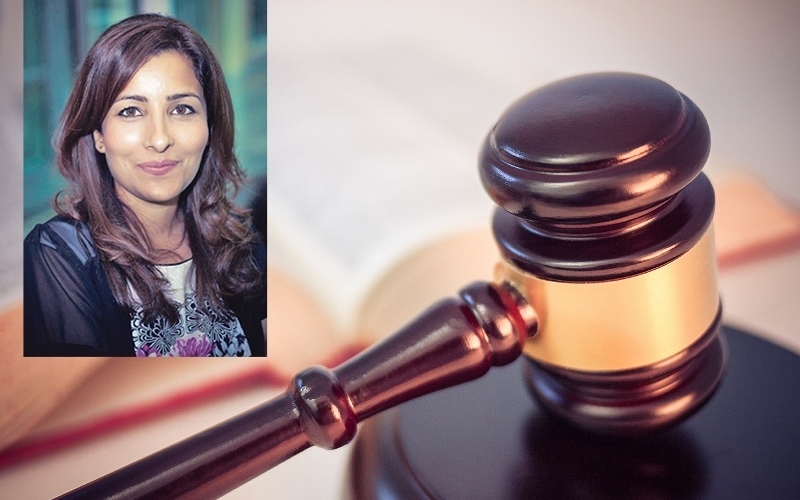 Meet Ayesha Nayyar, Specialist Solicitor with over 20-years legal experience. She is Principal Solicitor at Nayyars Solicitors and together with her team of dedicated lawyers she can help answer any of your legal queries.
Each issue she will be answering all your questions about family, immigration, personal injury and writing a will. Email them to ayesha.nayyar@nayyarssolicitors.co.uk or call 0161 491 8520 for a free consultation quoting 'Asian Express Newspaper'. Ayesha promises to deal with all your queries in a sensitive and confidential manner.
---
Dear Ayesha,
I had an accident at work. I fell off a stool when I was putting a box of heavy items on a shelf that was high up. I fell and broke my ankle. My employer told me it was my fault because I lost my balance. What can I do? (James)
Your employer has a legal obligation to provide you with a safe working environment including the right equipment and tools to do your job. I would question whether a stool was satisfactory to do the job. It may also be that the box was too heavy to be lifted by you. Your employer definitely has questions to answer and to simply tell you it was your fault is not good enough. Was a ladder available to stand on? What instructions and training were you given on how to lift items? Were any colleagues around to help you? Did anyone witness the accident? Was your fall recorded in the accident book? You have sustained an injury that is likely to affect you long-term and I would strongly advise you take legal advice on making a claim.
---
Dear Ayesha
I married my husband with a Nikaah ceremony in Bolton. We did not see any point in having a civil marriage. Now he has left me and somebody told me that I have no rights as a wife. Surely, this cannot be true? Do 15-years of marriage not count? Please tell me this is not true. (Shagufta)
Sorry to be the bearer of bad news Shugufta but unfortunately in English Law you were not husband and wife. The reason for this is that you did not have an English marriage. An Islamic Nikaah is not recognised as a marriage under English Law. There are so many people who do not realise this, but it is the equivalent of just living as co-habitees. You have no spousal rights. My advice to everybody reading this is that you must in this Country have both an Islamic Nikaah and Civil Registration.
---
Dear Ayesha
I work part time in a restaurant and I want to call over my wife from Bangladesh. Is this possible? We have had a marriage in Bangladesh. She cannot live there without me as there is no other male who can look after her. As you will know in Bangladesh a woman cannot live on her own. I cannot go back as I do not have a job there. Please help. (Hussain)
You do not state what your income is. I am assuming that because you are working part-time that you are earning less than the required threshold. This is presently £18,600. However there are certain circumstances where you can still call your wife over even if you are earning less than this. You should contact our office to get further advice.
---
Dear Ayesha
I want to make a Will but it is a complicated. I want to leave my house to my children but allow my husband to live in unless he remarries or dies. I don't want him to be able to have it if he marries as I do not want another woman living in my house. My husband knows this and does not have an issue with it. Is that possible? (Anonymous)
Yes, it is possible although it is complicated. You can in your Will divide up your property as you wish. You would have to grant your husband a lifetime interest in the property with the conditions stipulated. It is good to note that your husband agrees with this as that means there should be less chances of him disputing the contents of the Will at a later date. I would also let your children know the conditions although informing beneficiaries of their inheritance during your lifetime is not a legal requirement.
---
Dear Ayesha
I was a passenger in my wife's car. She had an accident when she drove into some railings. There were no other cars. Our car was a write off. I have now got whiplash injury and can't sleep at night because of the pain. I have no-one to claim off what can I do? (David)
We can make a claim for you. It would be against your wife's insurers. It is likely that she has already made a claim on her insurance policy for her car write off value. You were a passenger in your wife's car and are entitled to compensation. I understand you may be concerned about making a claim against your wife but remember the claim will be go directly to her insurance company and they will investigate and pay the claim. We can start physiotherapy treatment for you immediately to help ease the pain.
---
Dear Ayesha
Somebody has taken out a loan on my name and now the Bank is chasing me for payment. They have issued court proceedings against me and are ignoring my plea that this is fraud. What should I do? (Prakash)
We have acted for a number of clients who have had court proceedings issued against them when they were not the party to the financial agreement. You would have to prove this in Court. These are often technical and difficult cases but we have a strong success rate is defending them. You must not ignore any letters from the Bank or the Court demanding payment as there are usually strict time limits involved. I would urge you to contact me immediately.