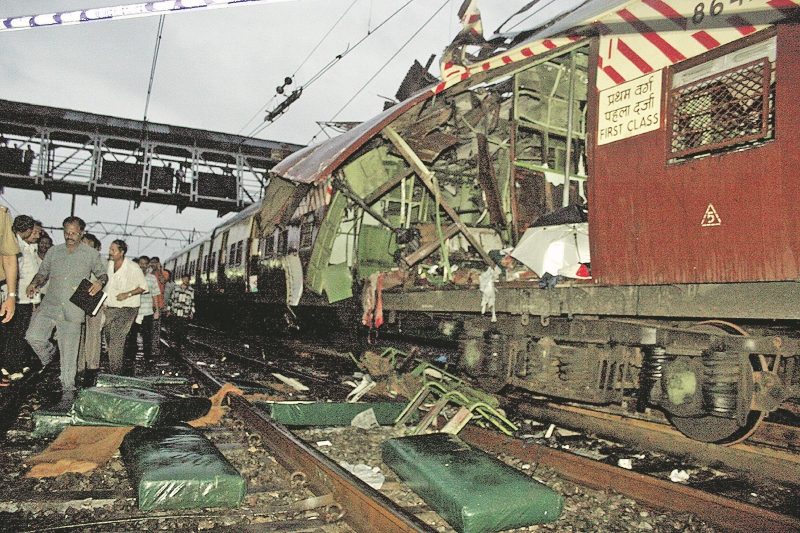 A court has convicted 12 men of planning several blasts on crowded commuter trains in the financial capital of Mumbai in 2006, which killed more than 180 people  ,wounded hundreds more.
Indian police blame the attack, in which seven bombs exploded during the evening rush hour on a network that carries about seven million passengers each day, on disaffected Muslims, encouraged by Islamist militants believed to be from Pakistan.
Relations between the arch-rivals have been soured by a dispute since independence over the Himalayan territory of Kashmir, and India frequently accuses Pakistan of harbouring terrorists and architects of attacks such as those in Mumbai.
"I am happy that the investigation has been upheld," said K.P. Raghuvanshi, the former head of the anti-terrorism squad, who investigated the bombings. "The court has appreciated the evidence we presented."
The convicted men could face death by hanging or life in prison, with sentencing set to begin on Monday 14th September. A thirteenth man was acquitted of all charges.
Police name Azeem Cheema, the Pakistan-based leader of the militant group Lashkar-e-Taiba, as the prime conspirator, but he is still at large.
Lashkar has denied any role, but it has been linked to other bomb attacks in India, including one on parliament in 2001 that brought the mainly Hindu country to the brink of war with Muslim-majority Pakistan.
After the 2006 blasts, critics accused the government of dragging its feet over Kashmir and not doing enough to stamp out terrorism and its support bases.
More recent efforts by the neighbours to revive a peace deal have been thwarted by persistent border tensions and controversy over whether to discuss Kashmir.
Controversy has dogged the investigation of the 2006 attacks, adding to delays in a trial which has dragged on eight years and featured testimony from about 200 witnesses.
Some of the defendants said they were tortured by police eager to extract confessions on charges that ranged from murder to conspiracy against the state and waging war against the nation. Police have denied these assertions.