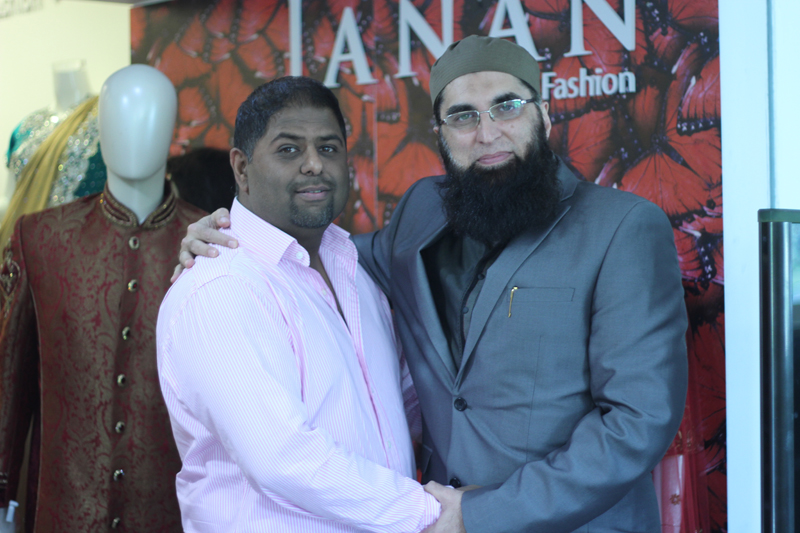 The man who has been embroiled in controversy over a comment he made about women, gave his first exclusive live UK press interview to the Asian Express, during his Bradford visit.
Junaid Jamshed, who quit his role as a famous Pakistani pop singer in the late 90's to devote his life as a conservative Sunni Muslim, says his role as a campaigner of Islam has made him vulnerable to vile comments.
Visiting the UK for the opening of a fourth branch of his globally-successful women's fashion label 'J.' in association with the Bradford-based Janan fashion house, Jamshed voiced his disappointment for being misunderstood as a misogynist and expanded on his views on women.
Stating that: "I've refused to speak to the BBC, the Guardian and many, many other UK news agencies. I will speak to the Asian Express as I'm confident that you'll do justice in clearing up to the misunderstandings that the public may have about what I stand for," said Junaid Jamshed.
Jamshed who is one of Pakistan's most-recognised personalities, explained that his TV comment "God dislikes that any woman should be named (in the Quran)," was taken completely out of context.
He says: "For the record, I was reiterating that women have been given the utmost respect in the Quran, and therefore not referred to by their first names in the holy book.
"I made a video immediately after the furore when it became evident that I had been misunderstood, and apologised if anything I had said implied that women are not important. In fact it is exactly the opposite – I firmly believe in the sanctity of a woman – of not exploiting her – of not abusing her."
He says that he holds women in the highest regard and has never intended to deem them as inferior to men and celebrates independent working women – in fact he admits that his daughter has just landed a job and that he encouraged her every step of the way.
"My life revolved around my inspirational mother when she was alive. She has been and remains one of the most solid figures of influence for me," says Jamshed.
"My sister, my wife and my daughter are pivotal to the work I do today, and I'm more than happy to share my experiences of daily life during my sermons about true life experiences. I feel that makes me seem more human, more understanding of the complications that husband-wife, father-daughter relationships can experience."
Junaid Jamshed says that he is often in the firing line about women because he doesn't shy away from talking about treating women with kindness, respect and equality to his heavily male-attended sermons.
Addressing some of the harsh remarks on across social media that slammed him a few weeks ago, he admits though he's not social media-savvy, some of the comments go above and beyond the call of disliking him.
"I don't understand why people have to be so noxious, there is a manner in which criticism should be conducted.
"Talking about social media and phones, I can say that it's evolved to be more than just a communication tool. I feel it's more damaging to the real-time relationships people have.
"I've seen it everywhere, in homes, in restaurants, in airports – the whole family is together, but they're actually on their individual phones sharing their experiences and feelings with a virtual world of "friendship".
"Is it so wrong to point out the obvious harm this is causing?"
He says that many still resent that he was a pop star just a few years ago and now he's a preacher of Islam and understands their hesitation in accepting his transition.
"Of course I can't expect everyone to agree with what I'm saying, I understand that.
"Facing criticism does not discourage me, and in fact, I am ever-determined to work towards spreading the religious messages of peace.
"I take solace in the knowledge that even all the prophets who came into this world faced deep and violent adversaries. So who am I to complain and be hurt by a few nasty words?"
Driven by learning about the life of the Prophet Muhammed (PBUH), Jamshed reveals that his moment of "realisation" of Islam and his own identity came during the 9/11 terrorism attack. "It was beyond belief that Muslims had carried out this act," he says.
"Here I was soaking up and being enthralled by the exemplary life of my Prophet Muhammed (PBUH) as a good Muslim – leaving behind a legacy of how to become a great human being – and there on U.S. soil, men who called themselves "Muslims" were carrying out this horrific atrocity."
Jamshed says that he advises that people should learn about their culture and religion in order to have a strong, confident identity. He says: "When you know exactly who you are and what your values are – people of other faiths and cultures accept you more readily. That is the key to integration."
The Asian Express newspaper apologised to Junaid Jamshed for an article featured in its Yorkshire edition on 24th July where the headline stated that he had made a sexist remark.