Cinema does more than Bollywood
A young cancer patient from Leeds made two new friends for life last week as a special screening of Cinderella was held at the Odeon cinema, equipped with princesses and a touch of magic.
Six-year-old Zara Lundy, from Middleton, suffers from acute lymphoblastic t-cell leukaemia and is currently receiving chemotherapy treatment which makes her prone to infections.
As such, the young Westwood Primary school pupil has been told to avoid busy places yet when the new Cinderella film was released earlier this month, it became a 'must-see'.
Zara's father, Jonny, explained: "As soon as Zara saw the first trailer for the film she immediately wanted to go so I started ringing around a few cinemas to see when the quietest showings were.
"Unfortunately I was told to just turn up and see what it was like on the day. I didn't want to take Zara all the way to the cinema to just disappoint her by turning around at the door, so we decided we couldn't risk it."
After a number of phone calls, Jonny then contacted the Leeds/Bradford Odeon where he was put in touch with contact centre agent, Michelle Day.
Michelle, a breast cancer survivor, then contacted the cinema's manager, Ellen Fox, and the wheels were set in motion to organise a secret private screening for Zara, with Cinderella and Frozen's Anna in attendance.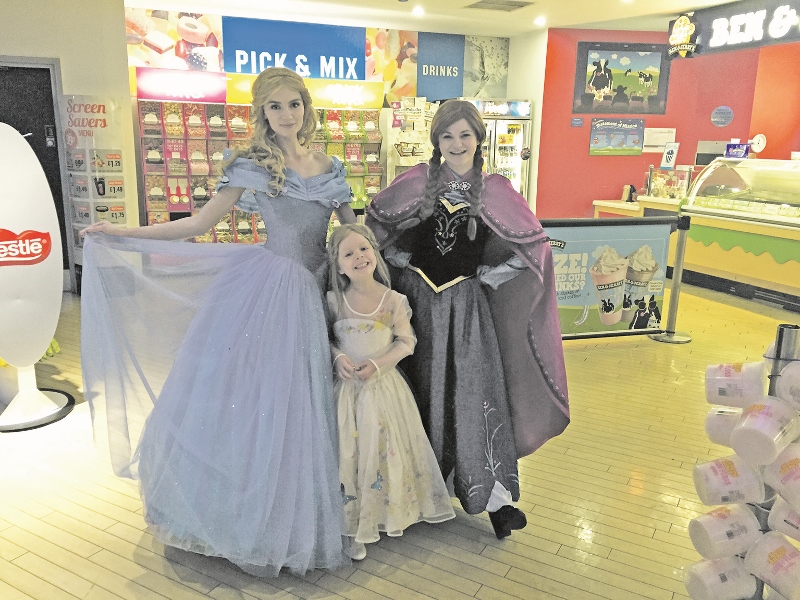 "We were just blown away with the response," Jonny continued. "I can't thank the Odeon staff enough for what they did for us.
"We only found out about the princesses a few days before the screening and it was a huge surprise for Zara. She was blown away I think."
The two princesses greeted Zara at the cinema on Friday 24th April where she was sung to by Anna before walking up hand-in-hand with the pair to her red carpet reception.
After chatting with her two new 'besties' Zara watched the film alongside the princesses.
Jonny added: "She hasn't stopped talking about the day and wants to invite the princesses to a party.
"Zara has had it really tough over the past three months. I think we had around nine or ten days out of hospital in the whole time since 19th January.
"She's had septicaemia and pneumonia so for something like this to be arranged is hard to describe. We were just so overwhelmed and emotional on the day."
The Lundy family praised the cinema staff who helped organise the day, describing their treatment as 'customer service done right'.
For Ellen Fox, it was a chance to help that she says she couldn't overlook.
"I initially got a call from Michelle explaining the situation and as soon as I heard about Zara I knew we had to do something," she said.
"After pulling some strings with Odeon we were able to arrange the private screening.
"We were just trying to make this little effort which can help someone so much and we were delighted to have our princesses on hand as well."