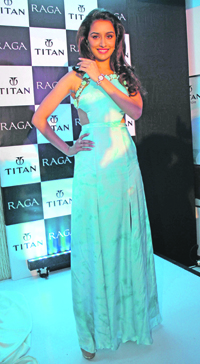 Shraddha Kapoor doesn't believe in New Year resolutions as she believes that it puts a lot of pressure on her.
"The only change I can see is that I will be writing 2015 like everybody. I believe in going with the flow and don't like getting stressed up with New Year resolutions," says Shraddha, who was delighted to have spent her new year with her mother Shivangi while she was shooting for 'ABCD 2' with Varun Dhawan in Las Vegas.
"My mum visited me in Las Vegas on New Years. It was really nice to have her there, it completed my New year," she said excitedly.
But the mere mention of her alleged boyfriend Aditya Roy Kapur, and her smile disappears.
"What about him? Aditya is a just a friend… at present I am only romancing the camera," she says with fire in her eyes. Hmmmmmm…