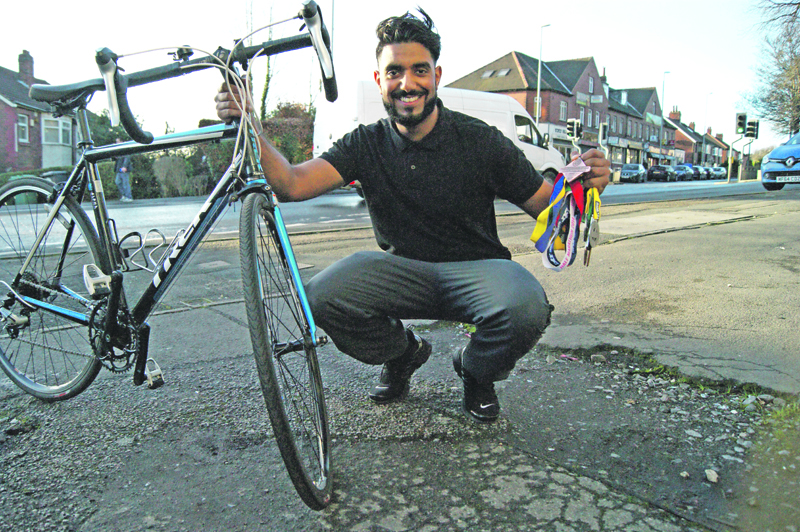 Leeds fundraiser finishes UK to Syria challenge
After 365 days of exhaustive running and cycling, Naheem Yacub has finally completed his '2,313 miles in 2014' challenge.
Setting himself the target of completing the distance, the equivalent of travelling from the UK to Syria, in aid of charity, the fundraiser from Leeds finally reached his target last weekend at the Lancashire half-marathon.
Battling through the final 13 miles, with his injured ankle, the part-time barber, part-time supply teacher, has run marathons, half-marathons, 10ks and even cycled the length of the country on his way to the goal.
Speaking about finally reaching his target after 12 months of continuous effort, Naheem said: "When I crossed the finish line there was just this huge sense of relief that it was all finally over. I just sat on the ground and couldn't quite believe it.
"It is a bit strange on a morning now when I wake up and I don't have to think, 'it's time to go on a run', so I am enjoying that side of it.
"To know I was able to raise so much money and awareness from the initiative as well certainly makes it all worthwhile at the end of the day as it will help two very important causes."
The two aforementioned causes chosen for the challenge are the Leeds Children's Hospital and British Red Cross' Syria Crisis Appeal with almost £5,000 raised to date to be shared between the pair.
Naheem had initially planned on completing the total distance on foot with only one leg of cycling – from Lands End to John O'Groats – on his way to the 2,313 target.
However, after injuring his ankle, he was forced onto the bike saddle more often towards the end of the challenge, but made sure he still completed his last leg in his running shoes.
"To have completed it all now and to have finished the final leg back in Lancashire where I first began the challenge in January 2014, just all seems so surreal," he said.
"It was very painful on my ankle at times and I should have really gone to the doctors but I know they would have just said 'rest it' and I just didn't have the time to do that. Maybe I do now."
Asked whether he will be completing the return 2,313 miles any time soon, Naheem added that he was not sure that he had another year's worth of dedicated running in the tank at the moment but is still fundraising over the next few weeks.
"We have a couple of bucket collections arranged for this month and I will be donating a full day's takings from the barbers at the start of February," he said. "Hopefully these extra funds will take us past our next milestone."
He added: "I just want to say a massive thank you to everyone who has donated because it wouldn't have been possible without them."
If you would like to sponsor Naheem you can still do so by visiting his fundraising page at uk.virginmoneygiving.com.