Bradford has just been bedazzled with the opening of a brand new exclusive jewellery, diamond, and premium watch quarter on Leeds Road.
Well-renowned businessman Shabir Hussain (fondly known as Bash of Akbars), has teamed up with bespoke artisan jewellery master Khawar Durrani. They've made a substantial investment into creating a stunning, world-class jewellery and diamond showroom in the City.
The former pub on Leeds Road was demolished to make way and develop a purpose-built stunning Asian gold and diamond retail site, with state-of-the-art security system.
Step inside, and you'd easily forget which city you are in.
The luxurious palatial interior, complete with intricate wall hangings, crystal-dripping chandeliers, stunning display areas, and of course the jewellery pieces themselves, ooze luxury styles from Dubai, Italy and Singapore.
Celebrating 50 years of the Durrani's brand in Dubai and Pakistan this year, and as a wholesale supplier to Asian gold jewellers across the UK, Khawar is certainly no newcomer to the trade in Britain.
"As a Bradfordian, nothing makes me prouder than making my City glow – and with Durrani's we've definite added some lustre to the area," Shabir Hussain.
"Being a jeweller is part of my family history in Pakistan," explains Khawar.
"My father took it all to the next level in 1971 when he moved to Dubai and opened a Durrani's store there. In fact, I myself was born there.
"My father would work long nights, and I was fascinated as a child with the art of making exquisite jewellery.
"I've always been immersed in observing the finer details in life, and so officially attained qualifications in fine jewellery design. At the age of 28 I received my first international award recognising the my skills as a jewellery designer."
"Today, we source our diamonds and gold from all over the globe – Belgium, Italy, India, … Singapore.
"With the dawn of time, gold jewellery tastes have evolved. There's high demand for celebrity-worn and elite high-end designer pieces to be recreated in gold," adds Khawar.
"Brides now want something exclusive for the most special day in their life – more intimate and extravagant pieces as their bridal jewellery. We have a stunning Bridal Counter at the store. We have the largest and most unique bridal pieces in the UK in our store on Leeds Road, Bradford.
"Durrani's has tapped into bespoke and artisan design inspired by Indian, Pakistani, Indian and Turkish dramas. There's also a huge demand for antique pieces.
"Each and every piece at Durrani's is exclusively available just at our store. The pieces are bespoke in that we fuse modern trends and techniques with ancient traditions and styles. We also tailor-make pieces for our clients."
500 VIP guests attend launch event of Durrani's Gold & Diamond showroom
On Thursday the 30th September, over 500 guests consisting of national and international entrepreneurs, attended Durrani's exclusive launch night.
The evening was packed full of entertainment ranging from singers, musicians, fire eaters and stilt walkers, hosted and complimented by Akbar's exquisite menu and large assortment of desserts.
The guests all had a chance to view the Durrani's showroom in all it's prestige, and the reaction of the guests overwhelmed Shabir and Khawar to say the least.
They said it felt like all their hard work was finally on display in all it's glory, and feedback has given them the confidence that they've been successful in bringing high-end fashion and design to the city.
With all diamonds in store IGI graded, Durrani's also retails highly-desirable watch brands – Cartier, Rolex, Audemars Piguet, Patek Phillipe, Hublot, Richard Mille… you name it… they've got it!
"We're very well positioned to obtain pre-owned high-end watches with our global reach and contacts in the watch industry," adds Khawar.
"Each piece is vetted, verified, and presented to our clients as trustworthy retailer.
"And if there's something the client desires, which we don't have in store, we'll source it for them."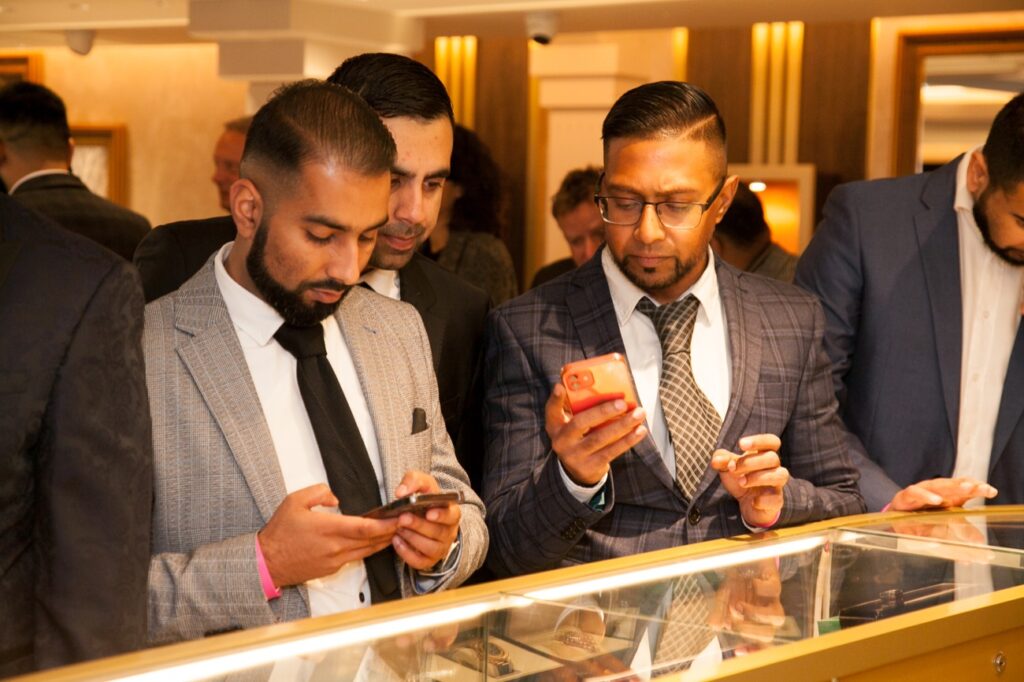 Overwhelmed with feedback and customer response, Bash comments: "As a businessman, I've always valued customer feedback – that is the backbone to delivering quality products and services. I'm truly grateful to each and every person that has shown their support.
"As a Bradfordian, nothing makes me prouder than making my City glow – and with Durrani's we've definite added some lustre to the area. I'm thrilled with this new venture."
Durrani's first customer