'Super Bolt': Usain as you've never seen him before 
---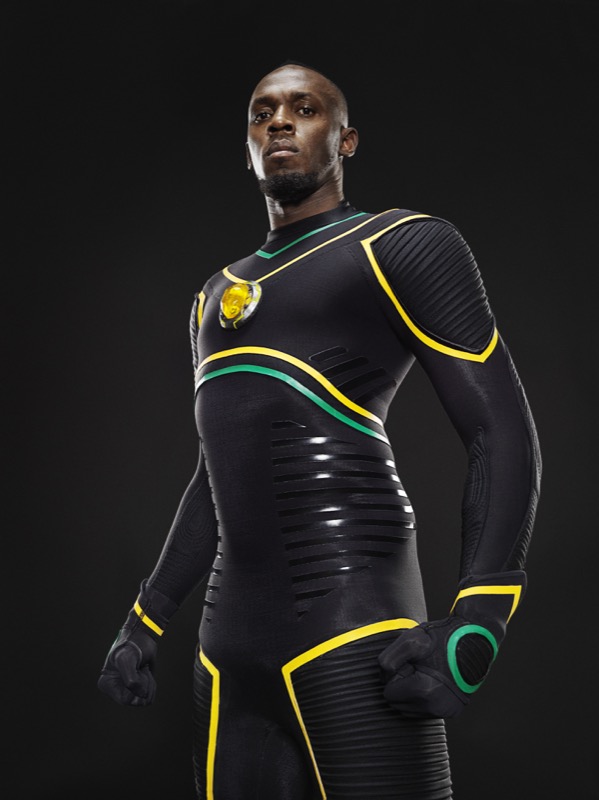 New pictures reveal Usain Bolt as you've never seen him before – as he unveils his superhero alias, 'Super Bolt'.
The eight-time Olympic gold medallist's costume features the yellow, green and black of the Jamaican flag.
Now retired, 31-year-old Bolt looks to be in great shape in his all-in-one outfit - which also includes a power source on his chest similar to Iron Man's arc reactor.
As the current 100 and 200 metre sprint world record holder the likes of Lex Luthor, Thanos or the Joker would surely think twice before battling the athletics legend.
As the pictures of 'Super Bolt' were revealed, a poll also found four in 10 Brits wish they were a superhero – that's in excess of 26 million people.
A spokesman for Virgin Media, for whom Bolt was posing for, said: "Usain Bolt has long been considered to be somewhat of a superhero thanks to his amazing speed.
"So we wanted to finally give him a costume worthy of the superhuman he is and he's got a new name too – 'Super Bolt'.
"There's no denying he really pulls it off and certainly wouldn't look out of place in the next Marvel of DC movie."
The poll of 1,000 UK adults also found Man of steel, Superman, and princess of the Amazons, Wonder Woman, are the superheroes men and women respectively most want to be.
It also emerged invisibility is the superpower most Brits would like to have, followed by the ability to fly and power to time travel in joint-second place - along with super -healing in third.
But with one foot back in reality, Brits revealed their actual 'super' powers – and the ability to be very polite topped the list.
Other 'special' abilities include remembering birthdays, pretending to sound interested and being good at queuing.
While it's unlikely those polled will be battling intergalactic threats anytime soon, many have a definite opinion on what they'd wear in the event they miraculously developed superpowers.
Three in 10 would adorn a cape – a wardrobe staple for many a superhero – and 44 per cent would keep their identity hidden by wearing a mask.
Dealing with criminals and evil masterminds is dirty business so 45 per cent would literally and figuratively keep their hands clean by wearing gloves.
Six in 10 would complement their costume with a pair of boots and 43 per cent plump for a tight fitting body suit.
Around two-thirds would top it off with a symbol – the most popular ones being a peace symbol, a star and a flag representing the country of their birth.
However, half revealed their dark side and admitted they relate to supervillains - women polled feel the strongest connection to Catwoman and men have the biggest affinity with the Joker.
Carried out through OnePoll.com, the research also found 54 per cent wish they had the physique of a superhero.
Men are most envious of Chris Hemsworth's Thor and Christopher Reeve's Superman's of finely sculpted muscles.
And women are especially jealous of Halle Berry's Catwoman – just ahead of the Gal Gadot's Wonder Woman.
A spokesman for Virgin Media said: "Superheroes have never been more popular and that's certainly evident in the survey results.
"It's remarkable just how many of us wish they could be a superhero – who wouldn't want super powers?"