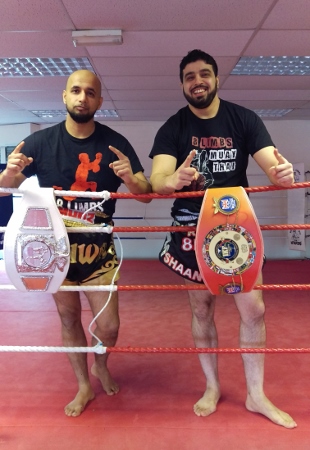 Charities to get a kick out of Thai boxing session
A Thai boxing champion from Birmingham is hoping to raise thousands of pounds for a local children's charity next month, as he hosts a five-hour workshop for all abilities.
Mubz Bajwa, 37, has teamed up with fellow British champ, Raf Hussain, to offer a training seminar from 8 Limbs Muay Thai, Acocks Green, on Saturday 14th May.
Last year, Mubz made headlines for smashing the Guinness World record for most consecutive rounds of Muay Thai sparred – 111 rounds, whilst also fighting for – and winning – the Redemption Muay Thai Championship in Pakistan.
He says he is hoping to share these experiences with people of all ages and abilities, from five to 95-year-olds, in aid of the Birmingham Children's Hospital.
"The idea came about after me and Raf decided we wanted to do something to support a local cause," he said.
"There are obviously seminars going on all the time but we wanted to do something special in order to raise funds for the Birmingham Children's Hospital and give back to the community.
"Seminars are usually two hours long but here we are giving five hours of our own time just to teach what we know of Thai boxing. It is open to all ages from young children up to those who need walking sticks."
For a registration fee of just £25, people can take part in the five hour seminar, whilst donations can also be made online at www.justgiving.com/muaythaimegaseminar
Mubz added: "We chose Birmingham Children's Hospital because it is a well known charity. As a father myself, the charity is close to my heart.
"It is one of the biggest in Birmingham and we just wanted to see what we could do to help them."
Since fighting in Pakistan back in December, Mubz has been recovering in the UK and continues to train in the sport he is passionate about.
Next week, he will venture to the home of Muay Thai boxing, Thailand for the first time, where he will train and hopefully compete in the martial art form.
"It is something I've wanted to do for a long time," Mubz said. "To train in Thailand will be a whole new experience and one I will learn a lot from.
"They fight every day over there so getting a fight shouldn't be too hard either. I'm really looking forward to it."
To register for the mega seminar, please contact Raf Hussain on 0121 7081107 or email raf@8limbsmuaythai.co.uk