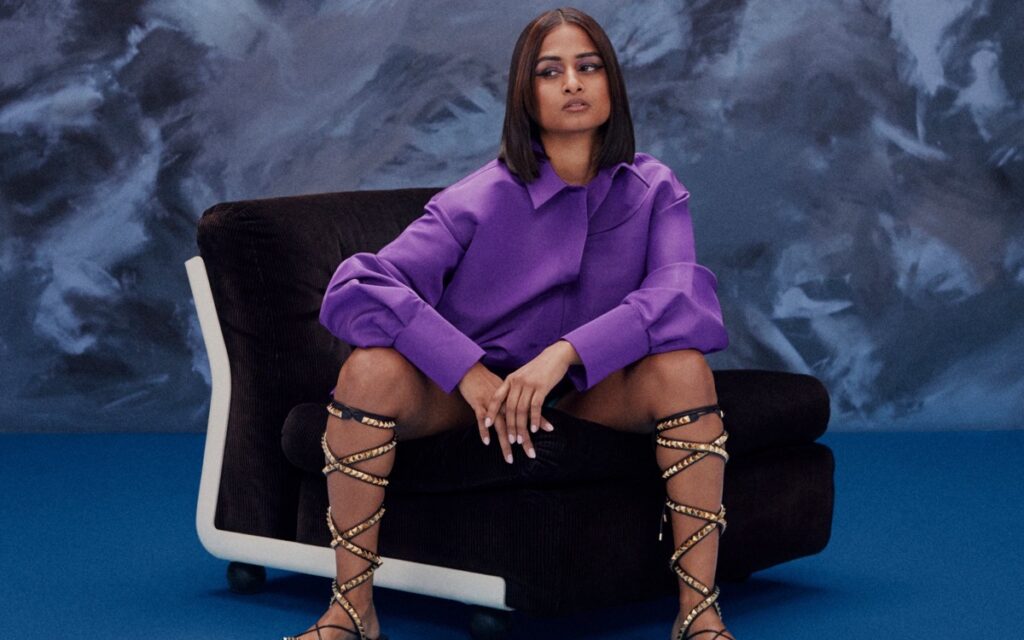 International star Priya Ragu will be performing at Headingley Stadium on 9th August
Featuring big name acts, alongside some of the most exciting breakthrough artists in the UK, the music line-up for this year's action-packed cricket competition, The Hundred, promises a summer of world class sport and unmissable musical performances, taking entertainment to the next level.
The line-up sees Headingley Stadium set to host some of the most exciting names on the UK music scene including international star Priya Ragu, Leeds-based bands, Tom A smith, L'objectif, and London-based newcomers Dolores Forever.
For the second year running, the live music at all 34 games of The Hundred has been curated in collaboration with BBC Music Introducing. The partnership connects sports fans with both new and established artists who began their career on the BBC platform.
Away from Headingley, multi-platinum pop-rock band Bastille will be performing at The Hundred men's and women's final at Lord's on Saturday 3 September, with Samm Henshaw, Jordan Mackampa, Katy J Pearson and Queen Millz also featuring on the line-up.
For a chance to win tickets for 'The Hundred' at Headingley 14th August when Northern Superchargers take on London Spirits, send an email with your full name to my.competition@asianexpress.co.uk
Hosting their first home fixture on 9 August, the Northern Superchargers will entertain a ground-breaking performance from Swiss R&B star Priya Ragu, as they take on the Trent Rockets.
Tom A Smith and L'objectif will then respectively follow during the Northern Superchargers' double-header fixtures against London Spirits on Sunday 14 August, and Manchester Originals on Sunday 21 August. London indie pop band Dolores Forever, will take centre stage during the club's final home group game against Southern Brave on Wednesday 31st August.
The Hundred is cricket's high-octane competition which fuses world class sport with spectacular entertainment. The competition gives fans the chance to watch some of the best players in the world compete alongside epic music performances in a high energy, family-friendly environment.
Hollie Armitage, Huddersfield-born Northern Superchargers star, said: "The music and overall atmosphere added so much to last year's competition, it really sets The Hundred apart from other sports tournaments across the UK. There's so much for spectators to enjoy both on and off the pitch – it's the perfect day out for families and cricket fans alike."
More information on The Hundred's 2022 music line-up is available at www.thehundred.com/music/live-acts, where fans will also be able to receive updates on additional artists confirmed for this summer's competition in the coming weeks.

Artists and Performance Venues
Bambi Bains – The Kia Oval, London
Bastille – Lord's, London
BEKA – Trent Bridge, Nottingham
Big Image – Edgbaston, Birmingham
Caity Baser – The Ageas Bowl, Southampton
Casey Lowry – Trent Bridge, Nottingham
Celina Sharma – Lord's, London
CIEL – The Ageas Bowl, Southampton
Dolores Forever – Headingley, Leeds
Jordan Mackampa – Edgbaston, Birmingham
Katy J Pearson – Sophia Gardens, Cardiff
Kofi Stone – Edgbaston, Birmingham
Leadley – Edgbaston, Birmingham
lleo – The Kia Oval, London
L'objectif – Headingley, Leeds
Lottery Winners – Emirates Old Trafford, Manchester
Mace The Great – Sophia Gardens, Cardiff
Panic Shack – Sophia Gardens, Cardiff
Phoebe Green – Emirates Old Trafford, Manchester
Priya Ragu – Headingley, Leeds
Queen Millz – Trent Bridge, Nottingham
Samm Henshaw – The Ageas Bowl, Southampton
SOFY – Lord's, London
Tamera – The Kia Oval, London
Wild Front – The Ageas Bowl, Southampton