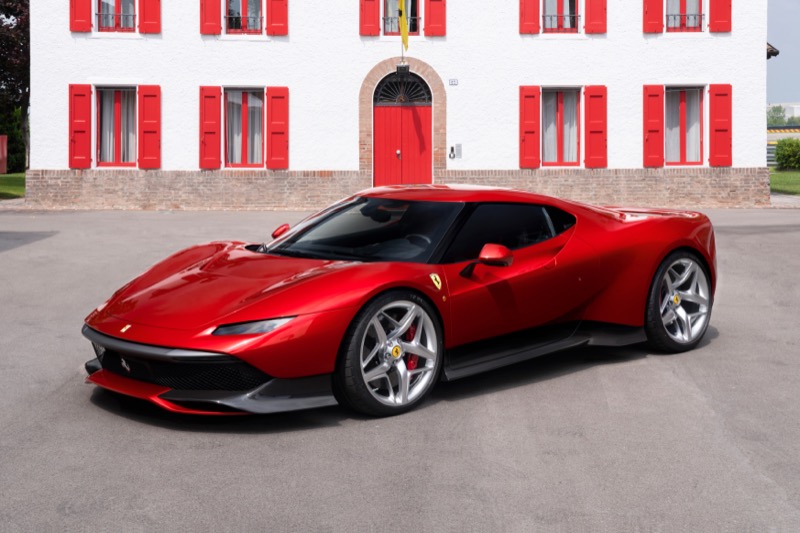 Designed by the Ferrari Design Centre on the chassis and running gear of the 488 GTB, this unique car reflects the specific vision of a client with a deep passion for racing. The result is a model that can be driven both on road and on track, while at the same time expressing all the beauty and innovation inherent in Ferrari's road cars.
The all-new bodywork, in a newly conceived three-layer metallic red, marks a radical departure from the language aesthetic of the donor car. The twin-turbo, twin-intercooler set-up of the award-winning 488 GTB inspired the team to reference the mighty F40 as an icon from which to instruct the project's general direction.
Compared to the 488 chassis, the visual mass of SP38 appears concentrated over the rear wheels as the wedge design sharply stretches towards the front. In plan view, the strongly tapered nose expands towards muscular wheelarches, giving the car potency and agility.
Specific inset headlights were designed to be as thin as possible, with the mandatory DRL (daytime running lights) units relocated to add character and functionality to a slim bumper lip reminiscent of the 308 GTB. On the side, the defining air scoop of the 488 GTB is completely concealed where the sheet metal folds in on itself from the low beltline on the door and into the rear wheelarch and three-quarter light.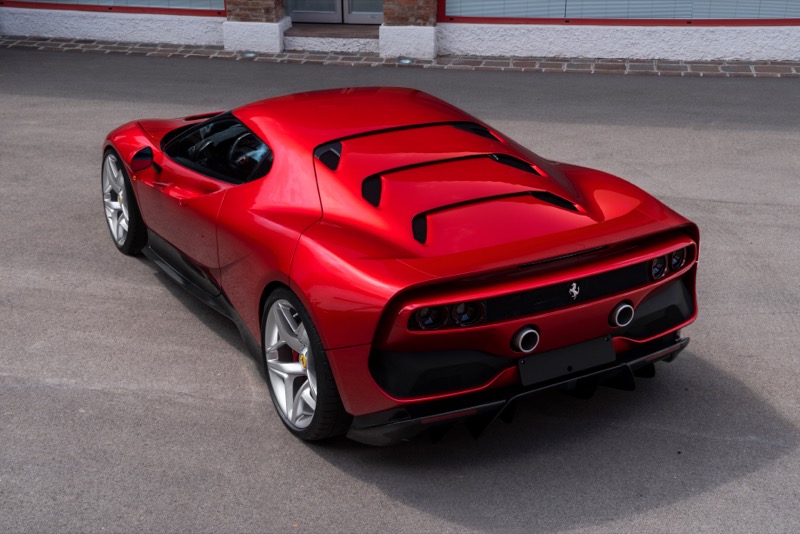 Thought we don't yet know whether the new bodywork has had any effect on performance, but seeing as a regular 488 does 0-62mph in three seconds flat and runs on to 205mph thanks to its 3.9-litre, twin-turbo, 661bhp V8 and seven-speed DCT, the SP38 shouldn't be too slow.
A full Tailor Made cabin trim puts the finished touches on this truly special Ferrari, which will be on public display for the first time at the upcoming Concorso d'Eleganza Villa d'Este on Saturday 26th May 2018.