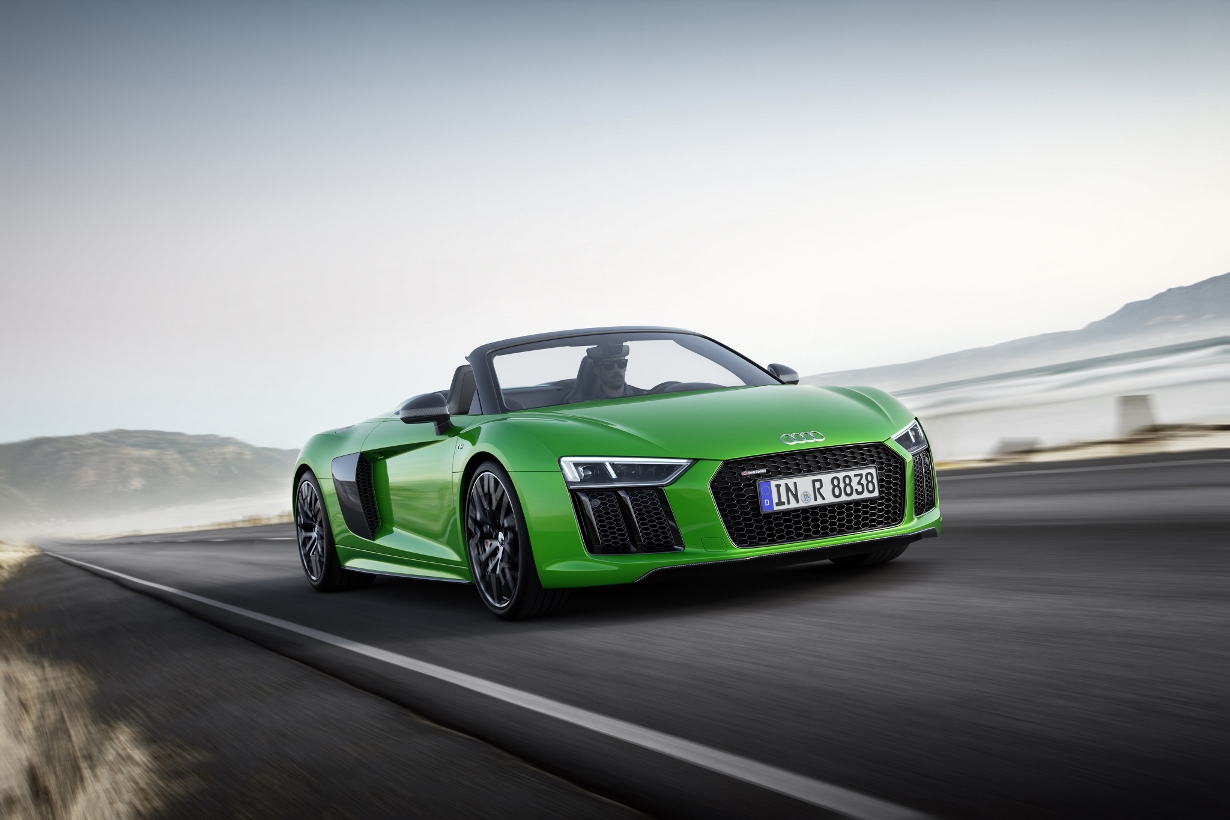 The Audi R8 Spyder V10 plus from the workshop of Audi Sport GmbH is the fastest series-production convertible model from the brand with the four rings.
Its unmistakable 610 hp V10 mid-engine offers intense driving performance and powers the quattro permanent all-wheel drive.
Coming in at an eye-watering £137,450 list price, it's padded out with £16,000 of options – and it already comes notably better equipped than the £122,450 standard version.
Not only do you get an extra 69bhp for your money, but also carbon ceramic brakes, one-piece bucket seats, carbon rear spoiler, mirrors and side blades, sports exhaust and matt carbon inside.
Incredibly high revving up to 8,700 rpm, lightning-quick responsiveness and an awe-inspiring, voluminous sound – the V10 mid-engine is an object of fascination.
With 449 kW (610 hp) and maximum torque of 560 Newton meters at 6,500 revolutions per minute, it is the most powerful series-production engine from the brand with the four rings.
Compared with the Audi R8 Spyder V10, the naturally aspirated 5.2 FSI engine, with a high 12.7:1 compression ratio in the plus version, features a 52 kW (70 hp) boost in performance.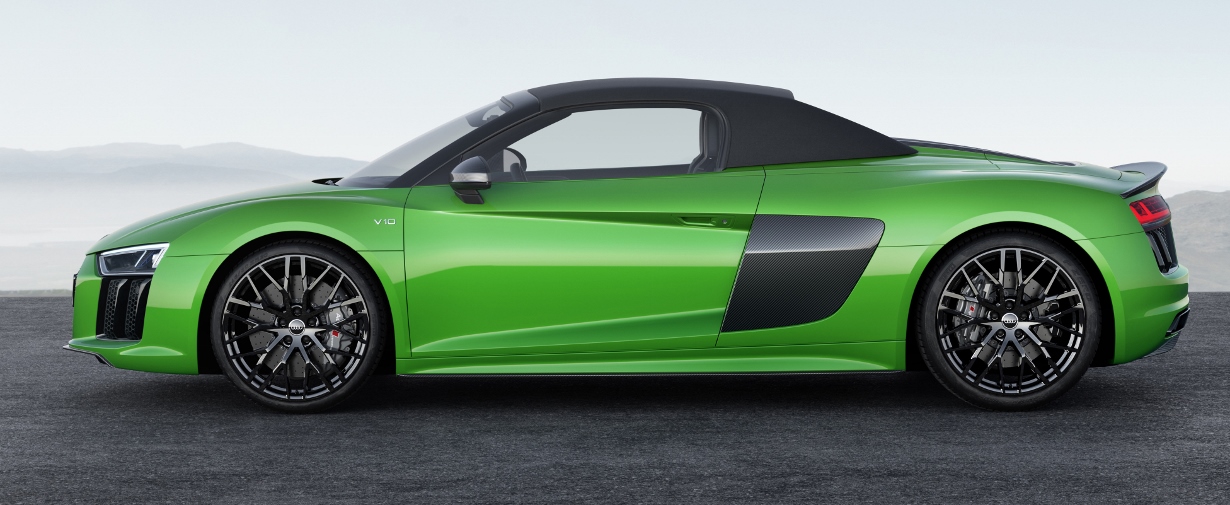 As a result, the top model sprints to 100 km/h (62.1 mph) in 3.3 seconds – 0.3 seconds faster – and achieves a top speed of 328 km/h (203.8 mph), an increase of 10 km/h (6.2 mph). Each hp only has to move 2.78 kilograms (6.1 lb).
It consumes 12.5 litres per 100 kilometre, which corresponds to CO2 emissions of 292 grams per kilometre.
Behind the V10 there is a seven-speed S tronic with lightning-fast action. The sporty dual-clutch transmission, with its short transmission ratio, sends power to the quattro drive system in the front axle via a cardan shaft.
All four wheels of the Audi R8 Spyder V10 plus are guided through aluminium double wishbone suspensions – this solution also demonstrates the model line's closeness to motorsport.
The setup is firm and the electromechanical power steering offers the ideal specific combination of precision, handling and confident high-speed behaviour for a sports car.
Audi mounts a mix of tyres – 245/35 on the front, 295/35 on the back – on the standard 19-inch forged aluminium wheels in five twin-spoke design. The large brake discs – 380 millimetres (15.0 in) diameter in front, 356 millimetres (14.0 in) in back – are manufactured from temperature-resistant and lightweight carbon fibre ceramic composite. The anthracite gray fixed calipers feature six pistons on the front axle and four in the rear.
The Audi R8 Spyder V10 plus has an angular and athletic stance on the road. It is 4.43 meters (14.5 ft) long and 1.94 meters (6.4 ft) wide, but just 1.24 meters (4.6 ft) tall. The most distinctive element on the front is the wide and flat Singleframe grille with its gloss honeycomb mesh, chrome-plated frame and the Audi Sport emblem. Below it stretches a low-lying carbon spoiler, which directs air around the large wheels.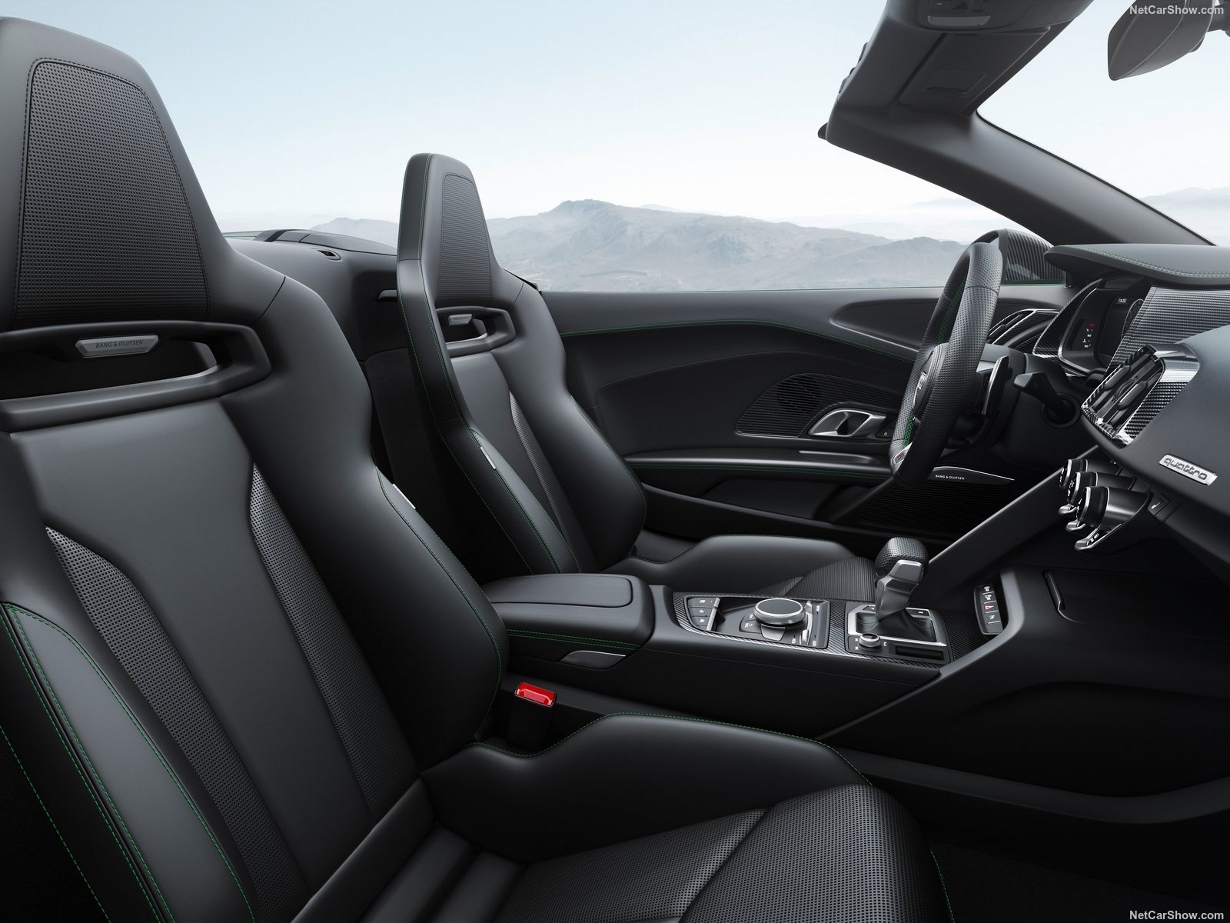 The standard equipment package for the R8 Spyder V10 plus includes a superb infotainment system – the MMI navigation plus with MMI touch. It features impressive and intuitive control logic with flat hierarchies. Added to this is a free text search that delivers suggested hits after only a few letters are typed in.
Standard seatbelt microphones provide for optimal audio quality, even when the top is down. In addition, the MMI navigation plus has an integrated Wi-Fi hotspot for the mobile devices of passengers.
The optional Audi connect module enables fast internet access via LTE. Its offerings include numerous services ranging from navigation with Google Earth and Google Street View to travel and traffic information as well as point-of-interest searches.
In addition, the Audi smartphone interface also displays selected content from iOS and Android smartphones in the Audi virtual cockpit.
The Bang & Olufsen sound system provides an excellent audio experience – even while driving with the top down. It integrates two head restraint loudspeakers in each seat.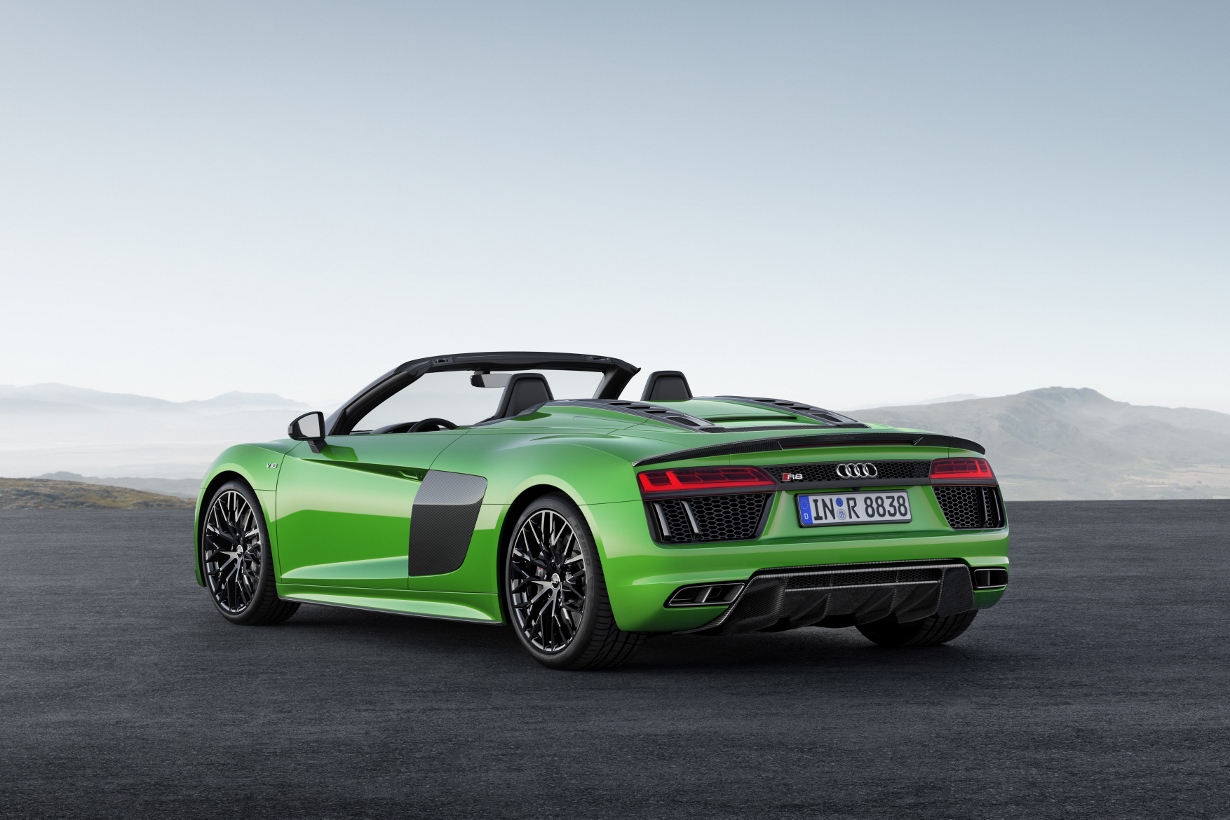 ---
Audi R8 V10 Plus
Engine 5204cc 40v V10, 602bhp @ 8250rpm, 413lb ft @ 6500rpm
Gearbox 7-speed dual-clutch
All-wheel drive
Stats 3.2sec 0-62mph, 205mph, 287g/km CO2
Price £137,450
Official mpg 21.9
First deliveries expected late 2017
---