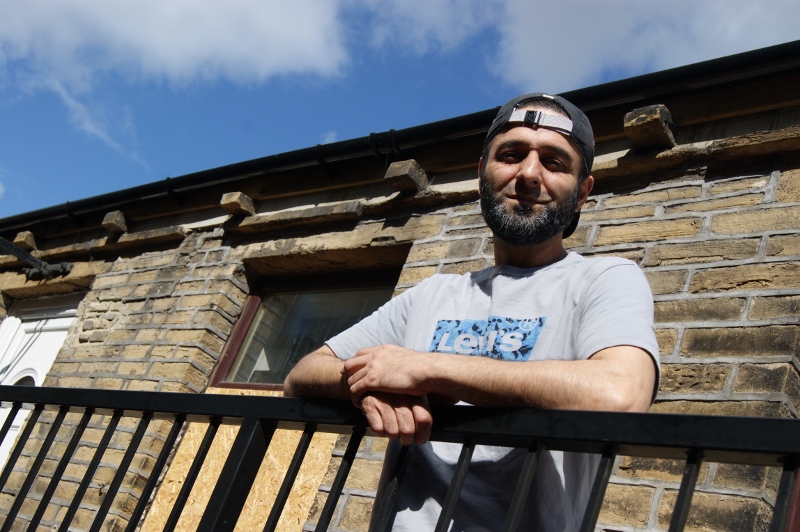 Southern Fried fire hero
A blazing fire, a crowd of 40 people standing by watching plumes of dark smoke fill the air and not a fire engine in sight.
It's like a scene straight from a disaster film, and it would have been had it not been for the heroic actions of one Bradford shopkeeper.
Most people would step back and watch the danger unfold from a safe distance, waiting until the fire services arrived.
Not Arshad Khan – who runs Southern Fried Chicken in Manningham Lane, Bradford.
Upon hearing that a man was asleep upstairs – unaware of the peril that was engulfing himself and his property – Arshad jumped to the rescue without a second's deliberation.
"One of the lads that lived in the building said 'Rashid's asleep in there'," Arshad explained.

"I just acted out of pure instinct and ran over. I couldn't use the steps because the fire was raging under there. Somehow, I got myself up onto the balcony with a makeshift ladder. I couldn't get to Rashid's door so I started banging on his window. There was no response."
Somebody in the crowd then threw a stone up to Arshad who used it to break the window and rouse the slumbering man.
Arshad said: "I think the smoke must have affected him as he couldn't get up. I managed to rouse him but at this stage there was so much thick black smoke that I was struggling to breathe myself.

"When I realised he was up, I said to him that he needed to get himself to safety. I then got back down off the balcony and I got away from the fire."
After being awoken, Rashid managed to escape the building – the only injury he suffered was a pair of burnt feet from running on the hot metal floor.
"He's still in hospital now but he rang me from the ward and explained that he was not a rich man and that he didn't have any money for a thank you gift," Arshad added.

"I said to him that I didn't want a gift. It only took 90 seconds of my time and him just being alive is a big enough gift for me."
Arshad adds that he never thought about the danger and that his reaction was 'instantaneous'.
Firefighters from Bradford and Odsal fire stations eventually attended to tackle the blaze – the cause of which is still being investigated but is likely to be accidental.
Odsal Watch Commander Phil Warden confirmed that the three flats above the fire were left smokelogged after the incident occurred.
He also praised Mr Khan for his brave actions that saved the life of the tenant.
Mr Warden said: "If it hadn't been for the shopkeeper's quick thinking and actions, the man in the flat would probably have died."

He added: "He's a bit of a hero."