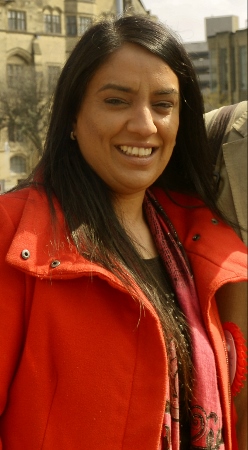 Bradford West MP, Naz Shah, says she is more committed than ever to helping the people of her constituency after being reinstated by the Labour Party earlier this month.
Speaking to the Asian Express Newspaper, Ms Shah's message was one of looking forward to the future, admitting that she had learnt from her previous mistakes.
The local politician had the whip removed after a Facebook post she shared two years previously – suggesting Israel should be relocated to the US with the comment 'problem solved' – came to light.
After apologising in the House of Commons and to the local Jewish community in Bradford, Ms Shah says she is ready to get back to business.
"I'm of course pleased to be reinstated," she said. "The whole ordeal has been a learning experience for me and I have learnt from my mistakes.

"It's done now and what happened, happened. Now it's about taking things forward."
After ousting former Bradford West MP George Galloway in last year's local elections, Ms Shah has achieved many accomplishments in her short time as MP, yet admits helping residents in her constituency remains her greatest pleasure.
Speaking from her busy surgery, in between meetings with members of the public and official bodies, Ms Shah added: "The day-to-day work of helping and speaking with local people is what I got into this business for."
"It is still the thing that motivates me most, when I see action being taken in support of our people."
As Ms Shah makes her way back into parliamentary life, she once again finds the Labour party in disarray – with dramatic clashes at the top.
A motion of 'no confidence' was passed by the party's MPs last month regarding Jeremy Corbyn's leadership, whilst over 60-front benchers quit their roles.
Speaking of the future of the Labour Party, Ms Shah added that it was time to get back to the principles which made the party so popular in the past.
She said: "There is a huge amount of work that needs to be done across Labour.

"We need to bring confidence back to the people and remind them that this is the party that should naturally be their voice."