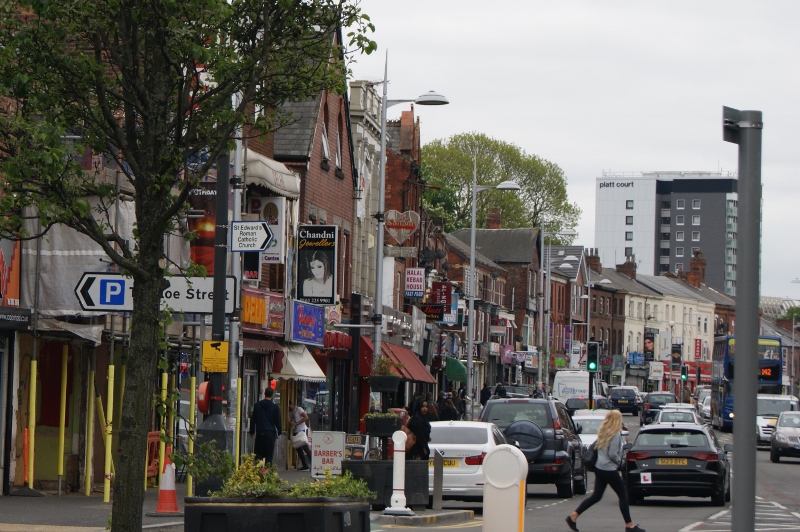 Officer accused of racism in Manchester
A disciplinary hearing in Manchester has heard how a police officer, responding to reports of unlawful electricity usage in the city in 2013, told a shop owner that he wanted to 'bomb' the whole of Wilmslow Road.
PC Paul Cocker, who is now retired from the force, told Shakeel Ahmed, owner of Choice Jewellers in Rusholme, that he wanted to 'get rid of all these bad people' during a visit to his store.
The shop was one of 200 businesses visited by the fire service, police and Electricity North West in 2013, after a number of electricity meters in the area had been tampered with or bypassed.
Mr Ahmed's shop was one of those alleged to have been effected when PC Cocker and other officers visited.
The shopkeeper says he secretly recorded the conversation due to previous visits when the officer had been 'rude and aggressive'.
On the audio played at the hearing, PC Cocker became increasingly restless with Mr Ahmed when discussing the electricity fault.
When told by Mr Ahmed that the meter may have been tampered with prior to his renting of the shop, PC Cocker can be heard saying 'no you are not f***ing right, listen'.
He later adds: "Your pants are down and you're getting your a***e smacked."

"You are employing illegal immigrants? Correct. You are stealing electricity? Correct. We will see you in court. It doesn't matter [what you say]. You make my blood boil."
Mr Ahmed is also told that he is 'bent as a nine bob note' with PC Cocker adding: "You want to sack your electrician. That's all I can say."
He then tells Mr Ahmed: "You know what I want to do? Bomb the whole lot from f***ing Upper Lloyd Street to Upper Brook Street, get rid of all these bad people and start afresh. That's you and everybody. You all p*ss in the same pot."
PC Cocker was not present at the disciplinary hearing and was not obliged to be, due to retiring prior to a change in the rules.
His colleague, PC Christopher Schofield, has however been forced to answer a charge of gross misconduct and denies using racist language and failing to act on his fellow officer's conduct.