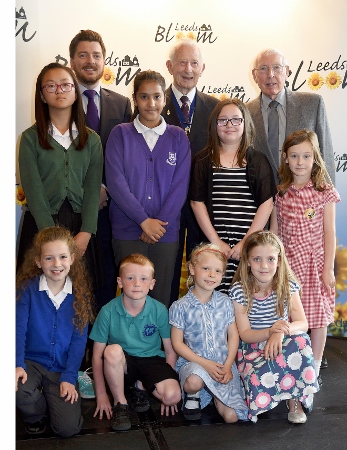 The talent and creativity of green fingered youngsters in Leeds has again been celebrated this month as part of the annual Leeds in Bloom Awards.
In what is always a highlight in the city's in bloom calendar, eight winners in the four to 16-year-old category: 'Design an Edible Flowerbed and Flowerbed' were invited to Leeds Civic Hall to receive a special certificate for their work.
On hand to congratulate the young people was Cllr Jack Dunn who also presented each winner with an art set and holdall
It was an afternoon of celebration for the schools of each pupil, who received a £300 cheque to spend at the council's plant nursery shop based at Redhall.
The two winners in the Edible Flowerbed competition were Aneesah Sharaz aged 11 from Alwoodley Primary School and Elin Liddle aged five from Guiseley Primary School.
Victorious in the Flowerbed competition were Jenny Wong aged 11 of Beechwood Primary School; Rosie French aged seven of Deighton Gates Primary School, Megan Dinsdale aged six of Yeadon Westfield Infants School, Tyler Phelan aged six of Kippax Greenfield Primary School, Abigail Birtwhistle aged 10 of Great Preston Primary School and Jessica Keech aged nine of West End Primary School.
Following the announcement of the winners, members of the council's parks and countryside are now hard at work making each design a reality, which when completed will be showcased in the city centre.
Cllr Jack Dunn, Leeds City Council's lead member for parks, said: "The designs that we receive from young people in our Edible Flowerbed and Flowerbed competitions really are of the highest standard, and choosing the final winners has once again proved to be an extremely difficult task.
"It was a real honour therefore for us to be able to meet all of our eight winners at Leeds Civic Hall and have the opportunity to present them with their individual awards, which are richly deserved.

"Leeds has a thriving in bloom network and judging by the talent we are seeing through competitions such as these, we can be very confident that the next generation of green fingered residents will ensure that as a city we continue to hit the heights."