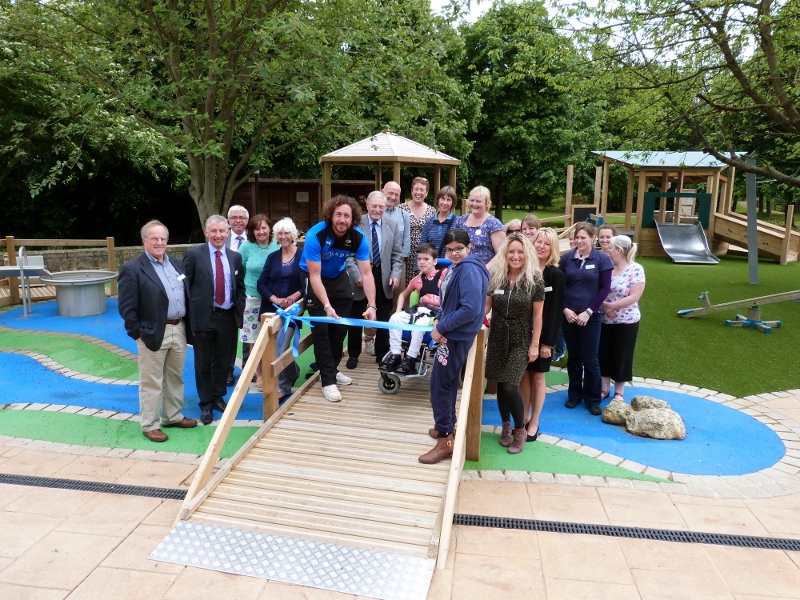 Yorkshire cricketer and Martin House Ambassador Ryan Sidebottom officially opened the newly refurbished outdoor play facilities at Martin House Hospice, earlier this week.
The event saw funders from across West, North and East Yorkshire gather with Martin House families, staff and trustees to celebrate the launch of the hospice's facilities and see the new equipment in action.
The hospice, which encompasses six acres of gardens, has recently refurbished two of its largest outdoor play areas, incorporating equipment and all-weather areas that are fully accessible and suitable for all wheelchairs.
Facilities include a wheelchair swing and roundabout; trampolines, a large activity centre with a slide and sand pit and a spectacular water play station.
The major project has been largely funded by trusts and local organisations, with several individual donors also contributing substantial amounts to the cause.
Work on the next phase of redevelopment will begin later next year, following the installation of new walkways and lighting across the site.
Chief Executive of Martin House, Angela Monaghan, said: "The needs of our children and young people are constantly changing and, as we are approaching our 30th anniversary year, we felt the time was right to begin redeveloping our outdoor areas to create more accessible and inclusive spaces to be enjoyed by all families."

"Play forms a huge part of the experience for the families who choose to stay at Martin House.

"When a child has a life-limiting condition, much of the focus can be placed on the illness and their immediate medical needs, but providing the time and facilities to allow children to play not only improves their emotional and psychological wellbeing, it allows them to enjoy a 'normal' existence.

"For families who may only have a short time together, the happy moments they share are as important as the medical care we provide."