You have to agree that Amir 'King' Khan in his 35 fight-career has never been in a dull contest.   
He continues to excite, amaze and controversially keeps us all at the edge of our seats. From having us believe that the domestic UK super fight, against Kell Brook, was all but signed, sealed and delivered earlier in the year, he instead jumped up the weight classes to take on WBC middleweight champion Saul 'Canelo' Alvarez.  Alvarez being one of the boxing's major super stars to date.  This took us all by surprise that's for sure.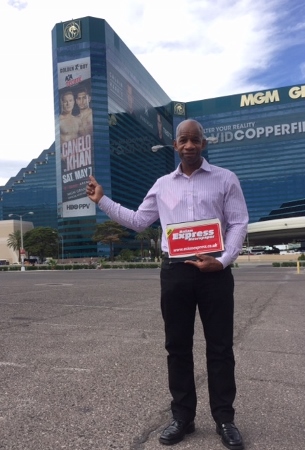 Amir Khan, always looking for challenges, unafraid in attempting to defy the odds – come what may.  Khan always puts it all on the line with every contest  and he was unfortunate in suffering his third KO loss in four defeats this time at the hands of Mexican Alvarez.
Incidentally this KO loss was the most chilling of all, and quite upsetting to witness, however this is the high risk profession such fighters of Khan's attitude are willing to take.  
Now that all the dust has settled, after this Khan v Alvarez super fight showdown, the time has come to reflect and review just what went down in the Vegas desert heat.  
Staged at the new T-mobile Arena, in front of over 16,000 fans – together with the millions who viewed around the world, it was a fight with so much public interest. Inside the packed area, 85 per cent of the fans were Canelo's that was for sure.  I was quite surprised that there were not that many British fans, as anticipated, that made the trip over – although the Khan Army did make themselves heard.  
On convincingly beating Khan, champion Canelo became the most marketable prize fighter in boxing that night by putting and defending the WBC middleweight championship on the line.  In turn he also set the stage for the next big super fight of the year – Alvarez v Gennady 'GGG' Golovkin.  
This will be the mouth-watering match up which has been muted for September this year.  But all what shines is not necessarily gold as I went to print the news came through that Canelo has now vacated the middleweight title citing: "After much consideration, today, I instructed my team at Golden Boy Promotions to continue negotiating a fight with Gennady 'GGG' Golovkin and to finalise a deal as quickly as possible.  
"I also informed the WBC that I will vacate its title. For the entirety of my career, I have taken the fights that no one wanted because I fear no man. Never has that been more true than today.  

"I will fight 'GGG' and I will beat 'GGG' but I will not be forced into the ring by artificial deadlines.  

"I am hopeful that by putting aside this ticking clock, the two teams can now negotiate this fight and 'GGG' and I can get in the ring as soon as possible and give the fans the fight they want to see".  

CEO Oscar De La Hoya closed the matter issuing the following statement: "There is no denying that Canelo is the biggest star in the sport of boxing.  

"He is eager to get in the ring with 'GGG' to show the world that he is the best pound-for-pound fighter in the sport, but we won't negotiate under a forced deadline.  

"Now that the WBC title is off the table, I am hopeful that 'GGG' and his promoter K2 Promotions will come to the table in good faith and get this deal done."
Hmmmm, hopefully this is not another Mayweather/Pacquiao super-fight saga that will take another five years to build up, ultimately meaning both fighters are passed their prime, before these two juggernauts of boxing collide.  We shall see.
Back to the fight…
What a fighter Amir Khan is. How brave and bold he truly was. This guy showed he has balls the size of NBA basketballs in the majestic performance he delivered until the fateful sixth round KO stoppage.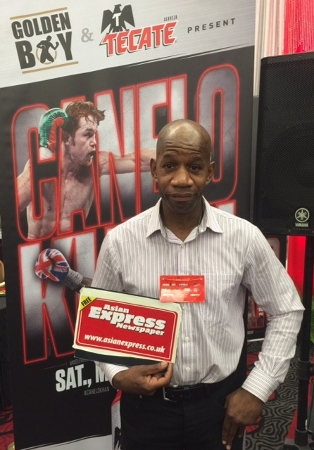 I personally had Khan winning all four rounds and drawing the fifth. How the hell one of the three judges had Canelo winning the fight by four to five rounds up to the sixth round KO is beyond me and the integrity of boxing, which does not help the cause of pro boxing in any way shape or form.  
That judge must have the eye of a Cyclops with double vision who needs to retire or be struck off, in my opinion. However, putting emotions aside, it was clear to see that Khan was so far in front in the fight.  
In all honesty, Canelo chased the fight for four rounds as Khan's speed, guile and intelligence meant he simply out boxed the Mexican puncher. In some cases, Khan even made Canelo look clumsy.
It wasn't until the fifth round that the champion Alvarez began to make some progress, as a number of solid body shots slowed Khan down immensely.  This match up was always going to be on a tight-rope from start to finish and, sadly for Amir Khan a loss, a lapse of concentration lead him to fall off it.  
But let's get this fight into perspective. Canelo is a big middleweight with power and it was always just a matter of time until he would land the lethal power blow.
Again, let's not forget, Khan was winning all the rounds until Alvarez started to cut him off in the ring. It was eventually a subtle feint, then the big knockout blow, which sent Khan to the canvas flat on his back, eyes wide open, cold and out.  And that was that.
This fight was made for the Golden Boy superstar fighter, Canelo Alvarez, in a bid to build up his profile and get the Golovkin fight.  
This was definitely not for the benefit of the British Khan that's for sure. Amir was drawn into this fight, got his highest purse to date – allegedly around £9 million, a handsome pay-day for his efforts I would say.
On the other hand, Canelo turns out not to be the beast the media and Golden Boy promotions would have us think.  
He's a good fighter, a big middleweight with good power, good boxing skills and a fighter that does the basics very well. However, he wasn't the dominant force many would have expected to see.
To be honest Alvarez had all the advantages to win, the size, the power, etc coupled with the opponent not being a natural middleweight.  
In fighting a small but quick Amir Khan, who was never ever up to the task of remotely knocking Alvarez out, the end result came as no surprise.