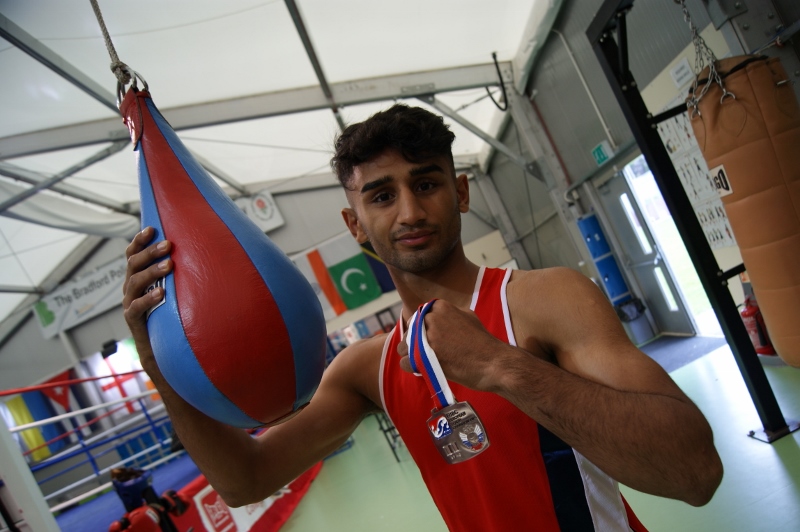 Bradford boxer lands silver medal in European championships
Harris Akbar's rise in the world of boxing shows no signs of slowing down any time soon, with the Bradford competitor clinching his latest accolade in Russia last week.
The 17-year-old, from Bradford, returned from the 2016 EUBC European Youth Championships with a silver medal following a number of strong performances.
It was the Bradford College and Police ABC boxer's fifth bout in a tough tournament that eventually proved his downfall, as he lost out to a Russian boxer in the final.
Until then, Akbar had reinforced his credentials as an international athlete with a string of comprehensive wins, registering all unanimous points' victories.
However, competing on Russian soil against a Russian opponent is always going to be a tough task for any Brit, and Akbar knows he may have come away with a different shade of medal has he fought elsewhere.
Speaking of the tournament, he said: "All my fights were against top opponents and I managed to win four out of five. I felt great in all of them and was confident going into the final.
"In any other country I think I'd of been coming home with the Gold but it's all experience at the end of the day.  

"A lot of people will have seen the fight in a different way than the judges."
Next month Harris will travel to the States to compete in the Ringside Championships yet a return to Russia is also just around the corner as the Worlds return this winter.
"I am so determined to win gold when I go back [to Russia]," he added. "I know I can do it and will just continue to work hard towards my goals."
Harris qualified for the Euros by winning the Nationals and followed that up with victories in Ukraine and the Great Britain Championships.
His coach, Mally MacIver, says it is the local fighter's 'commitment to the sport' that has helped him excel so far so early in his boxing career.
"He's a brilliant boxer and fantastic to train," the proud coach said. "He certainly has a big future ahead of him.

"To win a silver in Russia is a fantastic achievement, especially considering that boxing a Russian in Russia can be more corrupt than judging in the Eurovision Song contest.

"Everybody thought he should have won gold but silver is still fantastic."