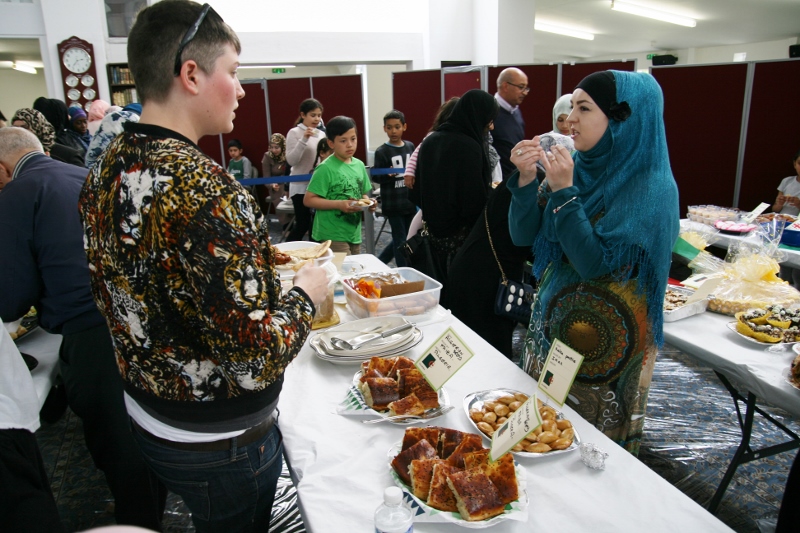 Leeds Grand Mosque's Food Festival cooks up food from all around the world
Leeds Grand Mosque hosted its first international food festival to raise money for Diabetes UK and the mosque itself on Saturday 28th May.
Local people from cultures as diverse as Malaysia and Morocco to Nigeria and Poland and even the United Arab Emirates and the USA cooked up a medley of delicious foods from their home countries.
The amateur cooks were entered into a cooking competition which was judged by TV presenter Nadia Hussein and uber popular food blogger – Curry On Haleema.
Organiser Mohammed Omar said: "It was great to see so many sisters from the Nigerian community attend the event. The food festival brought us closer together and they are keen to take part in more events at the mosque."
Haleema, from 'Curry on Haleema', had a huge number of entries to make her way through.  Eight prizes were awarded in categories ranging from Best Chicken Dish to Best Junior Team.
A special prize of Best National Team was eventually awarded to the Libyans who showed a huge amount of team work and dedication, producing a range of beautiful dishes.
Reverend Heston Groenewald, from All Hallows Church, praised the initiative and confirmed an interest in helping to organise a similar event next year, in corporation with the church.
Sue Jackson, the Area Fundraising Administrator from Diabetes UK, was amazed by the number of ladies who participated in cooking food.
The two other co-organisers, Rose Townsend and Heena Mahmood, added: "We wanted to do something that would bring everyone together in a celebration of culture, and everyone who loves food. We have certainly achieved that."

They continued: "We also wanted to give something back to the wider community in the UK. Raising money for Diabetes UK is something we are passionate about, as disease does not discriminate between people on the basis of religion, colour or race.

"Leeds Grand Mosque has a large female congregation and this kind of event celebrates the talents of these women. The cooking competition has had an overwhelming amount of interest which is fantastic."
Throughout the day over 700 visitors headed down to the festival to try out some international flavours helping to raise £1,600 in total.