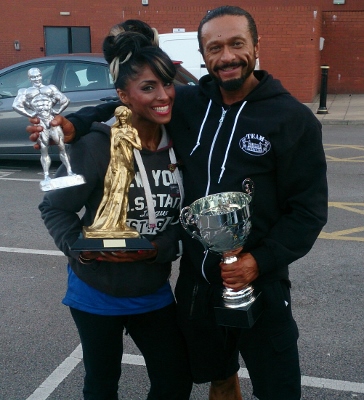 A woman from Huddersfield has 'toned her life around' thanks to a sport that she never thought she would be interested in… bodybuilding.
33-year old Jaspreet Sahota – or Jas as she's known – began her fitness regime in 2013 because she wasn't happy with her figure.
She said: "I decided that I wanted to go to the gym to look and feel better in general. I found that I was really good at fitness.

"My brother and a good friend – who's a personal trainer -started training me and taught me the correct techniques. They were the ones who encouraged me and said I should consider competing."
After working as a compliance manager in Leeds during the day, Jas's free time was spent lifting heavy weights at the gym and learning how to be a personal trainer.
"It took about six months for my body to start changing. When my brother said I should enter a competition, I thought it was too much and I wasn't keen at first. Then I just thought I'd go for it."
She entered her first Toned Figure Bodybuilding competition in 2015 and took a very respectable fifth place.
This year, she won fourth place at the prestigious NABBA North East area qualifiers, narrowly missing out on an invite to the British championships.
Jas decided to only build up her muscles up a "little bit" because she wants to remain feminine and enter at "just the toned level".
A week and a half ago, Jas entered the Miss Cumbria contest and won first place in the Toned Figure class, including the overall category which was "amazing".
Two trophies later and Jas remains determined to keep scooping up the number one spots.
"It's consistency and grit that's got me here," she said.
Jaspreet, who herself is a Sikh, wants to "keep representing" after discovering that there are not many Asian women in the sport.
"I'm really proud to get on stage being the only Asian female competing and it makes me want to continue even more," she added.

"I'm not doing anything wrong. Some people will not support me in what I'm doing – that's normal – but I'm going to keep on going because I've got my friends and family behind me and that's the main thing."
The toned trophy winner's anxiety has "pretty much gone" thanks to her fitness regime.
"That's another reason why I took it up. I needed a way to keep busy and if I had too much time on my hands, I'd start dwelling on things and that's when the worry would kick in."

Jas added: "The sport helped me control my breathing and my body became more relaxed. I had focus and it made me forget my worries. I would advise anyone who is suffering from any form of anxiety to take up sport because it does release stress."
Next up for Jas are more big competitions, more wins and some sponsorship to help her along the way.
She has her sights firmly placed on the 2017 NABBA British championships and is currently in training with her coach Bobby who is also a competitive bodybuilder.
If you're inspired by Jas's story or would like to help with sponsorship, let us know: mish@test.test