A 24-year-old air hostess from Leeds has reached the final twenty in the region in a well-established beauty competition.
Fashion-enthusiast, Harpinder Rai, will compete to become Miss Leeds on Sunday 22nd May at The Queen's Hotel.
Currently travelling the globe, the stunning cabin crew member took ten minutes out of her busy schedule to chat to the Asian Express.
She said: "I have always been interested in entering, as many people have encouraged me to do so but I always held back for some reason."
However, seeing if she could go all the way to be crowned Miss England was 'always at the back of [her] mind'.
When Harpinder was in Doha, in Qatar, she came across the Miss World competition and she applied 'without hesitation'.
"That was it, my mind was engaged with it from the very first second," she said, "I applied for Miss England and here I am."
She continued: "I had to go for an audition. I was as natural as I could be – even though this was the first time I had done anything like this – and I aimed to give my best in representing myself well. So far, it's been a great experience."
Harpinder is hoping to receive a supportive reaction from the Asian community, "and all communities in Leeds, as I'm representing Leeds as a whole," she adds.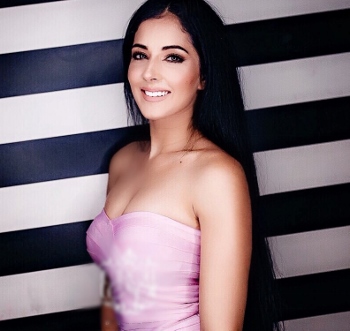 The brown eyed beauty said to reach the Leeds final is 'amazing'.
"It feels wonderfully exciting and I have so many positive feelings all at once. I will give my best and not let anyone down."
Harpinder feels excited and nervous but she is 'going to embrace all of it'.
"I feel so ready for this. It's an amazing opportunity," she added.
For now, Harpinder is continuing to concentrate on the competition so that she can go as far as she can with Miss England.
"It would be more than a pleasure to be able to represent my country internationally as it is something that I am very proud of," she said.
"Hopefully, I can be a good influence and inspire other people to realise their own dreams, whether that's in a beauty competition or wherever their talents lie. You should take your chance and go for it."
If Harpinder wins the Miss Leeds crown, she will go on to compete in Miss England. There, the 50 regional winners from across the UK will travel to Southport in July with the winner bagging £25,000 and the much coveted crown.