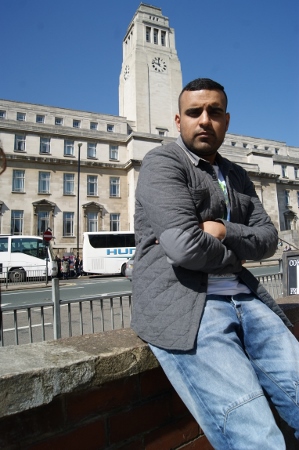 'It's racism, not banter'
A security worker at the University of Leeds is urging workers across the city 'not to suffer in silence' if they are victims of racial abuse in the workplace.
Mr Rafiq, who is employed by Axis Security at the university's campus, says he was subjected to a torrent of verbal abuse over two years by the same member of staff.
Describing the ordeal as one he 'could not get out of', he says he didn't know where to turn and had to take medication to deal with the stress.
Now, following the dismissal of his colleague in December last year, Mr Rafiq says he wants to ensure no one else experiences the" trauma" he has been through.
"At the end of the day, I suffered for two years. I don't want any other person out there to feel how I felt," he said.
"I felt everyone knew about it and there was nowhere to turn but you have to speak up if this is happening to you."
He added: "Another colleague told me he thought it was just banter. I said it isn't banter – it's racism and it's not right."
Mr Rafiq's own case was finally brought to light after he says an argument between a colleague and shift manager revealed the true reason he was absent from work.
He adds that one manager thought the reason behind his lack of shifts was due to 'family problems'.
"It went on for two years and I thought people knew," he said. "Every other time I worked with him, he just took the p*** out of my religion.
"He used to call me a Paki, Paki Rambo, part of ISIS, Al-Qaeda and told me that my religion was all about blowing myself up. He used to go on and on and on. I didn't know who to turn to."
The colleague was reportedly suspended in October last year and resigned in December, just one day prior to his tribunal.
Mr Rafiq was alerted to the news the following month. A waiting time he says was 'too long'.
"This was the third time this man had been accused of racial abuse and who knows if there were more cases unreported?  It should not be something someone can get away with, not even once," he said.
"I still feel let down because they didn't give me any update on what was going on. They never asked me how I am. This whole thing lasted for two years and it felt like they were not bothered.
"They didn't apologise to my colleagues who were also racially abused – only me because I complained about it."
Mr Rafiq believes he gave up at least 12 shifts a month to avoid working with the particular colleague in fear of further racial abuse.
A University of Leeds spokesperson said: "The University takes complaints of any discrimination very seriously.
"In this instance, an investigation into the allegations was immediately launched and we are confident that we dealt with matters in a timely, fair and thorough manner.
"It was during this process that the individual against whom the complaint was made resigned."