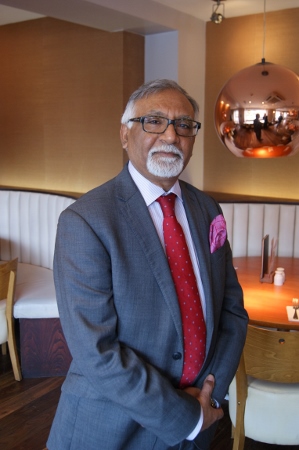 He's worn the purples of UKIP and the blues of Conservative in recent years, yet it is the white rose of Yorkshire that Amjad Bashir describes as his biggest love.
The Yorkshire and Humber Tory MEP has lived in the county since arriving in the UK as an eight-year-old back in 1960.
During his early years, he learnt the language, and broke down his own cultural barriers being one of only a handful of Asian pupils at a predominantly white British school.
Today, he continues to interact with languages of the world as a member of the European Parliament and challenges a range of topics across the continent.
"I have always had an interest in politics but it wasn't until I took a step back from my businesses that I actually started to get involved with different parties professionally," he said.
"In 2012 I joined UKIP because at that time, they seemed to be the only party fighting for a referendum to leave the EU. I felt strongly about it and these same targets did not seem to exist with the Conservatives who I had supported since the days of Thatcher.
"However, by 2014, I strongly felt that UKIP had outdated its usefulness."
The son of a textile merchant, Amjad grew up in a back-to-back terrace house in Bradford, and watched on as his own front room was converted into a mini business empire which he self-confessedly had a helping hand in toppling.
Eventually finding a love for the food industry, his first independent venture – Kebabeesh, became one of Bradford's most loved dining hot spots, before Zouk Restaurant was later launched.
In 2002, his two sons became involved in the business operations and eight years later Amjad says he was in a position to retire from the kitchen and head out into the political world.
He rejoined the Conservative party in 2014 in what was a highly publicised move, following a meeting with Prime Minister David Cameron.
He said: "The Prime Minister not only gave me his assurances that a referendum will take place but he also told me it would be on the manifesto.
"Unlike UKIP, I felt the Conservative Party had the ability to influence and implement this change."
Amjad is currently a proud supporter of the 'Out Vote' for the upcoming referendum.
At a cost of up to £50million a day for memberships, he says the UK is being 'penalised for its success' with the cost of membership dependent on the country's economy.
"Why are we paying such extortionate fees for something we do not need," he added.
"Speaking from a business point of view, there is just too much red tape involved with the EU. Businesses must not worry that a victory for the 'Out Vote' will mean they cannot trade in Europe.
"Angela Merkel will not tell BMW or Mercedes that they can no longer sell to the UK and other countries will still trade with the UK. We will just have more power."
An EU referendum debate with Amjad Bashir and several other dignitaries will be held at Bradford's Carlisle Business Centre on Saturday 9th April from 12pm to 2pm.