Life-changing trip complete by Harehills Dozen
A team of selfless volunteers from Leeds returned from their expedition to the French refugee camps last week, with 'a new appreciation for the little things in life'.
Twelve friends from Harehills, under the banner "Harehills Refugee Aid', completed the 300-mile-plus trip with four van-loads of supplies on Monday 4th January.
Seeing what life was in Calais' infamous 'Jungle' and Dunkirk camps, the group provided a round-the-clock service to vulnerable refugees, including women and children.
After distributing the goods brought down from the UK, the team split up to buy-out nearby grocery stores and stock up huge quantities of food, which were once again taken to the camps.
With stories of united communities amidst the devastating conditions on the ground, the group shared their story with the Asian Express newspaper.
Shishu Ali, a consultant from Leeds, was one of the group members to complete the three day visit.
He said: "When you get to the camps and actually see so many kids running around, you get a renewed sense of attachment to your own family.
"Nobody would want their children to have to grow up in these conditions. Some of them could hardly move because they were so cold.
"It made us more determined to carry out our work, and especially reach the vulnerable women and children who didn't necessarily come out of their tents when food parcels were distributed."
In total, the Harehills team handed out thousands of food packs and filled kitchens in both Dunkirk and Calais during their three-day trip.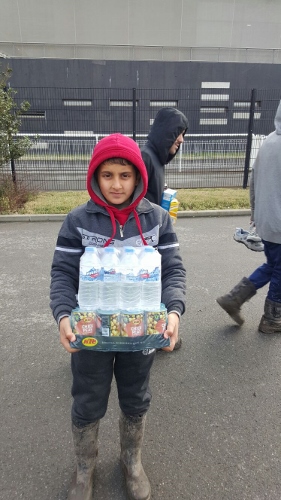 Buying almost every essential they could get their hands on from local stores and big supermarkets, they continuously filled their vans to capacity, bringing goods to the refugees.
One story which sticks in Shishu's mind involved an 'act of random kindness' following the call to prayer at a French mosque.
"In one shop we literally bought everything," he said. "Outside we decided to make food parcels, yet after doing around 40 or 50 we knew it was going to take too long.
"That is when a complete stranger offered to help. After that three more joined in from the nearby mosque and we soon ended up with two large teams, packing bags, after people had finished their prayers.
"It was a random act of kindness. When it came to handing out the bags at camp, people said we had an 'endless van of supplies' because of the amount of goods we had managed to purchase."
The group were praised by a number of charity groups during their time in the camps, with some commenting that they thought 'Harehills Refugee Aid' were a charity.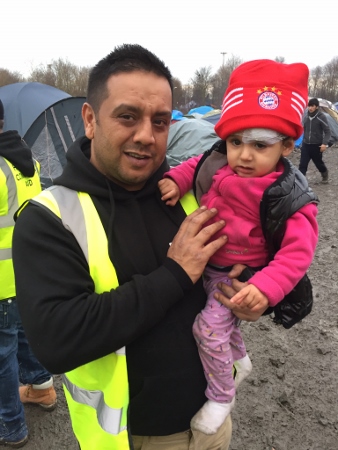 Mukid Ali has previously completed two trips to help with the aid efforts in France's ever-growing refugee camps.
Seeing numbers increase by almost tenfold since his first visit, he also praised the local group's dedication who ensured as many people as possible received something from their vans.
"On my first visit, there were about 300 people in the camp," he said. "Second time I went there was 1,200 to 1,500 and last week we must have seen at least 3,000 people.
"The camp is literally full. It has expanded from a small area to stretch right out to the roadside, yet no extra facilities have been made available. There are still just two taps in the whole camp and one toilet per 150 people."
He added: "When it came to distribution, queues were arranged at the van for men and women, yet there were still people who could not leave their tents.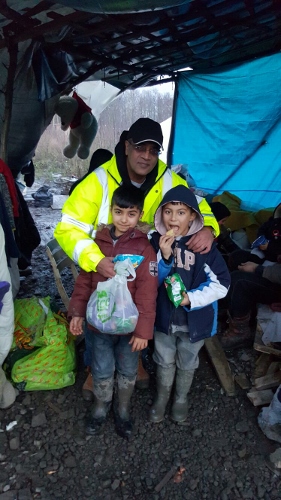 "This is when we decided to take the parcels directly to women and children. Their gratitude was amazing and I was even able to reconnect with a family I met during my previous two trips."
The group explained how thoughts of life in the UK also crossed the minds of all involved on a regular basis.
"I'm a family man and have kids myself," Sajad Sajawal said. "To see some of the children in these camps, being forced to live in filthy condition, there are no words to describe that feeling.
"We made an extra effort to help the children and they really do make you appreciate the little things in life.
"Simply handing them an orange would be enough to put a smile on their face so we made sure every child was smiling before we left."  
Now back in Leeds, the volunteers say they are committed to continuing their community work, both locally and overseas.
Rebranding themselves as 'Harehills Community Aid', Sajawal added: "When we were in France, we saw people of all races, religions and backgrounds working in unity.
"Volunteers from across Europe are working together to help refugees and this humanitarian concept is what we want to continue here in Leeds.
"We have big plans for the future."