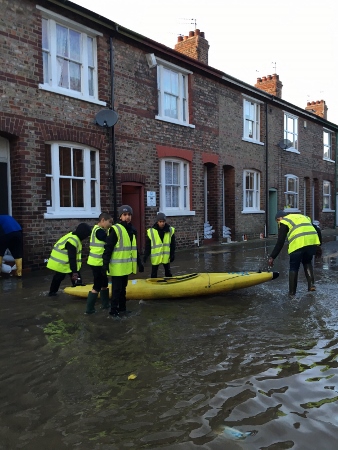 Radical flood defence plans are required after intense rainfall causes widespread damage
West Yorkshire has been battered by record-breaking rainfalls over the festive period, causing the River Aire to burst its banks and torrents of water to gush into homes and businesses.
The town of Keighley was particularly hit by devastating floods which resulted in widespread damage to the local residents' houses.
A mass clean-up has taken place where members of the public joined forces with the army, police, fire fighters, council workers and community organisations.
Morrisons, Asda and Sainsbury's supermarkets donated cleaning products for distribution to the flood-hit households.
Among the organisations involved was the InTouch Foundation.
Osman Gondal, CEO of the InTouch Foundation said: "We heard about the floods, and we activated our team to go out and do an initial assessment.
"We partnered up with an organisation called the Al-Hikmah Project from Utley, Keighley, who also volunteer at the InTouch Foundation.
"There was going to be a need for a clean-up and for food distribution. Most people's electricity and gas were affected so they couldn't even make something as simple as a cup of tea.
"We sent out our InTouch van to the scene and gave out hot meals, teas and coffees and biscuits to tackle the immediate need of people not having access to food. The food was sponsored and distributed by the Al-hikmah Project and the Muhammadi Masjid. This was welcomed by the local residents.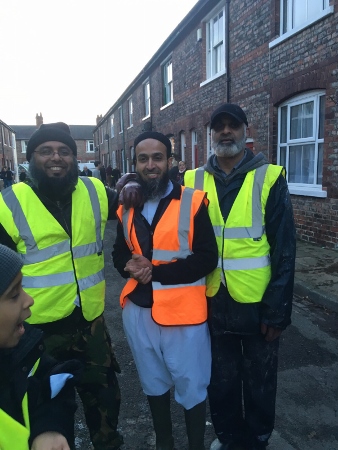 Osman said that the community really knitted together. He continued:  "I have to take my hats off to the fire service and the police.
"They were pumping out all the water whilst we were involved in the actual clean up. But most importantly, I would like to congratulate the local volunteers coming together to help the local community they showed real community spirit and drive."
However, Osman thought that the local council could have been more prepared.
He said: "The council should have pre-empted what was going to happen and had the services on stand-by so that they could get out there immediately.
"I think much of the damage could have been controlled by the issuing of flood defences, such as simple things like sandbags."
Residents in Keighley have now returned to their houses. The immediate effect of the flooding has been tackled but the clean-up operation is not finished. It will take months for people to get back to normality.
Keighley town councillor, Ian Dermondy, posted on social media that the people in the town had been "fantastic".
"Everyone needs a pat on the back," he said.
In York, children as young as eight were helping in the clear up. Kabir Hussain was one of the volunteers in York, who was part of team from 121 Tuition who also wanted to offer their help. He said: "I decided to join them to do some good, after all, that's what Muslims are all about."
Kabir continued: "It was Christmas for many people, so isn't showing kindness and support what the holidays are all about? We care for communities, regardless of their race, ethnicity or religion."
Shahida Kola, director of 121 Tuition said: "One of the locals who was trapped in his house so some of the team took a kayak to the back of the house which was flooded up to the waist and assisted him out of his home."
This week, Prime Minister David Cameron has pledged £40 million to bolster flood defences in the north.
In a letter to Keighley and Ilkley MP Kris Hopkins, Northern Powerhouse Minister James Wharton has said an initial payment of £601,509 was made to Bradford Council on 30 December to support the flooded households.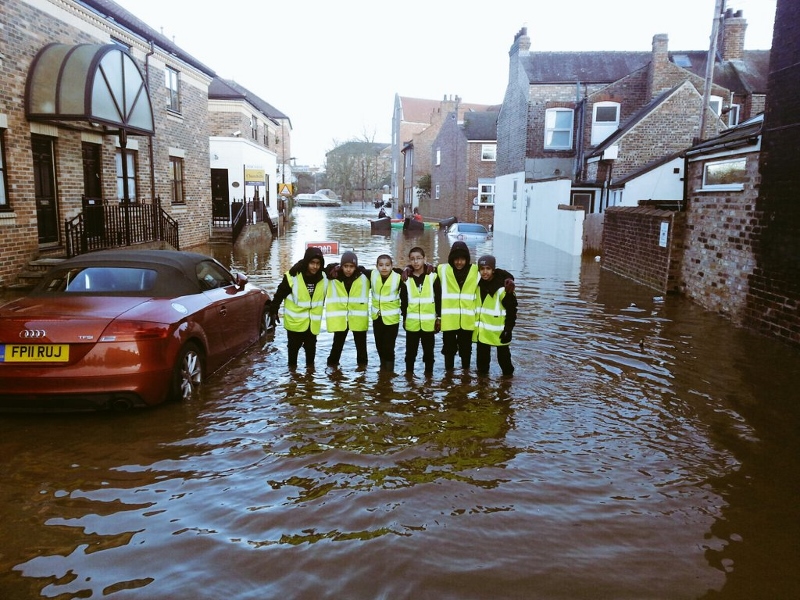 Zafar Ali, councillor for Keighley Central said: "I am very distressed and worried about the floods we have been experiencing.
"Much more needs to be done and myself and my colleagues are aware of this. The local authorities and the government are negotiating future funding.
"We are having a meeting next month to put in place radical and definitive plans that will make Keighley more secure in the face of floods. We need a strategy for the future so that this will not happen again."
Councillor Judith Blake, leader of Leeds City Council, is seeking urgent talks with the government about re-instating the flood defence scheme previously cancelled in 2011.
She said: "This scheme would have given the city protection along the Aire…The extent of the devastation makes it perfectly clear that we need to take a longer term view than existing funding packages are offering.
"The people of Leeds deserve better than to be short-changed with anything else than the best possible level of protection, so we are very keen to speak to the Secretary of State as soon as possible as part of the review into the situation in Leeds she promised."