Family's wait for answers goes on, eight years after father-of-three's disappearance
The widow of a missing Bradford man, who has not been seen since February 2007, has been told by the Crown Prosecution Service that the two main suspects have been released without charge.
Sajid Saddique vanished on Valentine's Day in 2007 after leaving his Allerton home to attend a business meeting in Shipley.
His car was found later that day in an Asda car park yet he has not been seen since.
Intensive searches of the local area have been carried out by police and last year, exactly seven years on from the date of Mr Saddique's disappearance, officers confirmed the case was being treated as a murder investigation after new evidence arose.
Two men were subsequently arrested on suspicion of murder and a third was detained on suspicion of assisting an offender.
However, in a cruel blow to the family's hopes of closure, both men have this week been released without charge.
Asma Razaq, Mr Saddique's widow, has recently moved to Scotland with her three children and previously told the Asian Express that she just wants closure for her family.
"I can remember the day quite clearly," she explained. "His phone was switched off, I kept calling him and I couldn't get through and I think at that point I knew something was wrong because his phone was never switched off."
She added: "We need closure and I hope this is it now. It has been an awful long time and a nightmare to live through.
"Something terrible has happened and someone is responsible for doing that to him – that's what I have believed from day one and it is what I have said over the years.
"In my heart it feels like there is no hope because this person is gone."
Following the release of the two suspects this week, police are once again appealing for any information that could relate to the case.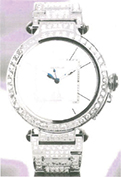 Images of Mr Saddique's car and distinctive diamond-encrusted watch have been circulated in an attempt to jog the memory of anybody who may have seen something suspicious on 14th February 2007.
Martin Goldman, Chief Crown Prosecutor for CPS Yorkshire and Humberside, said: "I recognise it has been, and continues to be, a difficult time for Mrs Razaq since her husband's disappearance.
"I met her to explain personally that having carefully considered a file submitted to us by the police we had concluded that there was insufficient evidence to prosecute any person in respect of her husband's disappearance.
"Every case has to be considered on its own facts and we cannot bring a prosecution unless there is sufficient evidence."