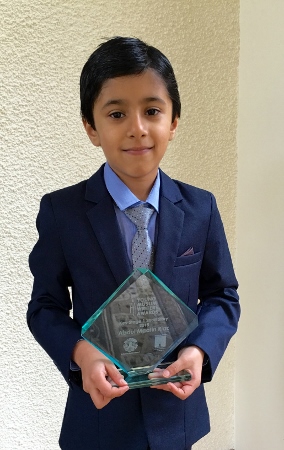 Putting pen to paper pays off for primary school pupil
Abdul Maatin Riaz is just like your normal seven-year-old boy, he loves swimming, playing and going to school. There is, however, one thing different about Abdul, he is an award winning writer.
The Sandy Lane Primary School pupil won the Key Stage 1 Short Story prize at the Young Muslim Writers Awards for his narrative – 'The pen with 70,000 heads'.
At around 1,500 words in length, it was a challenging write for the mini author and demonstrated a new style of writing.
Having previously come runner-up in a regional poetry contest, Abdul has found his talent at a young age and for his mother, Shakeela, it is something she is very proud of.
"We were all really proud of him when he won," she said. "It is something he tried really hard on so I think it is something he definitely deserved.
"I don't know where he gets it from but he is really talented. He didn't expect to win the Young Muslim Writer's Award so it was a surprise for him when he heard about his award."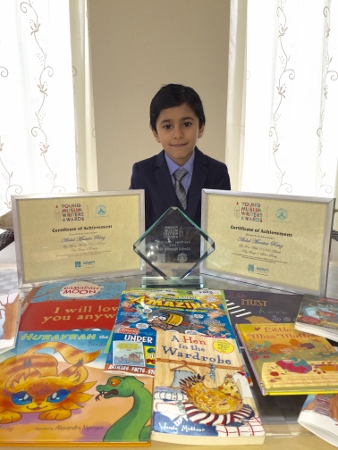 'The pen with 70,000 heads' featured Abdul's younger sister as his main character, and follows her as she finds a magic pen in a cupboard.
The pen was brought down to earth by angels and forgotten about. It was up to the young girl to help it find its way back to heaven.
"The story was really creative and included his sister as its main character and family as background characters," Shakeela added.
"It was the first time he wrote a story over 1,500 words and for a boy his age, it was fantastic."
Elsewhere at the Young Muslim Writer's Award, a Special Recognition Award was presented to education activist, Malala Yousafzai, alongside accolades for students from Key Stage One through to Four.
The awards were established as a standalone competition in 2010, following its success as part of Muslim Hands' Muslim Writers Awards.