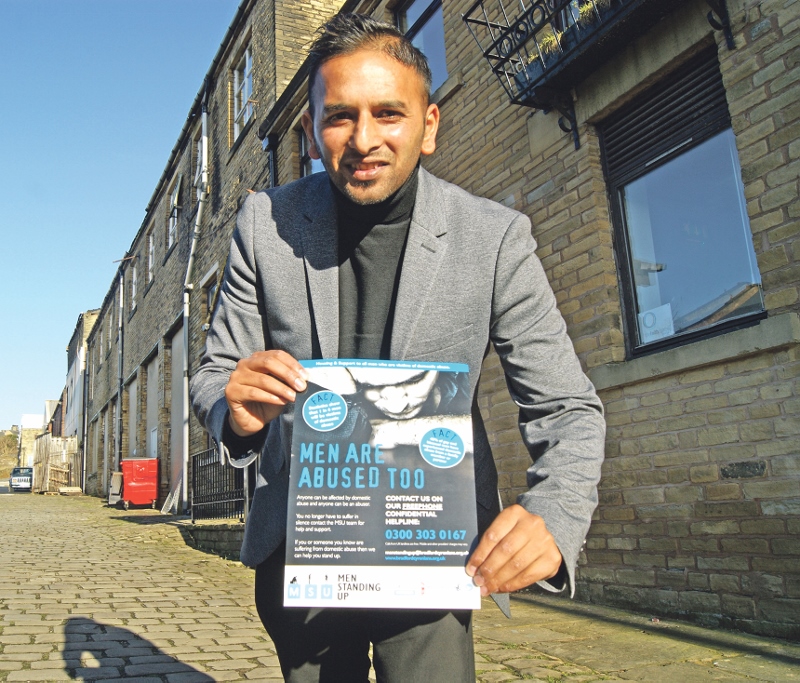 Bradford charity raising awareness of domestic violence
As the festive season approaches, a Bradford service is appealing to more male victims of domestic abuse to speak up as they aim to offer more support during their busiest period.
'Men Standing Up' is a support group which was set up in September 2013, catering for men who have suffered some sort of domestic abuse at home, from their partner of other family member.
Over previous winter months, the number of referrals and calls to the helpline spiked and this year, the team are urging people to contact them before it is too late.
Service manager, Humayun Islam, explained some of the statistics which had been gathered over the first year of operations, referring to recent figures as just the 'tip of the iceberg'.
"Since opening in September last year, 88 referrals have been made to the service whilst 227 individuals have contacted the helpline," he said.
"This is a massive number when you put it into context and we believe it is just the tip of the iceberg.
"With the festive season upon us, we are predicting another increase in demand for our service.
"As people struggle to deal with financial burdens it can really impact on their wellbeing. This alongside any possible emotional, physical, sexual or verbal abuse is very dangerous for victims."
As well as offering support via a helpline, Men Standing Up can provide victims of domestic abuse with supported accommodation where key workers are on hand for support.
Likewise, two crash pads, with 12 beds, are also run by the charity, giving men in emergency situations a temporary place to stay for up to 14 days.
Many referrals to the service have come through the police, whilst other organisations, including the Bradford Royal Infirmary, Housing Options and Men's Advice Line, have also contacted the charity for help.
Humayun added: "Our aim is to make men aware that they can speak up if they are being abused.
"It is a taboo subject in many cultures but it happens all over the UK.
"We had one man tell us he was contemplating suicide before he was referred to us by the police and it should not get to that stage before you seek help.
"Hopefully this Christmas, people will speak up if they are being affected."
Of the 88 referrals received by Men Rising Up to date, floating support has been provided to 35 men, whilst ongoing telephone communication remains with others.
The service was set up by head of service, Ean Monk, and Director, Rubina Bokhari, after realising a need for such services in Bradford, and is run by Bradford Cyrenians
Clients from as far away as London have utilised the support in the first year of operations.
If you feel you need to contact the charity, call the confidential helpline on 0300 3030167 or email menstandingup@bradfordcyrenians.org.uk