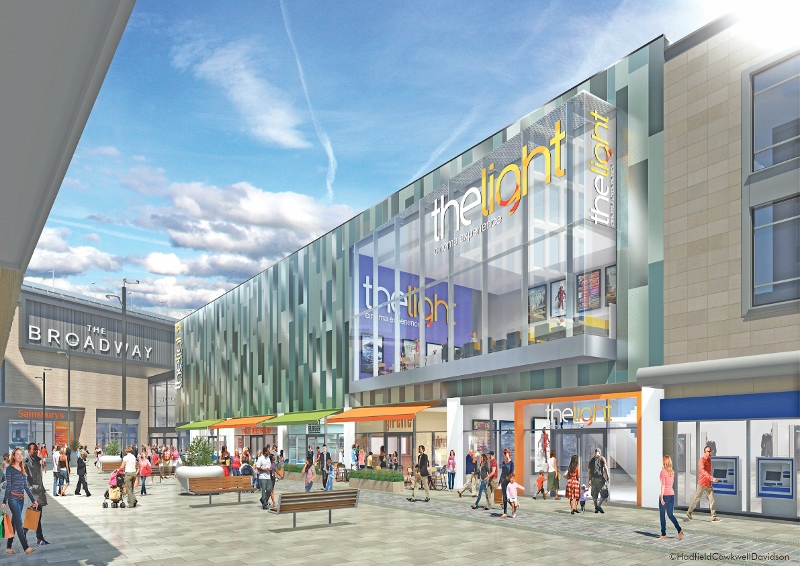 More developments set for Bradford's shopping centre
As customers continue to flock to The Broadway shopping centre in Bradford, developers have this past week announced further plans for even more extensions at the newly-opened site.
Four new restaurants and a six-screen cinema, operated by The Light, are set to begin construction early next year as the face of the city centre continues to change.
The extension, granted outline planning consent by Bradford Council in August 2015, will total 35,000 sqft in additional space for The Broadway and is set to create around 100 new jobs.
Terms have already been agreed with two of the four restaurants, with the other two under offer and operators set to be announced shortly.
Commenting on the plans a Meyer Bergman spokesperson said: "We're thrilled that The Light has agreed to open its first luxury cinema in Yorkshire by coming to Bradford. Bringing on board such a high quality operator is a real vote of confidence in Bradford, and shows how The Broadway is helping to revolutionise retail in Bradford City Centre.
"Since opening on 5th November, The Broadway has gone from strength to strength, seeing 250,000 visitors in its first four days of trading and real interest in filling the few remaining retail units.
"Opening a fantastic new cinema and great new restaurants is a natural next step forward for The Broadway, and we look forward to these plans further aiding the regeneration of Bradford City Centre and supporting the night-time economy."
The cinema, with the ability to seat up to 780 people, will be the first investment in West Yorkshire by The Light.
Bradford Council Leader, Cllr David Green, praised the project and the 'pull-factor' Bradford now has for new businesses.
"Having a new cinema and four new restaurants adjacent to The Broadway further boosts the fantastic cultural dimension of our city centre," he said.
"I really believe that Bradford is now offering the full package that defines a great city."