A former Bradford College student, who became the first Asian and Muslim representative to be elected President of the Trades Union Congress (TUC), saw his achievements acknowledged last week as he was presented with an Honorary Fellowship.
Sixty-three-year-old Mohammed Taj, from Shipley, received the prestigious award from Bradford College on Wednesday 9th December during the annual graduation ceremonies.
Speaking on the day, he said: "To receive this Honorary Fellowship today is something I could never have imagined would happen.
"I am so proud to be here right now and it is an honour to be recognised by the college in this way."
Arriving in England from Kashmir, Pakistan, in 1966, Mohammed could not speak a word of English, and subsequently attended a three-month course at an immigrant centre.
From there he moved on to study at Bradford College where he studied ESOL, before becoming a bus driver in Bradford at the age of 21.
His involvement with the Transport and General Workers' Union – now part of Unite, began when he started to investigate complaints that Asian workers had to pay bribes to corrupt union officials and managers before they could gain employment on the buses.
He was elected chairman of the union's national race equality committee in 2001 before finally being elected to President of the TUC in 2013.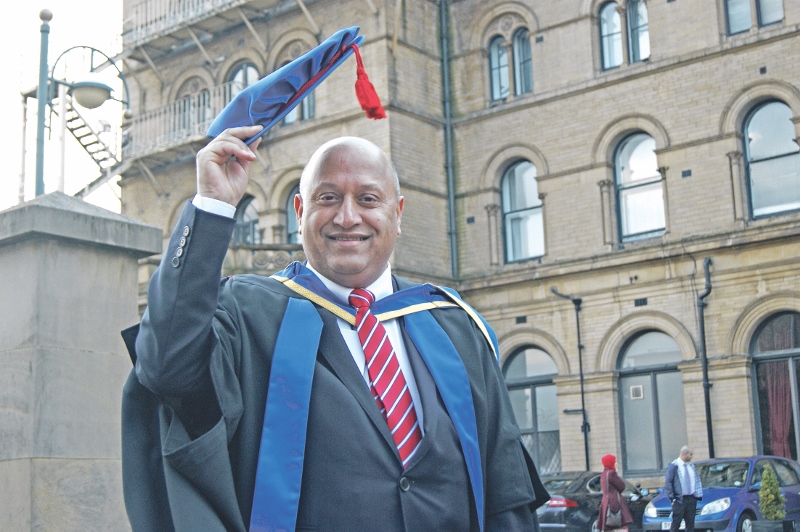 "I still remember my first day working on the buses on 18th February 1974," he said. "My career has become something I never thought it would but I am very thankful for what I have been able to achieve.
"A lot of the progress came through ridding the industry of its outdated racist ways and today it is in a much, much better shape than when I began."
As well as his Honorary Fellowship from Bradford College, Mohammed previously received an Honorary Degree from the city's University.
He has also taught courses at the college's Trade union centre in the past.
He added: "Although much of my work today involves me travelling to London, I still hold Bradford in a special place in my heart and especially the college.
"I began my real education here and will always be full of praise for the city."