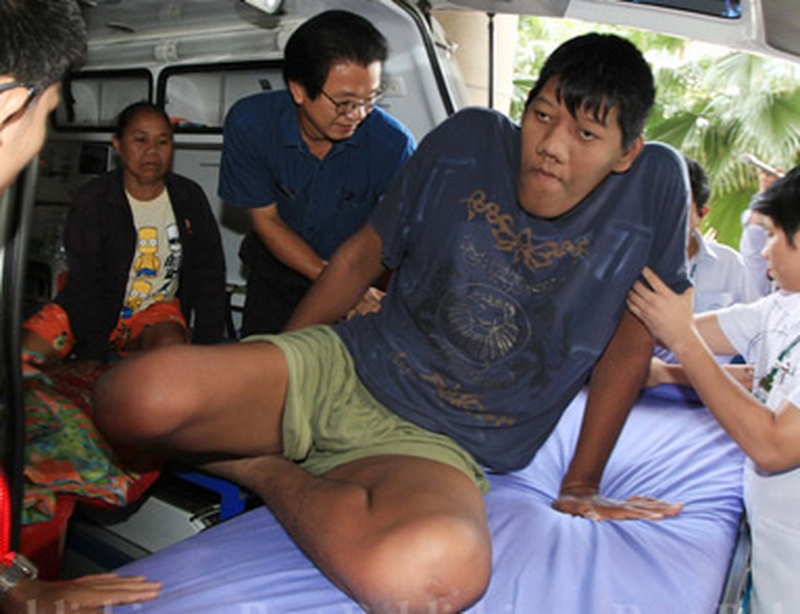 The man who was thought to be one of the tallest in the world measuring a giant 269cm has died aged 26.
Pornchai Saosri, who measured a whopping 8ft 8ins had been plagued by several illnesses related to his unusual rate of growth and had recently been treated in hospital.
Pornchai was bedridden and being cared for by his father Saran, 60, his mother Mrs Woen, 56, and their 15-year-old granddaughter before his death.
Mrs Woen reported that her son had died at 10.05am on 9th November at their home on Ban Takaeo village in the Prasat district of Thailand.
She said she had found her son dead after returning from washing dishes.
Pornchai had recently been treated in hospital for eight days before being released and allowed home.
Kind locals have offered money to the family to pay for medical bills
After the media originally reported Pornchai's illnesses, locals had donated 110,000 baht (around £2020) to the family.
Mrs Woen used some of the money to redeem her house, which had been mortgaged to pay for Pornchai's medical bills.
There is approximately 50,000 baht (£920) of donations left over which will be used to pay for Pornchai's funeral.