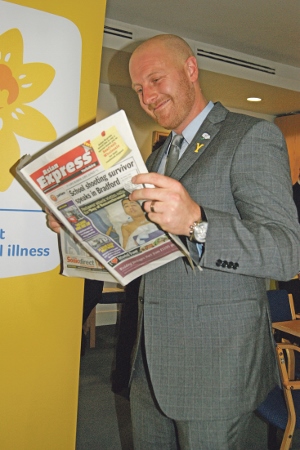 Yorkshire County Cricket Club captain, Andrew Gale, was joined by businessmen from across Bradford for a special networking event earlier this week, looking to raise awareness for the local Marie Curie Hospice.
Organised by Blacks Solicitors, the event brought cricket enthusiasts together to discuss all things Yorkshire and pick the mind of one of the county's most consistent performers.
Luke Patel, Solicitors Partner at Black Solicitor, said the event was a great opportunity to learn more about the hospice and enjoy listening to their 'fantastic' sports ambassador.
"This is a local hospice for the needs of local people and we must raise awareness and provide support in whatever way we can," he said.
"Our event achieved that and we hope the business owners round the table will give consideration to choosing this charity as their nominated charity in their Corporate Social Responsibility policies."
Gale spoke with delegates about his experience as captain of Yorkshire, seeing the county promoted from Division Two and retaining the Division One title, and told stories from Sir Geoffrey Boycott to Jason Gillespie's unbeaten 201.
The county skipper also shed light on his optimism for the future of Yorkshire CCC, adding that younger players could break into the team in coming seasons, with a host of exciting British Asians in the academy.
Following a question and answer session, Elaine Hill, Hospice Manager at the Bradford site, spoke with those in attendance.
She added: "People think of a hospice as a sad place but we are not. We are a place which may handle sad times in peoples' lives but we give patients and their families the best standard of life possible before and after a family member's death.
"It costs £3million a year to maintain the hospice and we need to raise more than half of that through donations every year.
"Whether it is from a sponsored event or a business pledging to pay for a nurse for the day, it all helps and is massively appreciated."